A Closer Look: John Bosley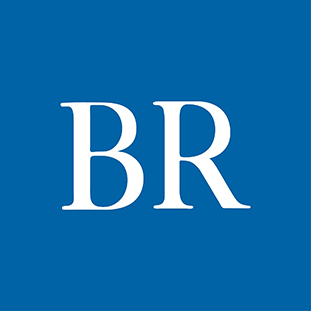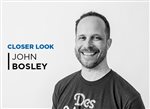 John Bosley is a self-described "sneakerhead."
His enthusiasm for footwear began when he was a youngster awed by basketball player Michael Jordan. When Nike developed the Air Jordan athletic shoe, Bosley had to have a pair.
As other specialty athletic shoes were released, he bought them as well.
"I've kicked [collecting] back up in recent years with all the great releases," said Bosley, owner of Bozz Prints in Valley Junction. "I'm up to like 40 pairs."
Bosley's interest in art began at a young age as well.
When he was young, he wanted to be a comic book artist. Then he thought he'd like to get into movies and develop storyboards.
"The interest in art has always been there," said Bosley, who was voted "most artistic" during his senior year at Ballard High School in Huxley. "I think that's what drives me, for the most part."
In 2015, Bosley left a stable job at Raygun to begin Bozz Prints in the basement of a home he shares with wife Erin. He designs and illustrates images that are printed on posters, T-shirts and other materials.
Bosley's designs are based on well-known places, landmarks and streetscapes. He's based designs on the Iowa State Fair, downtown Des Moines and Gray's Lake. Numerous designs are from iconic places in Iowa communities such as the lighthouse at Lake Panorama, the Dubuque elevator and Madison County bridges.
He's branched into other states as well with illustrations from Chicago, Minneapolis, Kansas City and Denver.
Finding ideas on which to base illustrations is the easy part of the work, Bosley said. "I keep notes on my phone, and whenever I have an idea, I jot it down. I probably jot down two a day."
Several of Bosley's illustrations have bicycle themes. Bosley, though, isn't much of a cyclist.
"I only bike recreationally, from brewery to brewery," he said.
The Business Record recently caught up with Bosley and talked to him about his business and his recent move to Valley Junction in West Des Moines.
When did you do your first print and get paid for it?
The first print would have been for the pedal art bike poster show that rolls through every spring. It was in 2014. It was a bike poster. I drew a downtown streetscape and I switched out the red Travelers Insurance umbrella for a bright red bike instead. That limited-edition print started it all for me. That was my first real taste of "Oh, you know, maybe my ideas are good enough to generate some income."
You worked for raygun for about five years. How did you hook up with them?
I saw a job listing on Craigslist for a job there in 2009. I was totally wrong for it; it was like an inventory store management type of a role. They liked me enough and said, "Hey, we might have more of a creative or design role coming up." We stayed in touch. I started working there full time in February of 2009.
What did you do for Raygun?
I started in off-screen printing. I printed shirts. I would help in a minor role in design. I got my feet wet figuring out how inks and screens and all of that worked, and then was on my way to designing most of their stuff.
What would people recognize that you designed at Raygun?
My favorite shirts that I ever came up with there were "Iowa – 75% vowels; 100% awesome" and "I'm not a player, I just blog a lot." I also came up with "This is my tailgating shirt," which spawned so many different shirts that even Hy-Vee has a "This is my shopping at Hy-Vee shirt."
What prompted you to leave Raygun?
I was there 5 1/2 years. It just started building toward me wanting me to do my own thing. Eventually I talked myself into it and put in my two weeks.
What was that like?
It was super scary. You have to give yourself permission to chase your dreams. A stable job these days is hard to come by, and I had a really good one at Raygun. But I just felt like I wanted to do more. I wanted to build my dream, not someone else's.
When you told your wife, Erin, you wanted to do this, what did she say?
There was a lot of resistance to begin with, for sure. But it's funny, after she saw the potential from me selling my posters at the pedal art show, she was more for me quitting Raygun than I was. I was like "Are you sure?" She said "yes." … That was 2015.
What was your first year like?
I had learned about marketing from Raygun. … But it was still a ton of work because it was just me in my basement. I went from driving to a place every day to perform my job duties to getting up, still in my pajamas, walking downstairs and figuring out what the hell I was going to do. I didn't have someone saying, "All right, we're going to work on this." I knew I wanted to work on travel prints and a lot of the other stuff I'm known for, but I didn't really know the direction to take it off.
What was the toughest thing you had to learn to do when you started on your own?
Just keeping a routine and not getting too caught up in figuring out where the money was coming from.
You operated out of your basement for two years. Then what?
Mainframe Studios opened and I moved in there. … It was great because people couldn't come to my basement and shop. It's nice to have a studio/shop/workspace that people could come and check out. It sort of legitimized what I was doing.
How do you get ideas for your prints?
That's the easy part. I'm full of ideas. It's the coming up with the time to execute them. I keep notes on my phone, and whenever I have an idea, I jot it down. I probably jot down two a day. … I guarantee you that I probably have enough ideas to keep me busy for the next five years.
What's been your top-selling design?
Probably the new Des Moines 515 design.
Why do you think that caught people's attention?
I think it's just a great combination of a solid design, but also it's got that Easter egg of the 515 area code in it. People ask how I came up with the idea. I was just laying in bed one night and it came to me. I kind of feel like I found a buried treasure with that design. People really like it and say they can't believe no one else had thought of it before. I couldn't either. I Googled it pretty intensely to make sure I wasn't copying anyone. … I think I've sold at least one product featuring that design every day since the day I created it, so maybe over 1,000. That's pretty good for me.
In june you left Mainframe and opened a store in Valley Junction. Has the move brought you a new audience?
Absolutely. People that are familiar with my work can now come shop a legit retail store. There's so much value in walk-in traffic.
I noticed you have a blog in which you give people business advice. How did that start?
I follow a bunch of different designers on social media and occasionally they would blast out tips and stuff. I thought it would be cool if I could put my spin on it and relate it to my experiences. … I've gotten feedback like "I really needed to hear that today" or "You're spot on." … It's great to hear that other people are on that same journey with you.
What's your favorite movie?
"Jurassic Park," without question. I wanted to be a paleontologist when I was little, and I really love Jeeps. I think every little kid loves dinosaurs and the idea that there are these giant things roaming the earth a long time ago.
Facebook Notice for EU! You need to login to view and post FB Comments!