A Closer Look: Kristen Sabin
Chief operations officer, Happy Medium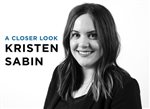 Kristen Sabin found a job opening at marketing agency Happy Medium just after she returned to Iowa from time in New York City. In 2012, the company was just founder/CEO Katie Patterson and a handful of employees; now, Patterson and Sabin work with more than 20 designers, sales coordinators, web developers and other creatives. Sabin was recently promoted to chief operations officer, right at Happy Medium's eight-year anniversary as a company.
"It was a pretty big shift, I think, for the company to have another person in a C-level job. Previously, Katie as our CEO was the only — we didn't have a C-level," Sabin said. "So my promotion into that was, I think, pretty meaningful. We're now creating our C-level."
Can you tell us about your background before Happy Medium?
When I was in college, I wanted to work in fashion PR — that was my dream. So that's why I added the apparel merchandising [major]. … I had two internships in New York City during college and then actually did move there after college [for a year].
My first internship in New York, I was writing for CosmoGirl.com, which is no longer a thing. All the teen magazines are gone, I think. I was writing quizzes and articles geared towards teenagers. That is when I realized that writing probably isn't for me, and that's when I shifted more into PR. My second internship in New York was at a PR agency, and that internship at that company was [when] I realized this is probably what I wanted to do in my job. I moved back to Iowa in 2012.
I moved back in with my parents in Cedar Rapids, and I was job hunting and visiting a friend in Des Moines when I saw an article in the Register about Happy Medium. It was about [founder] Katie and about her company values, primarily about how the company was founded on honesty and integrity, and that was really attractive to me.
I think I realized after my first job out of college that those things were important to me. So then I applied and I was underqualified for the job that had been posted, but I got an interview with Katie, and then I got hired as an account coordinator. That wasn't the job that was open, but she decided to hire me anyway.
How did you grow to this new role?
When I started at Happy Medium, there were about five employees; now there's 24. My role has changed a lot over the last six years. My most recent position before I was promoted to COO was director of client experience, which was overseeing the accounts team and how our team members handle all client experiences — really, how we handle different clients and conflicts, how we make sure that clients have clear expectations, all that kind of stuff.
I've been doing more operations-type work over the last, I would say, year and a half. … I had an interest in doing operations work and taking a lead on budgeting and goals and legal, all the things that are part of the COO role. I kind of just started taking those things on and doing them, because it needed to be done and that's kind of how, historically, people have grown into roles at the company. Things need to be done, and if you have an interest in it and are willing to take on additional responsibility, then it kind of works out.
[Patterson] was happy for me to take that on. Towards the end of 2018 is when I really started more seriously digging into the company processes, digging into our financials and different things like that. As we were doing strategic planning for 2019 we always look at what the organizational chart looks like in the upcoming year. … In February [2019] Katie and I started really seriously talking about, OK, what does this transition look like? We needed the role that I was previously doing to be taken by someone else. We had a team member, Christine Paulson, who has also been promoted into that role.
Besides Katie, I am the longest standing employee. I would definitely consider Happy Medium still a startup when I started.
What's the best piece of advice or feedback you have received since you took on this role officially?
I think the most interesting piece of feedback I've gotten, or advice, was from Chris Costa, who is president and COO at Knapp Properties.
We talked a lot about all of the decisions that have to be made as part of any higher-level role on a company, but particularly this role, and he told me that one of the biggest things that he's learned is that you have to really set expectations for what people can expect from you and be consistent.
I realize as part of this new role, my interactions with my co-workers might change a little bit because they are now having to come to me for things that they didn't use to, like permission to spend money, approval to buy things or send people to conferences. … What comes along with that is sometimes saying yes, but a lot of times potentially saying no to people.
What has changed most about the company, and what has stayed consistent over the last few years?
I think the company has grown up a lot. To me, that means that we have processes where we didn't have processes and policies before. We have a leadership team, where in the very beginning it was just Katie and there wasn't a leadership team. We moved offices, so that it looks a lot different than it used to when the company started. I think what stayed the same is our values — curiosity, happiness, integrity and teamwork.
I think the elements of hard work, but also fun — we've maintained that.
I noticed all your staff photographs on the website are centered around the employee's personality — you each have a desk filled with belongings, and several employees brought in a second pair of shoes to the shoot.
It's interesting that so many people did that because it wasn't necessarily like, "What other shoes will you bring in?"
It was, I think, just circumstantial that so many people ended up with a second pair of shoes, but I think shoes are just a good way to show other activities that people like to do. For me, I had tennis shoes because I go on a lot of walks and I try to work out regularly. My dog was in my [photo], which is also representative of the walks. A lot of people brought in photos to represent family, or a lot of people brought in different books that they like. But [the shoes], it wasn't on purpose.
As the COO, what goals do you have for Happy Medium within the next year?
I would like to see Happy Medium have more processes built. Like, "Here's the process we follow when we're going to do this project or we're going to do this thing." Startups don't have those, and I think that can sometimes, at a certain stage of the company, cause pain points when processes don't exist. … You don't need to reinvent the wheel every single time you do something, and I think that having processes in place can make things run a little bit smoother.
I'm working on doing more forecasting … just further-ahead thinking, so that we can as a whole be more proactive in everything from determining how much work we need, when we might need to hire, all those different kinds of things.
What have you been reading/watching/listening to lately?
A book that I read recently that stuck with me was "Dare to Lead" by Brené Brown. It talks a lot about how vulnerability shows up in the workplace, which I think a lot of people want to separate those two things. It talks about how it's important to have vulnerability and conversations with team members … to be able to be honest and direct with people. There were a lot of things in the book that I tabbed or underlined.
I watched this show called "Seven Days Out." It's so good. It's on Netflix. It really brought the planner in me a lot of joy.
Facebook Notice for EU! You need to login to view and post FB Comments!