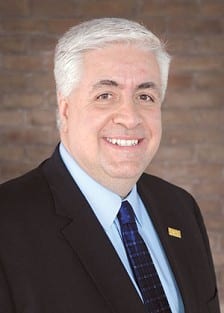 How did you get involved with Make-A-Wish?
I volunteered originally for Blank Children's Hospital. I was serving on another board with a gentleman who was on the board at Make-A-Wish. And I asked him about getting involved as a wish-granter. I wanted to do that, and the other gentleman said, "Here's the information on wish granting, but could we possibly get your interest and see if you want to serve on the board for Make-A-Wish as well?" I did it on one condition. I said, "As long as I can still be a wish-granter."
Why did you want to become the president?
First and foremost, it's an amazing mission. The goal of the organization, our mission statement, is to grant wishes to Iowa children with life-threatening medical conditions, to enrich the human experience with hope, strength and joy. These are very deserving children. Secondly, what I would say that drew me to that was the staff of people and the volunteers. They're amazing.
How much of an advantage is your past experience with the organization?
It is a tremendous advantage. Being on the board, it was rather unique. The board formed an executive search committee, and when they asked me would I participate in the process, I said, "I'll be a very unique candidate for you." I said: "I don't necessarily want this job. I want you to give this job to the best candidate. If I happen to be the best candidate, then so be it." And so I knew I would be returning in one form or fashion. I was always going to be committed and focused on Make-A-Wish, because I believe in it that much.
What originally compelled you to get involved in this organization?
Growing up, I had a special-needs brother, still do, and I saw the generosity, the compassion that people had for us. That really taught me the compassion of others and the generosity of others, so I've always had an interest in children's welfare. That's always been important to me. I had the opportunity at this point in my career to give back.
Is there one wish that stands out?
I think there probably is one. The girl was doing OK, was going to go on her wish, but then she had a relapse. She was looking so forward to it. She wanted to be on this wish on her birthday, and so timing was an issue as well. She had to go into treatment and couldn't make the wish. We told her, once you are a part of this wish family, you are always a part of this wish family. She was one of the people whose mother continually said: "You are the reason she is getting through these treatments. She's looking forward, she has something to look forward to, she sees hope." So it took almost a two-year process for her to experience the wish, and they just experienced it in December.
How does your business experience help you?
The biggest key where it was transferable was looking at an organization and assessing it, seeing where you can have efficiencies. The bigger picture, though, is that we had some very large external clients, and building and developing relationships was something that was very important and is important in any business.
What goals do you have?
The primary goal is that we want to make this a world-class organization and become the premier nonprofit in the state of Iowa. Secondly, we want to make sure we continue to develop and foster an environment within our organization that delivers quality, emotional and compassionate wishes for the children and their families. The focus will never be on anything but the children and delivering those quality wishes.
What do you like to do for fun?
I'm also serving as a vice chairman for Employer Support of the Guard and Reserve (ESGR). So, my two passions are children's welfare and those that protect our freedom in the military. Outside of work the things I really like to do, (I'm a) big traveler, I love to travel – one state to go (Alaska). And also spending time with family. I'm a transplant to this area, originally from the East Coast, and our entire primary family is back there.