A Closer Look: Susan Kloewer
Director, State Historical Museum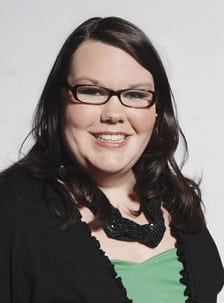 As her first job out of college, Susan Kloewer was part of the team that helped launch the Science Center of Iowa's (SCI) downtown location in 2004. After seven years and several promotions at SCI, most recently as vice president of membership, she was named director of the State Historical Museum in November 2011. As director, Kloewer is developing an active exhibit rotation schedule for the museum, which kicked off in April with "Iowa and the Civil War." A graduate of the Greater Des Moines Leadership Institute, Kloewer was recognized last year as a Business Record Forty Under 40 honoree. In the community, she's active with Junior League of Des Moines and 100+ Chicks for Charity, and is a volunteer wish granter with the Make A Wish Foundation of Iowa.

Are museums a longtime attraction for you?
They are. I have to credit my parents; we did a lot of things that were memorable, whether it was going to zoos or museums growing up, that really made an impact on me. Actually, when I graduated from Iowa State (University) and was doing the job search, corporate jobs just didn't seem like a good fit for me. I thought, what did I really enjoy doing? I actually remember very vividly going to the Science Center of Iowa in Greenwood/Ashworth Park and completing the "Challenger Space Shuttle Mission." I thought, that was such a great experience; I wonder if they have any openings? That was really my entree into museums.
How did your time with SCI prepare you for this position?
I was at the Science Center for seven years, and I couldn't have asked for a better first job. It really helped me grow professionally and personally. I started entry-level as the membership coordinator but had the very unique opportunity to help open the new Science Center of Iowa downtown. To have that experience right out of college was incredible.
What are some of the State Historical Museum's newest initiatives?
My priorities are really setting up an active exhibit rotation schedule, which kicked off with "Iowa and the Civil War" in April. It's exciting that we've already had nearly 12,000 people come through since opening. One great stride we've made is that we also have a very robust calendar of programming that complements the exhibit.
Does fund raising augment state funding?
The State Historical Museum of Iowa does receive state funds, but it's not fully funded by the state of Iowa. So to support our operating budget, we do seek sponsorships from corporations and also receive individual contributions as well. We do have special (fund-raising) initiatives when exhibits are opening or are being refreshed. We also have History on the Move, which is our traveling museum gallery, and it's focused on the Civil War right now because of the sesquicentennial of the Civil War, and so we are seeking sponsorships for that. We have History Through the Arts, which is one of our formal school education program offerings; we have sponsorships for that. So it's truly pinpointing sponsors' priorities with things that we're currently doing.
What sort of hobbies do you enjoy?
A lot of my friends from college are moving back to the area, which is great. We have actually made an effort to be on a sand volleyball team together, so I enjoy that. As a young professional, and I now live downtown, it is great to know that there is literally something going on every night. I like to think that Des Moines is my hobby, that there is so much to do and to go see and experience different things. It makes it very easy to call Des Moines home.
What's a really good day for you here at the museum?
I think it's those days when the museum is full of people, especially children that are excited or saying, 'Oh, my gosh, I had no idea,' or 'Did you know this?' Adults also. I still remember when the governor came through the Civil War exhibit and said, "Oh, my God, I had no idea!" and the governor is a huge history buff. So being able to have those moments when someone makes a connection personally to Iowa history is great.
Is "Night at the Museum" a favorite movie for you?
(Laughs) Actually, a lot of people don't realize that we have a collection in our lower level of about 100,000 objects. So it's kind of like "Night at the Museum"; I don't think things come to life. We do have things from automobiles to Native American artifacts, an airplane, political signage … We give tours, and it's really exciting. People usually leave with a lot more questions than they started with.