A different kind of energy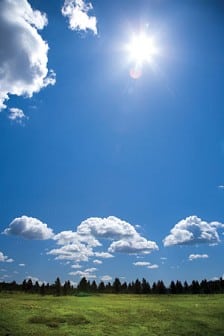 Tim Dwight is nothing if not passionate. The former University of Iowa football player used to make people take notice of his speed on the gridiron. Twelve years ago, he outran everyone on the field for a 94-yard kickoff return touchdown as a member of the Atlanta Falcons in Super Bowl XXXIII.
These days, he's busy running around Iowa telling anyone who will listen about the advantages of solar energy. If you didn't know he was a former professional football player, well, you wouldn't know it by listening to him give his pitch. As hard as it was for defenses to contain him, it might be more of a challenge for him to contain his enthusiasm.
"The majority of the time when I'm sitting down with customers, I hate talking about my past," Dwight said. "I want to talk about what we're doing now, how I can help them cut costs and save money and make money. I work even harder now in this job. I see the opportunities for people to go to work and to create jobs. Our common goal is to make our energy resources better, and more efficient and available. And just seeing that opportunity gets you excited."
Dwight is the business development director for Integrated Power Corp. (iPower). The San Francisco-based company designs and supplies solar energy systems for new and existing commercial and residential buildings, and has primarily done work in California, Colorado, Arizona and Hawaii.
In Iowa, iPower is considering developing a production facility in partnership with Waterloo-based Cedar Valley TechWorks Inc.
Last week Dwight, who is also the president of the Iowa Solar/Small Wind Energy Trade Association, spoke to members of the Iowa Senate and House of Representatives. The Iowa City native is scheduled to come back to the state in mid-February to talk to college seniors about the opportunities in the solar industry field. He thinks he can sell businesses on the advantages of using solar energy, and sell contractors on the advantages of using renewable energy.
"The challenge is educating people on energy, on how renewable energy works, and then seeing if they want to invest," Dwight said. "Solar still has a high cost; that's why you incentivize it, so you can scale it, so that the cost comes down. It's the people today who are really the trailblazers for this industry … they're helping the industry become affordable. It's the guys out there selling, and it's also the guys out there buying."
Dwight believes using solar energy could potentially create 6,000 jobs in Iowa, and the renewable energy market will grow in the next 30 years to the point that it will be just as easy to buy a solar energy module "off the shelf" as it is to buy a light switch. If Iowa doesn't take advantage of the business opportunities now, it might be too late in the future.
In other words, there is money to be made.
"We've got to start manufacturing this stuff on a bigger scale in our country," Dwight said. "That's putting money back into your local community, your state, your national economy – it's a closed-loop system. If you're going to wait, wait, wait while everybody else is going, you're going to get left behind. (Then) you're going to be buying modules from Illinois or Minnesota, or from China."
Dwight got involved with iPower in 2008 after finishing up his National Football League playing career with the Oakland Raiders. A friend told him about the opportunity to join the company, and after doing some research, he decided that was exactly what he wanted to do.
He saw the ability to get into an up-and-coming field where the opportunities are endless. Even in Iowa, he said, there is plenty of sunlight to harvest, especially in combination with other forms of renewable energy.
"Everybody's like 'Why did you go into solar?'" he said. "The amount of energy that hits our planet, we cannot grab enough of it. We will never ever be able to absorb or use that energy because it's so massive. … That means your opportunities are unlimited."
Finding renewable energy is essential, he said, noting the amount of evolving technology that requires electricity, including what he believes will be a strong shift toward electric cars.
"As we have more of these demands, that's putting more stress on our grid, and that's why we need to build our grid out," he said.
Now Dwight wants to talk with companies such as Alliant Energy Corp., Farmers Electric Cooperative Inc. and other regional electricity companies that have incentives to develop renewable energy projects. Also important is providing education, both at a local level and at the Capitol.
Dwight seems motivated to put all of his energy into developing energy.