Music coalition does more than 80/35 festival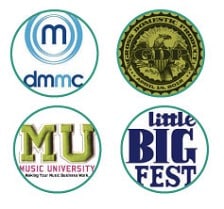 The 80/35 music festival may be one weekend during the summer, but the Greater Des Moines Music Coalition (DMMC) works year-round to improve Central Iowa's music economy.
"We formed with the goal of growing the music economy by bringing in new, progressive music to the city and helping local musicians," said Justin Schoen, DMMC's board president.
To do that, the group puts on smaller events such as Gross Domestic Product, which is held in the spring and features 10 to 15 indie-rock, metal, hip-hop, punk and electronic acts from across Iowa, and Little BIG Fest, an annual alt-country and bluegrass music festival that started in 2006.
It also hosts a free education series for artists that focuses on the business side on the industry through a program called Music University. Jill Haverkamp, the group's marketing chair, said DMMC will bring in panelists for various topics who answer questions and help artists turn their hobby into a living.
"One component to have the music scene reach the next level is having more bands out there recording and touring," she said, adding that the DMMC strives to have a balanced music scene, where it's producing top artists as well as bringing in top artists.
Collaborating with other nonprofits and businesses to advance their message is important too, Schoen said. In the past, the DMMC has worked with Living History Farms, local music streaming site Locusic and the Center on Sustainable Communities to book bands and promote events.
To see how their efforts are paying off, the group is in talks with Iowa State University economist David Swenson about conducting a study on the economic impact of the music community later this year. Schoen said an exact timeline won't be figured out until after 80/35.
"There's always been a lot of support for the fine arts – which is extremely valuable – but educating people on what we're doing and the generation we're reaching is important, too," he said.