Banking got personal, went bad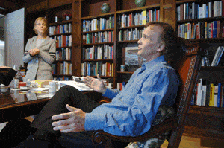 Dan and Tammy Stanbrough have something to say – a lot of things actually – and they all boil down to their deteriorating relationship with a lender.
They made many of their arguments in court documents filed earlier this month in connection with a foreclosure lawsuit that Regions Bank brought in November against Dan's son and daughter-in-law, and three operating companies under Dan Stanbrough's control.
But even that lawsuit, in which Regions claims that loans are in default and therefore it has a right to the deeds to commercial properties and the personal guarantees it obtained as part of the security for the loans, wasn't the beginning of the Stanbroughs' saga with the lender.
Regions is a publicly traded national lender that has its headquarters in Alabama. It gained entry to Greater Des Moines when it bought Union Planters Corp. in 2004, about the same time it entered into a banking relationship with Dan Stanbrough.
The bank noted in its third-quarter financial report that much of its more than $200 million in losses as of Sept. 30 was the result of charge-offs of bad loans. Like many banks, it has spent the last two years shedding bad loans and acquiring properties that they financed. Recent published reports say that other lenders are attempting to buy the bank.
Regions has been at the center of several high-profile foreclosures in Greater Des Moines. It was one of several lenders that sued the Regency companies after the home builder, property manager and real estate developer collapsed in 2008.
Beginning last January, Regions took aim at Dan Stanbrough and his operating companies. That month, the lender sued Dan Stanbrough LC, which owns Keck City Center at 500 Grand Ave., and Corporate Woods LLC, which owns the Deerwood Office Park in Clive.
Key among its complaints was that taxes were due on both properties – nearly $1.5 million according to Polk County property tax records and documents filed in federal bankruptcy court in Des Moines. It also cited insufficient cash reserves.
Business turns personal
The Stanbroughs are not seeking personal bankruptcy protection, but five of Dan Stanbrough's companies have filed to reorganize finances under Chapter 11 of the U.S. Bankruptcy Code.
Orchard LLC, Rose Marie LC and DTS LC filed Nov. 22. Corporate Woods filed a week earlier. Dan Stanbrough LC filed in April.
Attorney Jerrold Wanek, who represents the Stanbroughs, said all five cases were filed as the result of Regions' pursuit of Stanbrough loans.
It should be noted that Tammy Stanbrough has a 50 percent partnership interest in one of the companies, DTS; otherwise she is not a business partner in any of the companies or their developments.
But right or wrong, Tammy has found herself at the center of the conflict with Regions. Her husband describes her as a "fighter." She is a former fitness trainer who is quick to interject a comment during an interview and admits she has had at least a couple of fiery conversations with bank officials and their lawyer.
She also is fighting a second round of breast cancer. After a double mastectomy in 2002, Tammy found out that cancer had returned last year, about the same time that her husband began negotiating with Regions over loans that it said were in default.
Dan Stanbrough said that until 2009, Regions held a $19 million portfolio of loans on several of his developments, including Deerwood, the El Mariachi restaurant in Johnston, Keck City Center and commercial properties on Ingersoll Avenue.
He moved the loans to Regions from Wells Fargo & Co. after a lending agent also moved from that lender to Regions.
In an attempt to resolve his conflict with Regions, Dan Stanbrough said he offered to move the loan portfolio again, this time to a community bank that was interested in entering the commercial loan market.
At one point, he believed that Regions would agree to the transfer, especially after being told that the new lender would take on the portfolio and provide funds to pay the back taxes due on Keck City Center and Deerwood.
Also at that time, a partner in Deerwood was encountering difficulty because of the collapse in credit and home-building markets. That partner, Joel Goodman, filed last month to liquidate seven businesses that operate under the umbrella of Triton Group LLC, leaving Stanbrough holding a lease that would have generated more than $1 million in payments over 10 years.
Stanbrough also believed that he would have a better chance of negotiating a loan workout with a local lender than with a national bank whose executives would take a flight into Des Moines for meetings.
"Sitting here today, going through the worst real estate recession I've gone through, (Regions is) the only bank we're arguing with, and the reason is that we can't sit across the table from them," he said.
The Business Record could not reach Region Bank officials or their local attorney for comment.
In fact, Stanbrough said he couldn't sit across from the table from them during a mediation process that could have led to an out-of-court resolution of the conflict.
Instead, a mediator would shuttle between buildings, Stanbrough in one, bank officials in another.
Nonetheless, Stanbrough believed at one time that the bank would take his deal, only to learn that it would not.
Stanbrough said he also offered to give the bank the Deerwood property and Keck City Center to end the process.
The reason was simple. His wife was extremely ill, she was ready to go through a six- to eight-month recovery from surgery in October 2009 – she faces another surgery after the holidays – and he was acting as her caregiver.
"She's just trying to stay alive," Stanbrough said. "It's terrible for somebody who's still on the hook – financially it should be my issue – but she's still on half of these loans, and I just think that's wrong."
In the long run, the bank rejected the offer for the properties and it did not wait out the process of moving the loans to another lender.
"You don't want the keys, you don't want the checks, you just want to beat us," Stanbrough said.
More than one bank saying no
Stanbrough is no stranger to having development deals go sour, especially during this economy. And he is no stranger to going to court with banks, including local institutions. However, he said most of those conflicts ended in a "win-win" because local lenders were more willing to negotiate.
In the bankruptcy filings, Stanbrough has run into more obstacles than those created by the national lender.
The reorganization plan filed by Dan Stanbrough LC for Keck City Center has been opposed by the Polk County treasurer's office, the bankruptcy trustee overseeing the case, another local lender and a partnership that has bought more than $400,000 in overdue property taxes and stands, eventually, to get a lien on Keck City Center if Stanbrough does not redeem the taxes – not to mention Regions.
The trustee and the lenders argue that Keck City Center cannot generate enough income to cover loan payments and property taxes. However, Stanbrough's reorganization plan claims that income generated by new tenants and long-term payment plans would allow the building to meet its bills and stay under Stanbrough's control.
A hearing on several issues surrounding the bankruptcy is scheduled for Feb. 7, 2011.
A personal attack
The Stanbroughs say they were caught off guard when Regions filed the lawsuits in January to foreclose on Keck City Center and Deerwood.
They were even more startled – angered, actually – when they read the testimony of bank officials who suggested that they were misappropriating operating funds from the properties.
In addition, the couple did not believe that Tammy should have been a target of the lawsuits.
As a result, they have waited nearly 12 months to have their say in court documents, in which they accuse Regions officials of libel for suggesting that they were converting operating funds to personal use.
The Stanbroughs said the lawsuits and bank officials' allegations put an end to any hopes they had of moving the loan portfolio. More than one banker declined to discuss taking on the loans until the Regions allegations were resolved.
They accuse Regions of manipulating the distribution of a complicated interest rate structure that left them with a deficiency on that account.
And they argue that Regions violated the federal Equal Credit Opportunity Act by requiring Tammy's signature on development loans, even though she had an investment interest in just one of the operating companies.
Ready to go back to work
Dan Stanbrough's family has been in the real estate business since 1960, when his father, Gene, started Stanbrough Realty.
That original company has gone through a variety of changes and ownership structures. Its parent company, First Realty Ltd., is a part of Iowa Realty Inc. and has been owned by Hubbell Realty Co.
In 2001, Dan Stanbrough put the family name back into circulation when he formed Stanbrough Cos. to build homes, sell real estate and develop and manage commercial properties.
He wants to remove any tarnish from the name, and he wants his people to go back to work. He noted that in 2008 he had to lay off half of his employees because of the weakening economy.
"We've been wanting to go back to work here, but we feel we have been put out of business for all of the wrong reasons. … We have literally had our legs kicked from under us," he said.
His desire is to work with local banks and credit unions to remain a key player in Greater Des Moines development.
"We've been out of the construction cycle for long enough, and I'm an optimist – my family has being doing this for a long time in Des Moines, and we want to continue. … We are anxious to have this one last bank do the right thing," Stanbrough said.