Business leaders share lessons learned in 2019
As we wrap up 2019, we asked our audience to share a lesson learned this year. We also asked them to make a bold prediction about their industry in 10 years. Here's what they told us.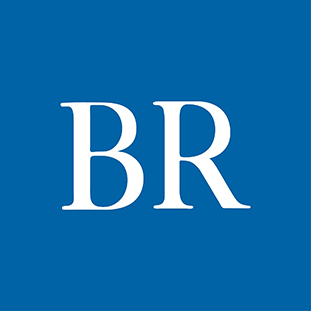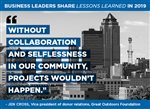 As we wrap up 2019, we asked our audience to share a lesson learned this year. We also asked them to make a bold prediction about their industry in 10 years. Here's what they told us.
Much can be accomplished by working together
2019 focused around the all-important issue of workforce for Iowa Business Council members. We know that to solve the problem it will take a collective effort from businesses, educators, nonprofits and a host of others working together to move Iowa forward. It's the No. 1 issue for employers, and our ability to enhance the economic vitality of the state for future generations of Iowans depends on what we do now.
Joe Murphy, Executive director, Iowa Business Council
Creating accountability at all levels
Our organization implemented Entrepreneurial Operating System (EOS) early in 2019. The clarity, transparency, increased communication and level of peer accountability it has provided has greatly increased our efficiency, making us substantially more responsive to our customers. This system encourages constant communication and accountability at all levels of the business, which can enhance your efforts to attract and retain the best personnel.
In this hyper-competitive environment we are in for talent, implementing a management system like EOS can be transformational. It was for me in 2019.

Dan Culhane, President and CEO, Ames Chamber of Commerce
Employer brands, iconic brands
Clients are increasingly looking at their "employer brand" in the battle for talent. Attracting talent is critically important in this tight labor market, so clients are considering questions of purpose and promise as they communicate with prospective employees, as well as how their employer brand aligns with external brand positioning.
The announcement of a challenge to RAGBRAI reminds us that even the most iconic "brands" face new and potentially unexpected competitive pressures. If we are not continually considering where new threats could emerge in our respective marketplaces, we put our own future at risk.
Doug Jeske, President, Meyocks
"Big Data" continues to give companies insights that drive hyper-targeted marketing in our consumer-driven environment – and it will continue to do so. However, the insights industry is finding that qualitative research (focus groups, interviews, etc.) is no longer being pushed to the sidelines, as companies realize that the confluence of big data and methods of analysis are creating an increased need for companies to better understand what's driving the motivations and perceptions of its customers."
Tamara Kenworthy, president/owner, On Point Strategies
Preparation and collaboration are key
This year has reinforced my belief that collaboration is an integral part of success.
The projects we moved forward this year began with intense preparation from a number of people. These folks had a can-do attitude, considered all sides of the issue, and coalesced efforts to a common goal.
Alex Lynch, Executive director, East Polk Innovation Collaborative
Gaining more value from fishing guides
Executives are recognizing that strategic recommendations represent only part of the value they can receive from consultants. More are requesting that key employees be taught "how to fish" so they can create those strategies on their own. From knowing what questions and creative processing lead to the best ideas to increasing the odds of success through contingency planning and research, learning the art and science of strategy work is how companies are leveraging the greatest value from their guides.

Diana Deibler, President, Deibler & Company
Truth trumps security
The increasing reliance on automatic interconnection − where a piece of data sent by one partner automatically triggers actions taken by others, whether the trigger be through blockchain, conventional applications or databases, or just complex relationships − is more than ever forcing us to expand conventional data security to include defining and validating "truth" for human processes from contract generation, through business execution, to conflict resolution.
Chris Draper, Managing director, Trokt
Recognize and celebrate
In many industries, market competition is intensifying. Disruption is occurring and resources are constrained. It is no longer business as usual. These factors result in more demands being placed on employees, an organization's greatest assets, to find ways to be creative and do more with less. Therefore, it is important to recognize individuals and celebrate success, however big or small, whenever possible to maintain a strong esprit de corps, sustain momentum and make a huge difference in the lives of those with whom you work.
Daniel Connolly, Dean of the College of Business and Public Administration, Drake University
Collaboration and selflessness are key
Without collaboration and selflessness in our community, projects wouldn't happen. As we build the future of water trails in Greater Des Moines and throughout Iowa, it's clear that the more partners you have involved, the greater chance for the vision to become a reality. Our community gets their hands dirty and puts previous bias aside when it comes to large-scale projects. All you have to do is pick up the phone and ask, "How can we work together, and what can I do for you?"
Jen Cross, Vice president of donor relations, Great Outdoors Foundation
Every company should be a technology company
If your company is not already a tech company (or working to become one), you're on track to be disrupted. Technology drives innovation in every industry, from retail to agriculture. Today's customers expect more than ever – often in the form of new, innovative solutions. This doesn't mean you need AI. It might be as simple as automating a spreadsheet.
Lee Robinson, software engineer III, Hy-Vee
People power economic development
In 2019, those of us in economic development, along with employers, faced the undeniable truth that it's no longer incentives, land, available space or infrastructure that will constrain or enable growth, but rather people. Addressing how we get more people to choose our region for their careers and families is a part of nearly every local economic development and business expansion discussion. Excellent educational, cultural and recreational assets are becoming necessities as we work to help businesses attract talent.
Curtis Brown, Assistant city manager/director of economic development, City of Urbandale
Public-private partnerships are transformational
In November, our Hubbell team was able to join members of the Des Moines City Council and staff to watch as an amazing vibrant bridge connecting downtown directly to Gray's Lake and the surrounding neighborhoods became a reality. It was yet another incredible example of why public-private partnerships work so well in our region. When we work together to focus collaboratively on the greater impact on the community, we all win.
Kris Saddoris, Vice president for development, Hubbell Realty Co.
Surrender is freedom
In 2019 I learned the art of surrender. It's when you don't know the answer but you trust yourself and your team to come up with it. I used to think as a leader I had to be one step ahead and control what the outcome looked like. Practicing surrender allows me freedom and joy regardless of what's occurring around me.
Kathleen Riessen, CEO, Riessen Performance Group
Thank your volunteers
Treat your volunteers like gold. Our passionate volunteers do much of the Association's care and support work so that our reach can expand to all 99 counties. If we do not properly recognize these wonderful folks, we are doing ourselves a disservice during this urgent time of need for the families that we serve. I challenge my nonprofit brethren to ask yourself every day, "What will I do today to thank a volunteer?"
Doug Bickford, Executive director, Alzheimer's Association, Iowa Chapter
The importance of housing affordability
Housing that Greater Des Moines' residents can afford is important to the workforce and the quality of life of the metro. Many residents shared this past year that great homes come in all sizes and all types.
Lance Henning, President/executive director Habitat for Humanity, Greater Des Moines

Change the world
I have found that giving back to the community is one of the most gratifying things a business can do. We are all responsible for making our world a better place. Making money is good, but living with purpose and making a positive community impact is way more fun. Serve on a nonprofit board, donate your time, share your knowledge and stay humble. Leave the world a better place than when we arrived.
Keith Snow, President/data scientist, B2E Data Marketing
It's OK to give yourself a break
I had a baby this year, and in my constant "go mode" it was really difficult to slow down. Halfway through my maternity leave, I realized it's OK to choose to be present in a moment in time and know that everything else will still be OK too. I was fortunate and had my team step up with me being OK to step down for a moment, and it all worked out.
Katie Patterson, CEO, Happy Medium
Why volunteer your time for board involvement
For years I have been involved with nonprofit boards, mostly centered around church and family. These were boards that impacted my family in a direct way. After my kids had graduated, it was time to look more to the community in Des Moines. I was honored to be selected to the Greater Des Moines Botanical Garden board. From that new perspective, I have gained an appreciation for the impact the Garden has on the city and was surprised by all the member activity that takes place throughout the year. We are lucky to have such a great asset to our city. Great leadership in Des Moines over the years had the vision to build it and keep it thriving. Young professionals should find at least one board to donate their time and talent.
Rick DeBartolo, senior vice president, LMC Insurance
Time is most precious
Now more than ever, time has become the most precious gift, much more valuable to clients, agents and co-workers than money. This leads to a huge demand for faster, easier, time-saving technology and a critical need to focus on follow-up, or you and your message are lost in the noise. The gifts of time and focused follow-up for those we serve and work with will be a driver for our business in 2020 and beyond.
Therese Wielage, VP for marketing, Merchants Bonding Co.
Employee demand fuels mobility as workforce strategy
2019 was the year we felt our community shift to proactively considering how transportation helps employers recruit and retain talent. Access to jobs is the No. 1 reason people ride DART, and employers are looking to us for strategies that expand access to more workers. But the benefits of increased mobility extend beyond the bottom line − a more connected community is a stronger community, and that's of value to all of us.
Matthew Harris, Business and community partnerships manager, Des Moines Area Regional Transit Authority
A better business
It's funny how things just pop into your head sometimes. Yesterday, after looking at my year-to-date numbers, I realized that my business has had incredible sales and even better profits WITHOUT me in the business. I've been able to step away from day-to-day activities, and my business is better for it.
Christy Jones, Owner, R Jones Collision 1

First among equals
As leaders, we need to recognize this paradox: If we are not optimistic, we will turn out to be right – but optimism in and of itself is not a strategy.
Reg Stewart, vice president for diversity and inclusion, Iowa State University
Tell your story to market well
Marketing your business effectively is more than a cool logo and tag line. The best marketing invites a customer into a story and allows the customer to be the hero. Effective businesses position themselves as the trusted guide, helping the hero defeat a villain (a problem) and showing the hero how to lead a more meaningful, better life. As a marketing and public relations consultant, I am seeing more businesses tell their story to drive results.

Mackenzie Ryan, Owner and chief storytelling officer, M Ryan Media
No shortcuts to preparation
In both life and professional pursuits, the most important lesson imparted upon me by external forces and mentors alike is the power of preparation. There is no shortcut that sustains success; one must take the time to evaluate, contemplate, ask questions and consider options before a "great solution" can be born. This is true for me in both my work and my home and social life. As my better half reminds me, "trust the process." And that hearkens back to the words of my mother, who frequently reminded me to think before acting. So, so true – and especially so in 2019.
Jim Green, principal, Mercer
Housing affordability matters
Housing affordability impacts our region's ability to attract and retain talent. It impacts our region's ability to claim high quality of life. It impacts our health and education systems and our infrastructure. If we don't create a plan for the future, we're going to regret it.
Jenna Ekstrom, Director of development and marketing, Greater Des Moines Habitat for Humanity
Data breaches and hacked accounts are an ever-increasing threat. To beef up my cybersecurity profile I set up a password manager to help protect my accounts with nonredundant complex passwords. A bonus is not having to remember all of them moving forward.
Paul Schut, Technology adviser, Marco Technologies
Workforce alignment vital to Iowa's future
Ask any business leader, entrepreneur or startup executive about their most pressing concern and the vast majority says: workforce. You can have the most innovative vision, competitive strategies and empowered culture, and yet a lack of skilled employees can significantly derail your future. Therefore, closely aligning public-private initiatives is vital for Iowa's success. Those partnerships are driven by collaboration, communication and community.
Catherine Huggins, executive vice president, Huggins Consulting Group
Allies in the nonprofit community
In 2019, our team of three devoted time to learning about the power and control that is often behind sexual harassment. The conversations we had about past and potential situations will shape our business going forward as we interact with various nonprofits, donors and volunteers providing guidance for not only raising funds but also as allies in tough situations.
Sarah Stephany, Associate director, Eden Plus Fundraising
Citizens understand services aren't free
2019 was a watershed (more on that later!) year for Central Iowa. Central Iowa communities Des Moines, Alleman, Altoona, Pleasant Hill, West Des Moines and Windsor Heights voted in a 1 cent Local Option Sales Tax increase which had failed in three prior attempts. Support for this tax increase was over 70% in the largest communities. In addition, residents of Des Moines approved the Physical Plant and Equipment Levy (PPEL) with more than 64% of the vote – which increased the funding available for investments into the Des Moines Public Schools – ultimately, to improve our children's education.
In both situations, these tax increases were marketed as investments in the community – and the communities, with overwhelming support, recognized that these are two sides of the exact same coin. Additionally, with respect to the sales tax initiative, this was implemented partnering property tax relief and investments targeting quality of life and city services – a lesson to all of us that residents are ready and willing to fund well-publicized, targeted investment in our communities when properly designed.
Eric Lohmeier, President, NCP Inc.
Large Block Industrial Space is hard to find
JLL is currently tracking over 5 million square feet of active industrial deals in the Iowa market. Groups looking for over 300,000 square feet are having difficulty finding space in our market. Due to this fact, we lost over 800,000 square feet of industrial users to the Kansas City market, where more product is readily available.
Marcus Pitts, Managing director, JLL
The business climate in Central Iowa is positive but …
The overall business climate in Central Iowa is generally positive but lacks ongoing confidence because of the "what if." Things are positive for many organizations, but they are hesitating and slow to implement new strategies, purchases and processes because of instability on both a national and local level. Ultimately this will slow the economic conditions in our area and ultimately the growth that many are looking to achieve.
Todd McDonald, president, ATW Training Solutions
Focus on fundamentals
When I reflect on my lessons learned this past year, I realize they simply focus on fundamental leadership principles. Be present for your team. Be agile. Rather than fear change, adapt quickly to it, whether it be personal or organizational. How you show up in the community makes a huge impact in the lives of others. And the best leaders are servant leaders, so be a true leader by caring deeply for other people.
Marta Codina, regional bank president, Des Moines and western Iowa retail, Wells Fargo
Love and kindess don't suck
I was inspired this year by a mentor to approach any conversation with love and kindness. Those emotions reach for the best in friends and adversaries alike and have a remarkable way of demolishing bias, ego and selfishness.
Tej Dhawan, chief data officer, Principal

In 10 years, the health care and insurance industry will likely have contemplated a single payer system approach several times over, if not adopted such an approach – as employers and individuals alike clamor for an end to perpetual inflation and unsatisfying results.
Jim Green, Principal, Mercer
In 10 years we anticipate more outsourcing of day-to-day office technology management. Having a strong partner to control your basic needs is becoming more accepted. This will open opportunities for your staff to focus on specific business applications and increasing profitability.
Paul Schut, Technology adviser, Marco Technologies
In 10 years, virtual businesses will quickly emerge across traditional industries no matter what size, scope and geography. Company leaders will easily leverage (yet to be discovered) technology for visions, strategies, operations, distribution channels and specialized product/services. Tomorrow's flexible and home-based workforce will complete their daily job responsibilities through interchangeable body wear or accessories that stimulate positive brain plasticity and creative problem-solving at the highest levels.

Catherine Huggins, Executive vice president, Huggins Consulting Group
In 10 years, as the critical needs for infrastructure replacement and repair grow, more leaders will come to understand the need and value of surety bonding to protect the investments of taxpayers.
Therese Wielage, VP for marketing, Merchants Bonding Co.
In 10 years the cost of health care will again double based on current trends. The cost for a typical family of four is over $25,000 already. There are no solutions so far that have been put forward that would stop the rapid increase in cost or change the trend of an aging population, which will require more health care. This is by far one of the greatest threats to business and the economy at large. We need great leadership in government and business to take on the challenge. No matter what the system, public or private, cost of care should be our No. 1 concern.
Rick DeBartolo, Senior vice president, LMC Insurance
The auto body industry is facing a tsunami of changes in the next 10 years. With the standardization of collision mitigation equipment on cars, we will see three trends. Collision frequency will go down, but severity, or cost, of collisions will go up due to the high cost of the collision mitigation equipment. We will also see fewer body shops in the future. One, due to a decline in need, and two, there will be fewer and fewer shops that will be able to keep up with needed training and equipment to fix vehicles back to pre-accident condition.

Christy Jones, Owner, R Jones Collision 1
At its root, marketing is about capturing the attention of potential customers, but their attention is more divided than ever. I believe we'll see platforms (social media, traditional media, podcasts, etc.) continue to split into niche areas that serve a passionate but smaller audience. That means businesses will need to work harder and be more strategic to get in front of a sizable group of customers in an authentic way.
Mackenzie Ryan, Owner and chief storytelling officer, M Ryan Media
In 10 years we will look back and be dumbfounded at our shortsightedness to have irreversibly destroyed the very planet our industries and our selves rely upon for every breath.
Tej Dhawan, Chief data officer, Principal
In 10 years, companies across the globe will have to develop a strategy to make their voices heard via Voice Marketing. CMOs will have to implement conversational Artificial Intelligence into their marketing strategies to affect the consumer's purchase decisions.

Keith Snow, President/data scientist, B2E Data Marketing
In 10 years, once an individual's data becomes personal property for which they must be fairly compensated, the confidentiality, noncompete and work for hire clauses currently enabling the gig economy will be upended. Companies will go back to long-term employee relationships as a way of maintaining market advantage.
Chris Draper, Managing director, Trokt
In 10 years, the most successful economic developers will be operating as quasi-Human Resource staff given the need to focus communities on workforce recruitment and retention. I believe discussions around site and building development, investment attraction, and economic incentive policies will also include how our recommendations and plans directly contribute to attracting more people.
Curtis Brown, Assistant city manager/director of economic development, City of Urbandale
In 10 years, workforce will continue to be an issue for our businesses. Advances in technology may change the skill set needed. However, programs like Future Ready Iowa and innovative educational institutions will still be vital.
Alex Lynch, Executive director, East Polk Innovation Collaborative
In 10 years, housing and "work" will have merged into a common space. We won't "go to work" physically or drive to an office. Real estate amenities that are currently commonplace in rental work are showing up in our workspace. We are starting to build the same space twice just to drive between the two. As land and construction costs continue to rise rapidly, we need to think more creatively about our real estate.
Kris Saddoris, Vice president for development, Hubbell Realty Co.
In 10 years, nonprofit organizations will be treated more like startups. Angel investors will want to make large investments (just another word for a donation, right?) in nonprofits that are focusing on innovation and cutting-edge problem solving. Think of what impact nonprofits could truly create if individuals and institutions were willing to invest in their brain power and inventions, and not just in their "tried and true" programming.
Jenna Ekstrom, Director of development and marketing, Greater Des Moines Habitat for Humanity
In 10 years, donors to nonprofits are going to be more socially conscious and even more discerning with their donor dollars than they are today. If your nonprofit cannot continue to prove its viability and show a record of positive results, you will cease to be relevant. Also, turnover/burnout in the nonprofit world is much higher than the for-profit sector, as there is tremendous pressure on staff to consistently raise more money. I am hopeful that foundations recognize this and in 10 years routinely help support nonprofits in their efforts to pay a deserved wage for perennially underpaid staff.
Doug Bickford, Executive director, Alzheimer's Association, Iowa Chapter
In 10 years, the changing national demographic will require a radical rethink of business strategy, workforce development, and both public and private education at all levels. Our very best years are in front of us if we leverage the talent pool that is coming our way. The year 2030 will usher in an amazing period of growth and development in the United States not unlike that seen the tech boom of the 1990s, but with a careful eye on sustainability.
Reg Stewart, Vice president for diversity and inclusion, Iowa State University
In 10 years, trust, authenticity and communication will be assets on a balance sheet. These three predictors are the key to the growth of any business. Companies that embrace these three assets have higher revenue, profit margins, and employee and customer satisfaction.
The days of managing your personal brand at work will go away, and showing up authentically and speaking from a radically honest viewpoint will be welcomed.
Kathleen Riessen, CEO, Riessen Performance Group
Over the next 10 years, seeking insights for marketing and research will add to its arsenal of advanced methods – some we haven't seen yet. Technology will continue to advance how market research is conducted – including enhanced mobile strategies, gamification, artificial intelligence, online communities/groups, eye tracking and more. Just as experiential marketing is increasingly important to consumers, especially the younger generations, experiential research will be elevated. This will be an interesting challenge as marketers and researchers adapt to new tools to drive insights – and existing tech tools that hopefully will be more affordable than they are today.
Tamara Kenworthy, President/owner, On Point Strategies
Facebook Notice for EU! You need to login to view and post FB Comments!