Can the Des Moines area support two golf entertainment venues?
For more than a decade, Des Moines residents have consistently put Topgolf near the top of the list of national retailers they wanted in Central Iowa.
In the past three months, backers of two Topgolf-like entertainment venues have announced plans to open facilities in the Greater Des Moines area: Suite Shots in West Des Moines and Bombers in Johnston.
Now the question being asked is whether a population of just over 700,000 can support two golf entertainment venues.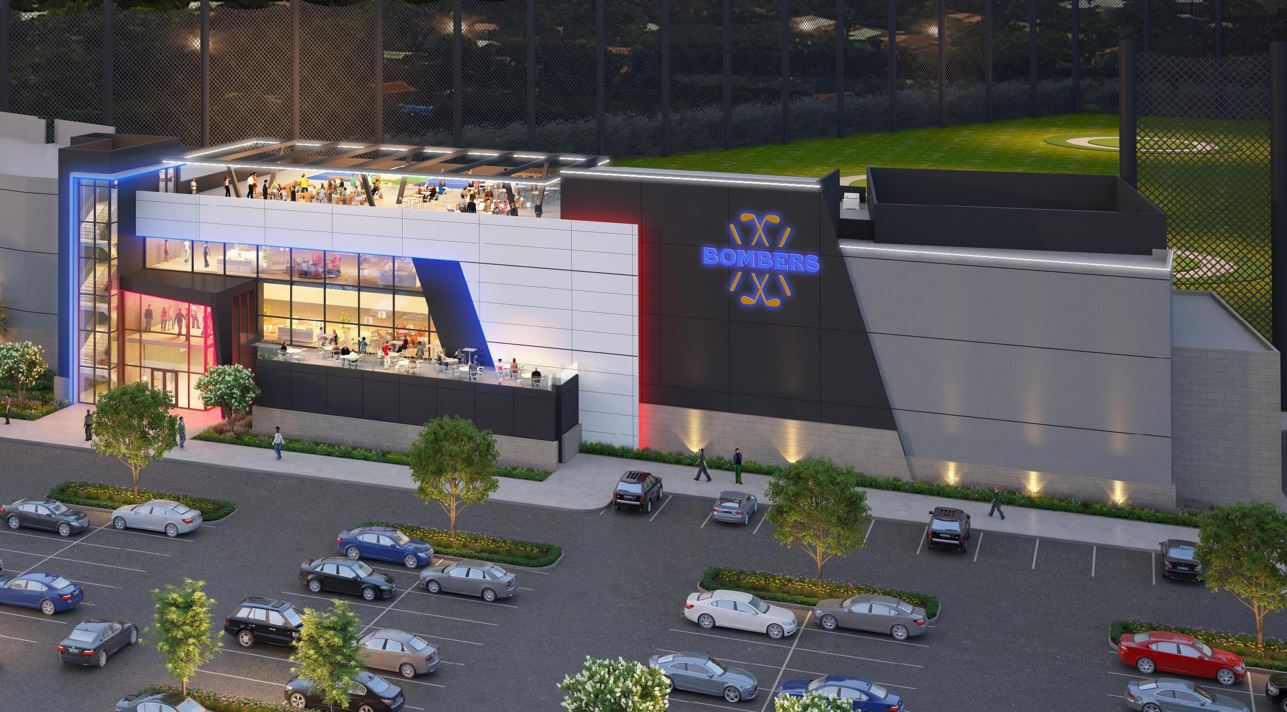 The developers involved with the Johnston project said they conducted a feasibility study to determine whether a golf-entertainment venue would be viable in Central Iowa.
"It showed that it's definitely viable in this market and that it would be a successful project," said Eric Kann, a principal and general counsel of Stoye & Kann Development, the group behind the proposed $80 million Johnston project (pictured). "But this market can only support one."
Paul Cownie, the local developer partnering with a Fargo, N.D., group to bring Suite Shots to a site south of Grand Avenue and west of Interstate Highway 35 in West Des Moines, declined to comment about the competing golf entertainment venues.
He did say, however, that the proposed Suite Shots project is moving forward and that he expects to receive the necessary city approvals in the coming weeks.
The proposed 50,000-square-foot Suite Shots structure (pictured below) will include a restaurant, a bar and 60 climate-controlled bays from which golfers hit balls out onto a range. Suite Shots, which has a venue in Fargo, has an agreement with Toptracer Range to use its technology that allows golfers to see real-time flight and distance of a ball after it is hit. Toptracer Range is owned by Topgolf Entertainment Group.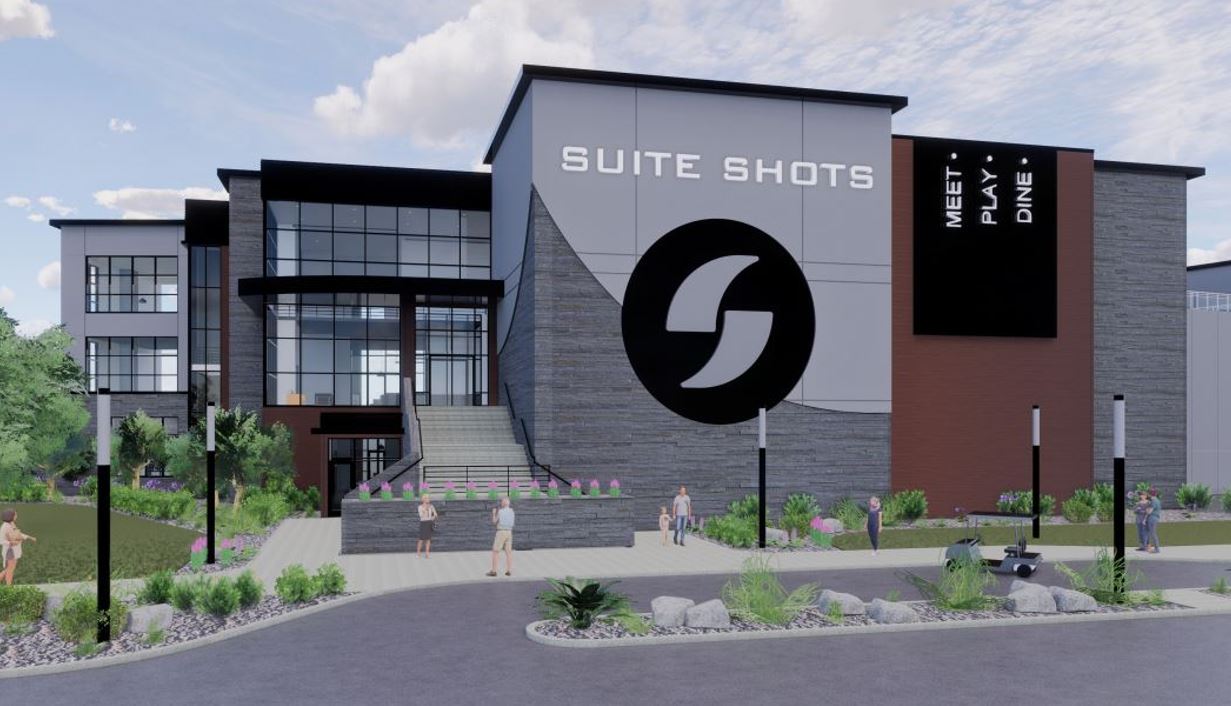 The proposed Bomber golf entertainment venue at 5055 Merle Hay Road also will be 50,000 square feet and include 60 climate-controlled bays. The facility also will use Toptracer ball tracking technology. The venue will be managed by Troon, an Arizona-based company that describes itself as the "leader in golf and club-related leisure and hospitality services."
Partners in Stoye & Kann Development also declined to comment on the competing golf venues beyond Kann's comment on the market study. They also said their project was moving forward.
Both Cownie and Stoye & Kann Development partners said they expect their venues to attract guests from nearby sports and recreation complexes.
In West Des Moines, the recently opened MidAmerican Energy Company RecPlex is expected to attract between 750,000 and 1 million visitors in 2022. The facility is expected to be booked on weekends for a variety of youth sports tournaments. In Johnston, development of a 30-acre recreational complex is underway. The complex, anchored by an Ignit Sports and Fitness facility, is also expected to host weekend tournaments, attracting 400,000 visitors a year, 100,000 of which are expected to be from out of state.
Spokespeople with Topgolf and other golf entertainment venues either declined to comment or did not respond to interview requests about whether a metro area the size of Des Moines could support two golf entertainment businesses.
However, this is what is known about Topgolf, which opened its first U.S. venue in 2005 in Alexandria, Va.: In its first years of operation, Topgolf opened venues in areas with 1 million or more people. In the past two years, it has begun opening venues with 70 to 100 hitting bays in areas the size of Des Moines. Company officials have said they plan to open more venues in small and medium-sized markets.
In 2020, Topgolf had 58 venues in the United States, according to a filing with the Securities Exchange Commission about the company's merger with Callaway Golf Co. Forty-five venues with 100 or more hitting bays were in metro areas with populations of 1 million or more; 13 venues with 70 to 100 bays were in metro areas with 500,000 to 1 million people; and five venues with 30 to 60 bays were in areas with populations of 200,000 to 500,000 people.
Topgolf planned to open eight new venues in 2021, three of which were in areas similar in size to Des Moines: Albuquerque, N.M., Fort Myers, Fla., and Buford, Ga., according to the SEC filing. The group plans to open 10 new venues a year starting in 2022.
Related article: 2 planned sports venues will 'spark development interest' along Merle Hay Road, Johnston official says
Facebook Notice for EU! You need to login to view and post FB Comments!