Controversial project proposed in Valley Junction meets city ordinances, West Des Moines council members say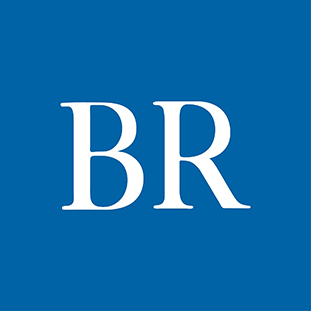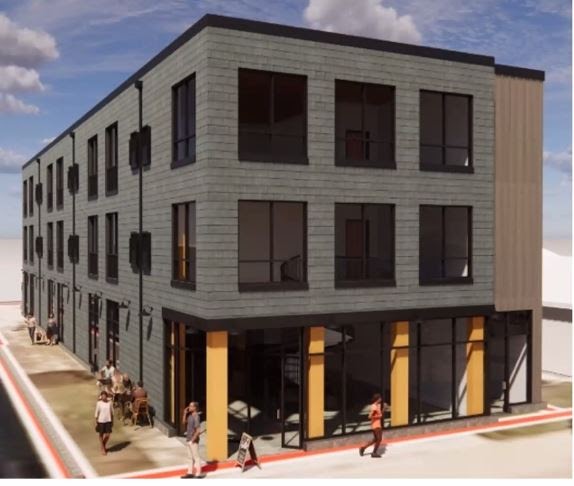 Developer Scott Cutler is proposing to build a three-story, 14,500-square-foot structure at 304 Fifth St. in West Des Moines. The building, constructed of natural slate tiles, factory-painted metal panels and mass timber, would include 11 apartment units in the upper stories and a mix of retail and office on the street level. Rendering special to the Business Record
A two-story, pale yellow house constructed in 1920 sits on a lot on the west side of Fifth Street in West Des Moines's Valley Junction, an eclectic district with antique and specialty shops, art galleries, restaurants and bars, and residences.
The overall condition of the house at 304 Fifth St. (pictured) is described as being "below normal" by the Polk County Assessor's Office. The house's basement is in "very poor" condition, the assessor's website shows.

Developer Scott Cutler bought the property in January and plans to raze the house and build a three-story structure with ground-level retail and office space and apartment units on the second and third floors. The building's exterior materials include natural slate tiles, glass, factory-painted metal panels and mass timber.

The interior of the building will also include the use of mass timber.

Several Valley Junction business owners and nearby residents oppose the proposed development, saying that Valley Junction doesn't need more multifamily housing and that the design of the proposed structure doesn't fit the historic district. West Des Moines doesn't require on-site parking to be provided for mixed-use projects in Valley Junction, prompting residents to raise concerns about where tenants of the proposed project will park.

The city's Plan and Zoning Commission discussed the project in April. A vote on whether to support the proposed development ended in a tie.

Cutler on Monday told members of the City Council's Development and Planning Subcommittee that several changes have been made to the proposed project after visiting with neighborhood groups and listening to comments made by commission members.

"We've listened to the feedback we've received from different organizations and we've made significant changes," Cutler told council members Matt McKinney and Renee Hardman. For example, members of the Valley Junction Historic Foundation commented that the north facade of the building was visually uninteresting, he said.

"They asked if we could break that facade up and add some visual interest. … We added 12 windows, which adds considerable cost to the project," Cutler said. "That's something we weren't required to do but we did because we listened to the feedback."

Other changes made to the project, which meets all of the city's ordinances and development guidelines, include:

Changing the finish of the metal panel finish so the metal is not exposed and ensuring the paint has a textured appearance similar to painted wood.

Changing the exterior light fixtures to gooseneck barn lights.

Slightly decreasing the size of the windows on the building's east side to better reflect dimensions of windows in nearby historic buildings.

Adding horizontal mullions in second- and third-floor windows so that they look similar to windows in other buildings.
West Des Moines Mayor Steve Gaer told the subcommittee the project should be approved, particularly after Cutler made changes to mollify residents' concerns.

"No one is going to go through the process and expense to try and do redevelopment," Gaer said. "Redevelopment is so expensive and it's so difficult. … Going forward, we have to figure out a better way to go through this process for potential developers."

Nancy Earll, who owns and operates Nan's Nummies at 501 Elm St., told the subcommittee that Valley Junction has too many multifamily units and instead needs more space for retail shops.

"We have a waiting list of retail stores waiting to get into Valley Junction," she said. "This [proposed] building needs to be put farther out west. … Our goal in Valley Junction is for people to shop here. That space could have been a beautiful two-bay retail store – something nice that's being added to Valley Junction. Not housing."

McKinney and Hardman both noted that while there is a moratorium on razing existing Valley Junction buildings, the structure at 304 Fifth St. is exempt. The project was in the process of being reviewed by city officials when the moratorium was put in place. In addition, the council members said, the proposed project complies with West Des Moines' ordinances.

McKinney said that while he has concerns about the availability of parking for people who will live in the building and about the structure's height, "we don't have a basis to address it."

Hardman said the city can't change its development rules in the middle of reviewing a project.

"We live by the ordinances that we have right now, and that's what makes this project challenging," Hardman said. "I understand everyone's frustration but at the end of the day … we have a decision to make and we know it's not going to be 100% pleasing to both sides."

The council is expected to discuss the proposed development on June 7.
Facebook Notice for EU! You need to login to view and post FB Comments!