Fareway pledges $2M for Boone wellness center
Grocer's CEO says proposal is a 'must-do project'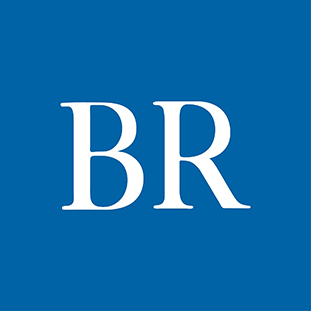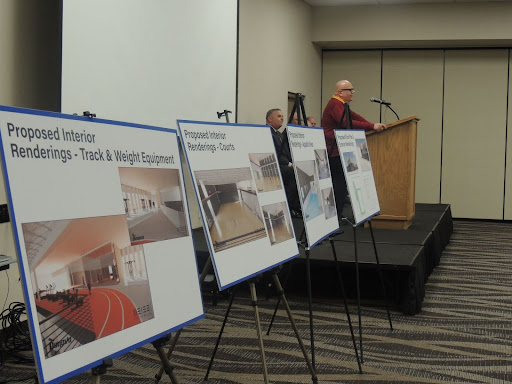 Boone City Council member Steven Ray speaks during Thursday's announcement that Fareway is pledging $2 million toward the construction of a new wellness center in the community. Photo by Michael Crumb
BOONE – Saying it would be a "flagship" of downtown, Boone officials announced Thursday that Fareway Stores Inc. has pledged $2 million toward the construction of a new wellness center in the community of 12,200 people.

The announcement comes less than three weeks before a March 1 referendum in which Boone voters will be asked to approve a $10 million bond issue to help pay for the project.

During the announcement, held at the Cobblestone Inn in Boone, Dan Culhane, president and CEO of the Ames Chamber of Commerce, said it fits the bill for the placemaking that is needed to retain and attract jobs and residents in the Boone County area.

The Ames Chamber and Economic Development Commission is partnering with Boone on economic development as part of an agreement that was announced in late 2020.

"You will hear a lot of things from the Legislature about attracting workforce, and one way you do that is by creating great place. And the way you create great place is by having the vision the city of Boone has had for a project like you see in front of you right here," Culhane said to a conference room full of local officials, residents and business leaders, pointing to a series of architectural renderings of the proposed center.

Reynolds Cramer, the CEO of the Boone-based Fareway, described the proposed wellness center as a "must-do project."

"We can't in this community let this thing go by," Cramer said. "We've pledged $2 million. Yes, that's a lot of money. Yes, it's the biggest pledge we've ever done as a corporation, and why not do it here in Boone, Iowa?"

In addition to Fareway's pledge, funding would come from the bond issue that, if approved, would be paid off in 15 years. There would also be a 2% franchise fee to help pay construction costs.

According to documents distributed at Thursday's announcement, the total project cost is $10 million.

Because Fareway's announcement came after the ballot for March 1 was published, it wasn't immediately known what effect the company's pledge would have on financing for the project.

The average cost to residents of building the center would be about $4 per month, according to information provided by the city.

If approved, the 51,000-square-foot wellness center would include two regulation-size basketball courts and space for batting cages, pickleball and volleyball. There would also be an aquatic center that would include dedicated lap lanes, a general pool for community use, hot tub therapy and a splash pad for younger children.

There would also be a cardio and cross-training area, a full track, health classrooms and community gathering space.

According to an economic impact report, there would also be ground-level retail space that would generate annual rental revenue of about $72,000.

The report also showed that the goal would be to retain the city's current population and add 540 more residents by 2030. The city's population is currently declining by 0.58% a year, the report showed.

It also said that with a growing population, there would be increased local spending, an increased tax base, and new jobs and businesses.

The center would be located at the site of a former Fareway grocery store at the corner of Story and Seventh streets in downtown Boone. The site has been cleared and is ready for development. According to a news release, the city is purchased the building, which has burned and become unsound.

The center would provide services that were lost when the local YMCA closed in 2019, City Council member Steven Ray said.

Ray said the Fareway pledge gives the project momentum ahead of the March 1 vote.

"I think a lot of people in Boone are looking forward to this, they want it. … It will help our downtown," he said. "It is exactly what we need."

Nate Nerem, chair of the Boone Economic Growth Corp., said the wellness center would be a "linchpin" for the community.

"People will come for basketball tournaments, people will come for volleyball tournaments, they'll see how great Boone is and hopefully they'll decide this is a good place to stick around, and that's what economic growth is all about," he said. "We want to get people in our town and invite them to stay, and improve on what we're already doing here."

Boone City Council member Terry Moorman spearheaded the project for the city, and he said the wellness center would be a "flagship for downtown" that will "spur economic growth and development."

"It will offer services and facilities that Boone needs, and more importantly what Boone deserves," Moorman said.
Facebook Notice for EU! You need to login to view and post FB Comments!