Introducing, The Elbert Files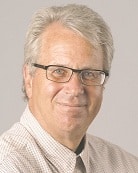 Good morning. My name is Dave Elbert. I'm the new guy at the Business Record.
Many of you know me from my 36 years at the Register and Tribune, the last 26 as a business writer, editor and columnist. I took early retirement in April, turned 65 in May, and now I'm ready to try something new.
I'll be writing a weekly column for Connie Wimer, whom I've long admired. It will appear in the space previously occupied by the Business Record's managing editor, Jim Pollock, who died of complications from cancer treatment the same week I retired.
I've been a friend of Jim's and a fan of his writing since we were colleagues at the Register two decades ago. He was a gifted writer with a unique sense of humor that allowed him to turn ordinary events into extraordinary stories.
Jim was one of the wittiest people I've known. Compared with his columns, mine may seem a bit mundane, although I do hope to occasionally make you smile.
My chief goal will be to provide insight you won't find elsewhere.
I grew up in Ames and worked in Davenport before arriving in Des Moines in 1975. During my years here, I've gained the trust and respect of the business community. I'll use those connections to provide background and perspective on issues as diverse as the ongoing redevelopment of downtown and health care in Iowa.
From time to time, I will introduce you to interesting people, such as Jan Gillum, the longtime top administrative aide to John Ruan.
I once described Gillum as one of the most uniquely powerful people in the metro area because she had the ability to put U.S. presidents on hold. (Two former presidents – Jimmy Carter and George H.W. Bush – serve on the Council of Advisors to the Ruan-endowed World Food Prize.)
Gillum also has put on hold senators; congressmen; Teamsters Union President Jimmy Hoffa and his successor, Frank Fitzsimmons; and one big-time business owner from Muscatine that John Ruan didn't want to talk to until he had all his facts. That business owner later tried to hire Gillum, because she had done such a good job fending him off.
I love history and will occasionally pass on things that strike me as pertinent or revelatory.
At the moment, I'm reading "American Creation," a collection of essays by Joseph J. Ellis that provides insights into what did and didn't happen when the Founding Fathers were getting things up and running more than 200 years ago. One insight that is, unfortunately, more true today than when Ellis wrote it six years ago, is his comparison of our discarded Articles of Confederation with today's European Union. Both lacked a central governing authority, and neither worked well.
Unlike a lot of writers, you'll find that I share few personal opinions. That's because I learned long ago that there are lots of people who are smarter and more insightful than I am.
My job is to find those people and report their information in language that anyone can understand.
That's what I intend to do for you, starting today.