Market District redevelopment proposal unveiled
When fully developed, the area could include more than 3,400 housing units, new retail and office spaces, and a destination park along the Des Moines Riverfront.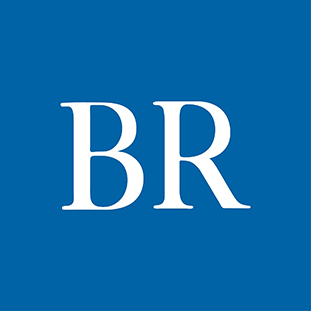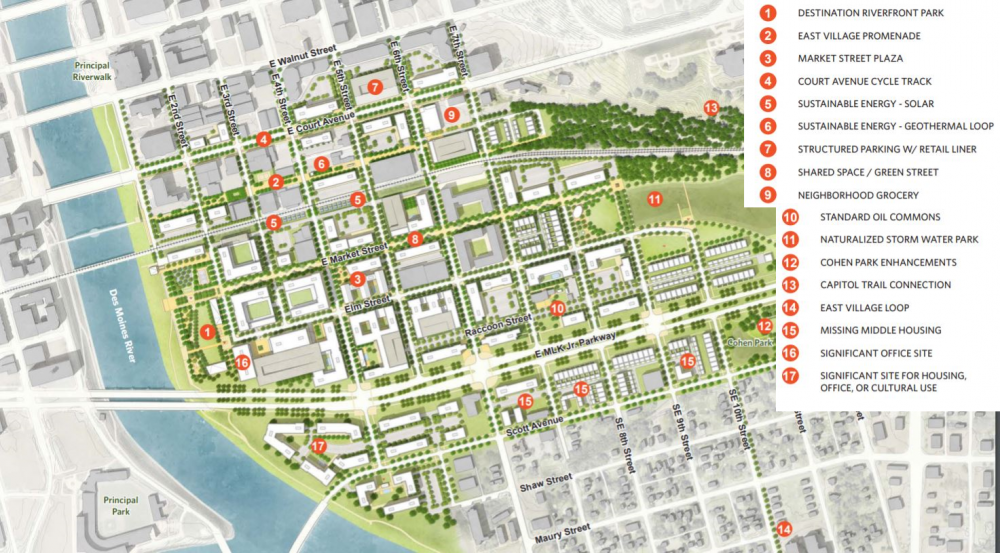 A master plan for the Market District, an industrial area located east of the Des Moines River, has been developed by HDR Inc. The plan proposes the creation of a destination riverfront park and a naturalized stormwater park that would bookend the district, and more than 3,400 housing units, a grocery store and new office development. Map and legend by HDR Inc./city of Des Moines
An aged industrial area immediately south of Des Moines' popular East Village would be transformed into a vibrant, pedestrian-oriented neighborhood bookended by two large parks and include low- and midrise residences, street-level retail, and offices, under a proposed master plan released by city officials.

In 10 to 20 years, the 260-acre Market District area could boast more than 3,400 housing units, 210,000 square feet of office space and over 135,000 square feet of new retail space, if developed according to a proposed master plan. In addition, the redeveloped area would include a network of new streets, wide pedestrian walkways, bicycle lanes and open spaces, the plan proposes.

The area would include numerous sustainability features, including geothermal and solar energy, rooftop gardens, and parks and open areas designed around stormwater detention. "The big vision is that this will be a sustainable and very green neighborhood," said Ryan Moffatt, Des Moines' economic development coordinator.

The proposed master plan was developed by Omaha-based HDR Inc., which has offices in Des Moines. The firm, which was awarded a $452,747 contract after a competitive bidding process, developed the proposed plan after numerous interviews with property owners, developers and area residents and a three-day brainstorming session with a steering committee and others.

The Urban Design Review Board is scheduled to hear a presentation on the redevelopment plan at its 7:30 a.m. meeting Tuesday at the Richard A. Clark Municipal Service Center boardroom, 1551 E. Martin Luther King Jr. Parkway.

"There has been interest by private developers in this area for quite a long time," said Erin Olson-Douglas, Des Moines' economic development director. "This master plan gives a better handle on infrastructure needs in the area and a development guide going forward."

Over the past decade, Des Moines city officials have focused on redeveloping parts of the central business district, the area surrounding the John and Mary Pappajohn Sculpture Park, the East Village and an abandoned industrial area south of Martin Luther King Jr. Parkway. All have seen new construction and redevelopment of existing structures.

Now city officials are turning their attention to the Market District, an area roughly bounded by East Walnut Street, East 14th Street, Scott Avenue and the Des Moines River. Railroad tracks running east and west bisect the area that has been home to a recycling center, a scrap metal yard, a stone-cutter, body shops, the city's public works yards and MidAmerican Energy Co.'s Two Rivers facility.

An area south of East Court Avenue and just east of the Des Moines River is where city officials had proposed that a new federal courthouse be built. They believed the project would jump-start redevelopment within the Market District. However, federal officials instead opted to build the $137 million structure on the west bank of the Des Moines River on the site of the former Riverfront YMCA property.

The proposed master plan said features such as a destination park and creation of a water feature designed around a stormwater detention basin in a 22-acre passive-recreation park will serve as catalysts for redevelopment.

However, redevelopment will come at a cost.

Stormwater and sanitary sewers, streets and other infrastructure is "well beyond its useful life," according to the proposed master plan. Immediate needs include installation of new sanitary sewer main, replacement of storm sewers and creation of a detention basin in a park located on the eastern edge of district, between the railroad tracks and M.L.K Parkway. Cost to complete the projects is estimated at $12 million.

Completion of those projects would provide necessary service to existing and future private development and "act as a catalyst for additional redevelopment" in the Market District, according to the proposal.

Street extensions and improvements, as well as the creation of pedestrian walkways and streetscaping, are estimated to cost an additional $39.5 million, according to the master plan.
The plan estimated property values in the Market District currently at about $25 million. If redevelopment occurred as proposed, the district could produce $111 million in undiscounted property tax revenue over the next 20 years, according to the master plan.

The city of Des Moines and MidAmerican Energy own about 50 acres within the Market District.

"It's a pretty unique opportunity that will provide us with the ability to have more input and control over development than when the private market owns the property," Olson-Douglas said.

MidAmerican Energy this summer razed its Two Rivers facility, located just east of the Des Moines River and north of Martin Luther King Jr. Parkway. A large portion of the site is contaminated, according to the proposed master plan.

However, because the site is located along the riverfront, it would be an ideal location for development of a destination park, which also could help spark redevelopment in the area, according to the proposal.

The park could include features such as area for outdoor concerts and movies; pavilions or amphitheaters; destination playgrounds; food truck plazas; gardens; water trail access; and scenic overlooks.

The city also owns several tracts in the area including its public works yards at 216 S.E. Fifth St. The public works facilities take up about six blocks, city officials said. Plans are underway to move the facility to a site near Southeast 18th and Maury streets. The city has acquired the necessary property for the project; construction of a new facility will be completed as money from the city's capital improvements fund become available.

Development within the Market District is already underway. Among the first projects completed in the area was the renovation by Blackbird Investments of the Market One Building at 130 E. Third St. The net-zero energy commercial building originally was built in 1901; its renovation was completed in 2015.

Other completed projects include:
– Eagle View Lofts, 712 S.E. Sixth St.
– An office building at 220 S.E. Sixth St.
– Dilley building renovation, 215 E. Third St.
– Peace Tree Brewing Co.'s brewery and tap room at 317/322 E. Court Ave.
– Renovation of building at 212 E. Third St.
– Nelson Construction and Development's Rowat Lofts, 601 E. Vine St.
– District at 6th apartments, 201 S.E. Sixth St.

Two other projects are in the pipeline: Connolly Lofts at 401 S.E. Sixth St. and renovation of a one-story building at 401 E. Court Ave.

The master plan calls for the development of a neighborhood grocery store on the southeast corner of Court Avenue and East Sixth St. The grocery is needed to serve both residents in the Market District and those who live in East Village, according to the master plan.

The plan also recommends development of a retail plaza at the intersection of Market and East Fourth streets. Possible businesses could include neighborhood bars and restaurants, professional service providers such as dentists and accountants, and providers of consumer goods.

To read the proposed Market District master plan, click here.

NEXT STEPS
The proposed Market District master plan is expected to be discussed at the following meetings:
Tuesday – Urban Review Design Board.
Oct. 3 – Plan and Zoning Commission meeting.
Oct. 14 – Des Moines City Council workshop.
Nov. 4 – City Council meeting where the master plan is expected to be approved.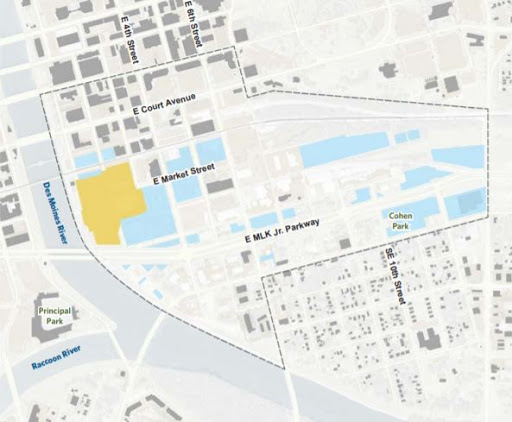 MidAmerican Energy Co. and the city of Des Moines own 50 of the 260 acres located in the Market District. Both have said they would vacate their properties so the land could be redeveloped, according to a proposed master plan for the area. Land owned by MidAmerican is in orange; land owned by Des Moines is in blue. Map by HDR Inc./city of Des Moines.
MORE COVERAGE:
Facebook Notice for EU! You need to login to view and post FB Comments!