What development leader Brian Clark learned from his stroke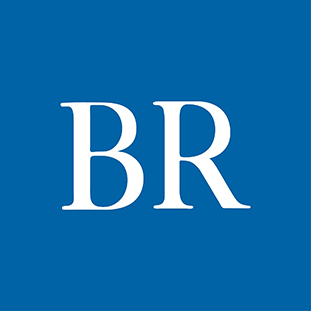 Seconds matter.
Just ask Brian Clark.
Around 3 a.m. on May 27, 2021, Clark got out of bed to use the bathroom. He noticed his balance was unsteady, something he attributed to drowsiness. As he made his way to the kitchen to retrieve a watch, he noticed numbness in his left arm. He saw the family's cat and spoke to it.
"My words were slurred as if I were drunk," said the 58-year-old Clark, who is director of development for Minneapolis-based Ryan Cos., a full-service real estate development company that has an office in Des Moines. Clark shuffled back to the bedroom and woke his wife, Ann Reinhart. As he attempted to tell her that something was wrong, he collapsed.
Reinhart realized Clark was likely having a stroke, a leading cause of death and disability in the United States. Each year, about 795,000 people in the U.S. have a stroke; 137,000 die annually from it, according to the Centers for Disease Control and Prevention. Over 1 out of 3 people hospitalized for a stroke are under the age 65.
Reinhart knew time mattered.
She dialed 911, and within minutes emergency medical technicians were at the couple's Des Moines home providing care to Clark. The EMTs lifted Clark onto the stretcher, whisking it into the ambulance and rushing to MercyOne Des Moines Medical Center.
Clark thought about his grandfather during the ambulance ride. Years earlier, Clark's grandfather had suffered a stroke. He lived in rural Iowa, miles from emergency medical services and hospitals. For the remainder of his life, Clark's grandfather used a wheelchair and had difficulty communicating.
"I envisioned the life my grandfather had and I kept thinking 'Is this my life moving forward?'" Clark said.
Getting medical treatment quickly matters.
The human brain has an estimated 86 billion neurons, nerve cells that transmit information to other nerve cells, muscles or gland cells. When a person has a stroke – blocked blood flow to the brain – between 1 million and 2 million neurons are lost per minute, said Dr. Keith Kohout, stroke director at MercyOne Des Moines Medical Center.
"That's a lot of neurons," Kohout said. "That's the critical importance of recognizing early that someone could be having a stroke. The earlier you are evaluated, the less potential brain damage there could be."
Advancement in acute stroke care
MeryOne is one of two medical centers in Iowa that have interventional technology available for blockages in the brain's blood vessels, Kohout said. The other is University of Iowa Hospitals and Clinics.
"That's a major advancement in acute stroke care in recent years," he said.
By 4:30 a.m., Clark was undergoing emergency surgery to remove the blood clot on his brain. The surgery, called a thrombectomy, involved inserting a catheter in Clark's femoral artery and maneuvering it through his body to his brain. The clot was removed carefully by an interventionist.
Oftentimes, damage to the neurons from a stroke is irreversible, Kohout said. "If there's any treatment we can do quickly, there are nerves we can save. And along with nerves that we can save, there is neurologic function that can be saved."
It's why restoring blood flow to the brain quickly matters.
Clark had dozens of questions as he began regaining consciousness after the surgery that April morning. Am I done touring national parks, he thought. Will I be able to hold my granddaughter with both arms? Will I be able to walk my daughter down the aisle on her wedding day? Will I be able to dance with her?
"I thought, 'Am I done being active?'" he said.
Clark said it didn't take him long to find an answer. "It was like 'Hell, no. I'm not done. I've got a lot more life to live.'"
The left side of Clark's body was numb, as if it had been injected with Novocain, he said. He couldn't move his arm or fingers, his leg or toes. Over the next few days, there were signs of hope – a toe that wiggled, a finger that moved. "That gave Ann and I an inkling that it's possible that this thing could not be as bad as we thought."
The couple said they felt blessed that Clark didn't lose his cognitive or speaking abilities, both common occurrences after a stroke.
Active life before stroke
Shortly after the start of the pandemic, Clark had begun the intense home workout program called P90X. He worked out for at least 30 minutes every morning. "I was in the best shape of my life," said Clark, who was a member of the Business Record's Forty Under 40 class of 2000.
He and Reinhart love traveling, often visiting national parks, six of which they've seen. They do activities with their three adult children and spend time with other family members. Clark is also active in the community. He is chair of Broadlawns Medical Center's foundation board and a member of Des Moines' Urban Design Review Board, Lincoln Savings Bank's Des Moines Regional Board and On With Life.
In 1998, Clark co-founded Confluence, a landscape architecture, planning and urban design firm that has grown to include nine Midwest offices. He was the firm's president before leaving to join Ryan Cos.
Clark was determined to return to life as he knew it before the stroke.
"He's always been a glass-half-full guy," Reinhart said. "The stroke didn't change that."
I
t's why optimism matters.
Neuroplasticity is the term that describes the brain's ability to rewire itself, including after a stroke. Oftentimes after one part of the brain is damaged, other areas of the brain adapt and change to take over functions that the damaged parts once preformed.
"Any brain can change at any time, at any age," said Tammy Miller, director of outpatient services at On With Life, a neuro rehabilitation center in Ankeny. "Just because something [like a stroke] happens, it doesn't mean you can't get better. … [The brain] is ever changing and reforming neuro pathways.
"If you're in therapy, for instance, and you're working on a technique or strategy on getting your arm moving again, that continued focus on the task will help the brain adapt and change and work around the part of your brain that was damaged to find a new way to do it."
Rehabilitation still ongoing
Clark spent three weeks at Mercy Rehabilitation Hospital in Clive and five weeks at On With Life, where he spent three hours each day in physical, occupational and speech therapy.
When he arrived at On With Life, Clark was using a wheelchair. He had to relearn how to walk "and teach [my] brain that [my] leg is strong,"
he said. "You have to learn to trust this leg that you can't feel."
Clark's therapists pushed and challenged him to retrain the left side of his body to function, from picking up a ball with hand and stretching out his arm to walking.
At On With Life, Clark thought he would use a cane to help him walk. The therapist told him to get rid of it, he said. "I was like 'What?' Sure enough, she was right. I could walk without the cane. They push you to the edge … and make you realize what you can do when you think differently about it."
While he was at On With Life, some of Clark's co-workers arrived at the center to plant a tree in his honor and spruce up the center's grounds and playground. Clark said he was surprised to see his co-workers.
"I hadn't seen them [in person] for a year or so because of COVID," he said. "I wheeled out to the curb to see what they were doing. … It just brought a big smile to my face."
It's why support matters.
Ryan Cos. strives to create a culture rooted in "family, integrity, excellence and community," Brad Schoenfelder, president, Midwest Region for Ryan Cos., wrote in an email. "We share in each other's successes [and] we help each other in times of need. This means different things in different places."
Schoenfelder, who has been with Ryan Cos. for more than 23 years, wrote that he's learned several strategies for supporting employees going through personal challenges. Among them is first understanding the challenge and how the employee is affected by it, he wrote.
"From there we have an open conversation about their specific needs and where we can find solutions … that get them healthy and back to their best for our clients and their" co-workers.
For Clark, those solutions have meant a gradual return to a full-time work schedule. Last January, he began working about 12 hours a week; he's now working 30 hours a week. He goes to physical therapy two mornings a week and is diligent about continuing his exercises at home. A year ago, it took Clark six minutes to walk the length of a football field. He recently walked the length of three football fields in six minutes.
In July, he walked his daughter Natalie down the aisle at her wedding and danced with her during the reception. In early September, he celebrated the first birthday of his granddaughter, whom he's been able to hold close with both arms.
Before the stroke, Clark said he defined success by professional achievements.
"Before, I was about climbing the next mountain professionally," he said. "Now, I'm about climbing the next mountain personally – with my wife, my kids, my granddaughter. … Before, creating memories with them may have been more of a secondary thought; now it's my primary thought."
Because those moments matter.
---
Signs, symptoms of stroke
The following are signs that someone may be having a stroke, according to the Centers for Disease Control and Prevention:
Sudden numbness or weakness in the face, arm or leg, especially on one side of the body.

Sudden confusion, trouble speaking or difficulty understanding speech.

Sudden trouble seeing in one or both eyes.

Sudden trouble walking, dizziness, loss of balance or lack of coordination.

Sudden severe headache with no known cause.
---
By the numbers
Every 40 seconds, someone in the United States has a stroke. Someone dies from a stroke every 3.5 minutes.
1 in 6 deaths from cardiovascular disease was due to stroke in 2020.
About 87% of all strokes are ischemic strokes, in which blood flow to the brain is blocked.
Stroke-related costs in the United States came to nearly $53 billion between 2017 and 2018. The total includes the cost of health care services, medicines to treat strokes, and missed days of work.
In 2020, 1,408 Iowans died of a stroke. Iowa's stroke mortality rate is 31.9 per 100,000 people. The state's stroke mortality rate is the ninth-lowest in the U.S.
---
AGE-ADJUSTED MORTALITY RATE FOR STROKE BY COUNTY
(2012 – 2016 COMBINED)
The map shows the number of people per 100,000 who died from a stroke between 2012 and 2016. The highest mortality rate was in Henry County, where 57.3 per 100,000 residents died from a stroke. Plymouth County had the lowest mortality rate of 19.8 per 100,000 people.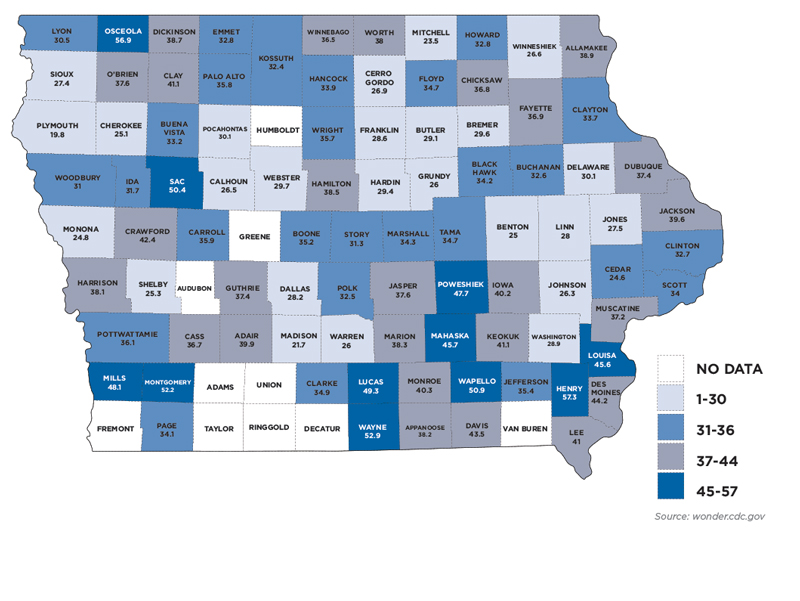 Facebook Notice for EU! You need to login to view and post FB Comments!