New members join Business Record's Racial Equity Advisory Board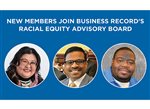 Three new community members have joined the Business Record's Racial Equity Advisory Board.
Those new members have joined with the eight founding members who we asked to hold our news team accountable for raising awareness about barriers to racial equity while also elevating community members of color through representation in our coverage and events. (Learn more about our founding members)
Meet our new members
Christine Her is the daughter of Hmong refugee parents from Laos and is a graduate of East High School and Drake University. She currently serves as the executive director of ArtForce Iowa. She is a Mid-Iowa Health fellow and a part of the Des Moines Performing Arts Equity Diversity Inclusivity Community Task Force and a serving board member. Her is also an active member of the Iowa ACES 360 Steering Committee, Drake University's Community Engagement Advisory Council and the Nonprofit Leadership Cohort Advisory Committee. She is a self-described "cultural architect who is highly motivated to interrupt social and systemic injustices with hope and art while helping others rise in their own power and lean into their purpose."
Prakash Kopparapu has worked in the manufacturing and fintech industries for the past 25 years. He volunteers for various organizations ranging from cultural and ethnic promotions to socioeconomic and political participation focused on engaging diversity in Iowa. Kopparapu currently serves on the boards of Iowa Sister States, Indo American Association of Iowa, Indo American PAC-IA, Johnston School Improvement Advisory Council and Iowans Supporting Israel. He previously served as commissioner for the Governor's Commission on Persons with Disabilities, advocating for legislative priorities for autism and mental health.
Brian Dennis has worked in disability and human services for the past 23 years, including residential care, mental health case management and local housing services; and for more than eight years in education, training and employment services through Iowa's implementation of the Workforce Innovation and Opportunity Act. He is currently the Disability Services Program coordinator with Iowa Workforce Development, which provides intensive career and training services for adults, dislocated workers and youths. Dennis serves on various boards related to the Employment First movement, inclusion of individuals who experience brain injuries, the state Assistive Technology Council and the statewide Disability Access Committee, as well as the Central Iowa Center for Independent Living. He is also an adjunct professor and has taught courses related to diversity, disability policy, family counseling, medical aspects of disability and psychiatric disorders.
About the Business Record's Racial Equity Advisory Board
We first announced the initiative in December 2020 out of a goal to empower underrepresented voices that often are silenced intentionally or unintentionally by people with privilege and power. We wanted to better acknowledge our own privilege and power as a local media organization by listening more and asking to be held accountable when we fall short of achieving our ideals. The board was designed to include folks from different racial and ethnic backgrounds through an intersectional approach.
Since then, board members have offered regular feedback on our news coverage and have advised our team on building key equity goals. The board members created the mission of guiding "the Business Record newsroom in using its resources to engage underrepresented voices of our community and facilitate meaningful conversations about racial inequity and social justice" and they have lived up to it.
Some of the key goals we've been focused on:
Intentionally incorporating more people of color in our coverage and events, especially areas of our reporting where we have historically had less representation.
Stressing the importance of reporting on equity issues in each of our coverage areas. This has at times meant delving into social issues and other areas that we have in the past overlooked – such as Iowa stylists joining the national wave to develop standards of care for natural textured hair, leaders from financial institutions finding creative ways to serve the fast-growing immigrant population, the black maternal health crisis and what Des Moines companies are doing after signing a racial equity pledge, to name a few. Our coverage has challenged the notion that business issues are just about the bottom line.
Building better partnerships with media organizations like Hola Iowa and Urban Experience Magazine run by people of color for people of color.
G

etting regular feedback to better understand how the Business Record is perceived by various segments of our community.
We have seen the power in these actions. Our advisory board members have challenged our team and me personally to do better, to think bigger and to push forward even when there have been setbacks – and there have been setbacks. But, as our board has discussed, it's better to fall short at times than to be doing nothing at all.
While the board members have shared tremendous perspectives that have helped our newsroom, we know the work is never done. We will continue to invest time into this work. It is a journey. This year we have lots to focus on, including continuing to work on the aforementioned goals and featuring more contributors of color in our publications.
A special thank-you to our founding members: Almardi Abdalla, Josefina Lopez Valdivia, Tar Macias, Claudia Schabel, Dwana Bradley, Renee Hardman, Bridget Cravens-Neely and Tej Dhawan.
Want to know more about this effort or have feedback to share? Reach out to me at emilybarske@bpcdm.com.
Facebook Notice for EU! You need to login to view and post FB Comments!