Not your traditional lawyers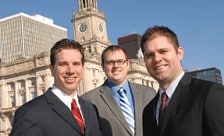 "Crazy" was a word used to describe the decision made by four recent Drake University Law School graduates. "Overly ambitious" was another way of putting it.
"Pleasantly surprised" and "better than any of us imagined" are phrases that the founders of Kemp, Eason, Sease & Dyer Attorneys and Counselors at Law use to describe their ride since opening the practice on Oct. 1.
"We thought we were going to be eating ramen noodles for the next few months, but it's worked out OK," said Jonah Dyer, one of the four founders.
Dyer, from Phoenix, Matthew Sease, from Hartley, and Tyler Eason, from Norwalk, graduated from Drake in 2010, and Minnesota native Christopher Kemp graduated in December 2009. Rather than take the traditional route of becoming associates at established firms, the four decided they wanted something more. Sitting behind a desk and doing research wasn't why they got into law.
So they took a chance, starting their own firm from scratch. Pros include getting to work with clients and present in the courtroom on a regular basis. Some cons are turning down the safety net of an established law firm and guaranteed income, not to mention justifying the decision to friends and family.
"Once I said, 'Hey, look, I'm not planning on being rich in the next three months; I'm doing this to build something, to leave a legacy' – that kind of put people at ease," Dyer said.
Now, a little more than six months in, the founders have worked on about 175 cases.
Doing their own thing
It all started in the summer of 2009. Kemp, Sease and Eason played together on a recreational softball team, and talked to one another about how much they enjoyed their experiences working at Drake's Neal and Bea Smith Legal Clinic and at local firms where they were able to represent clients. They approached Dyer with the idea on Memorial Day in 2010, and the four started planning responsibilities at Buffalo Wild Wings after softball games.
"We didn't want to be in jobs that we didn't want to do," Kemp said. "We wanted to be in the courtroom. We wanted to be representing clients, get that face time."
Oct. 1, 2010, wasn't a quiet opening day. The firm essentially opened for business on the same day it took over its lease in the Equitable Building.
Eason didn't have a desk yet. Kemp's desk was not assembled. Dyer recalled hanging pictures in his office. All the while, phones were ringing.
"People knew we were opening that day, and the phones started ringing that very morning," Kemp said.
Dyer added: "I don't think we were really prepared mentally for the phones to actually ring. During that first week, it just seemed like all of a sudden there were these people calling us and they wanted our service."
They were able to get things under control. Sease's father, a lawyer in Northwest Iowa, handed him a case in Des Moines. Kemp got referrals from Rosenberg & Morse Law Office, the firm he worked at while a student at Drake. About a month in, the firm had an open house to let Drake professors and lawyers from around the city see the office.
The firm also signed up on the state public defendant list to represent indigent defendants, and proactively traveled to county courthouses to introduce themselves to judges, court attendants and clerks, to "put a name to a face, get to know them, let them know that we're not just on this list. We're willing to come out here, willing to work hard," Kemp said.
'Service aspect'
The lawyers hope they can sell clients on their passion to make up for their lack of experience and name recognition.
"I think once we get our hands on you as a client, it becomes very clear that because this is our dream, and because our name is on the wall, we have a very intense interest in making sure that the next time you think you need a lawyer, you want to come back to our office," Dyer said.
The firm's motto is "if it's law, we'll practice it," he said. The partners take on criminal cases such as drunken driving and domestic abuse, family law cases such as divorces and custody battles, civil litigation such as personal injury cases and car accidents, and the founders have even set up corporations and limited liability companies.
Customer service is key. To build up a client base, the founders want to build a reputation not just with their clients, but also with the friends and family of those clients. To do that, Kemp said, they make a point to answer their own phones and respond to emails as quickly as they can.
They also try to make themselves willing to listen to a potential client's problems and "even if we can't help you, making it feel like if we could we would do anything for you," Dyer said.
"There's a real service aspect to it," Kemp said. "A lot of people don't have the money to pay us for all 10 hours of work, so we'll get what we can and make sure we get the job done."
They also tout the support they have. They said they still keep in touch with firms they worked at while students, as well as Drake professors, to help out with questions.
So far, despite Kemp's warnings to the rest of the group that they will eventually hit a wall, schedules have filled up and clients have found their way through the door on a regular basis.
"I think we are doing better than any of us imagined we could be doing this early," Dyer said. "I love when people call and they expect an answer from me. And there's no way that I would have the responsibility with client matters that I have right now in any other job."