Remembering John Pappajohn
Part of the billionaire's legacy is hard to measure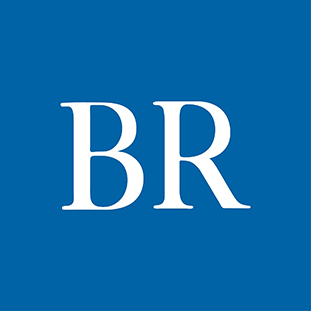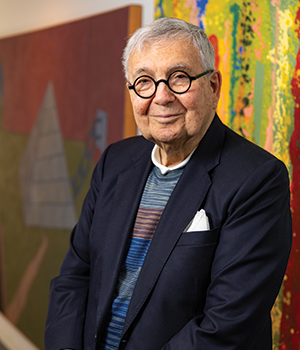 Whenever John Pappajohn spoke, people seemed to lean toward him, partly because he rarely talked above a whisper but mostly because he had interesting things to say. That's certainly what happened in January 2007 when he showed up for a meeting at the old Des Moines Register building to quietly announce his plans for a sculpture park on downtown's west side.

I was a new reporter back then, fresh on the arts beat, and didn't realize just what a turning point that day would be. I was like a sports writer watching a Dowling kid named Caitlin Clark sink a few three-pointers, or an ag reporter hearing about Norman Borlaug's patch of wheat down in Mexico. Things were about to hit the big time.

Pappajohn died Saturday at the age of 94, and many of this week's tributes will tally all the money he raised as a venture capitalist and then, with his late wife, Mary, gave away for various causes at Iowa's universities and hospitals. But a big part of his impact is immeasurable.
The Pappajohn Sculpture Park has attracted national and international attention and changed the way Des Moines sees itself. It's inspired world premieres from the Des Moines Symphony. It's stretched the imaginations of a new generation of school kids, who pour out of yellow buses to visit the park every spring and fall. We can only guess how those field trips might spark an idea, just as Pappajohn's first art-appreciation class at the University of Iowa prompted him and Mary to buy their first painting, for $100, a month after their wedding in 1961.

During the park's construction, it seemed as if a strange and beautiful alien spaceship landed every few weeks in the run-down remnants of the city's old "auto row." Installation crews moved some sculptures from the Pappajohns' yard at their South of Grand home, where John joked that he would plant a vegetable garden to fill the empty space. Other works were new, commissioned specifically for the park and donated, along with the older works, to the Des Moines Art Center. Folks who'd never heard of Mark di Suvero or Louise Bourgeois suddenly had opinions about which pieces they liked and didn't.

Both Pappajohns had wide-ranging but definite taste. They usually agreed and always did their homework. When I tagged along with them on a trip to New York in 2012, John took me to a few galleries in the Meatpacking District. Whenever he entered a room, he made a beeline for a particular piece, studied it for a few moments in silence, and then moved on to the next room. I could almost sense the gears turning behind his circular black glasses.

On that same trip, the Pappajohns also took me to the twice-annual contemporary art auctions at Christie's and Sotheby's, where they seemed to know ahead of time about each piece up for bid, what price it would fetch, and even who would buy it. At Christie's, a red Mark Rothko sold in a matter of minutes for a record $87 million. (Mary gave me her bidding paddle but I passed it right back; it made me nervous.)

It was John's idea to have the Register send me to New York, not because he wanted publicity – he usually steered clear of reporters – but because he figured it would be an eye-opening experience, and he was right. He seemed just as eager to show the auctions to me as he was to show the new sculpture park to his friend Charles Schwab – yeah, that Charles Schwab – during an impromptu trip to Des Moines in 2013.

I have a hunch John enjoyed art so much because, unlike his more lucrative interests, he never bought it as an investment. He often said that he and Mary only bought artwork they loved.
At that 2007 meeting, John explained that he and Mary would turn over at least 16 sculptures valued at some $30 million. A few days later, the Art Center issued a press release with a prescient quote from its director, Jeff Fleming – who happens to be retiring this week after 25 years and a change in title, to the John and Mary Pappajohn director.

"The magnitude of this gift to the Art Center and the impact it will have on the city of Des Moines cannot be overemphasized," he said. The park "will elevate the cultural landscape of this community to a whole new level."

– Michael Morain, dsm magazine editor

Take a look back through the Business Record and dsm magazine archives to see some of the impact John Pappajohn made on the state.

April 2022: Pappajohn emigrated with his parents to the United States from Greece when he was 9 months old. After settling in Mason City, he saw the needs of the immigrant population there. He described his neighborhood as a "melting pot" and said there were 19 nationalities in his grade school. His dad opened a grocery store named Evia, after the Greek island where they emigrated from, Pappajohn said. The store catered to everyone and sold food that represented all nationalities in the area. "It was very important because it was the Depression and people were hungry," he said. It's that memory — and news coverage of the atrocities taking place in Ukraine — that inspired Pappajohn to make a decision to donate $100,000 to help refugees fleeing the war-torn country. (Read more)

September 2021: John and Mary Pappajohn of Des Moines announced a $10 million gift commitment to continue entrepreneurship education and programming through the John Pappajohn Entrepreneurial Centers at the University of Iowa, University of Northern Iowa, Iowa State University, Drake University, and North Iowa Area Community College. (Read more)

September 2020: John and Mary Pappajohn were among the recipients of the Iowa Architecture Foundation's 2020 Community Enhancement Through Architecture & Design Awards. (Read more)

November 2019: Pappajohn was recognized by dsm magazine, the Business Record's sister publication, as a Sage Over 70. "Adversity is a blessing in disguise," he said when he was recognized. "If you have a problem, you learn how to solve it." (Read more)

September 2019: Property values tripled in the Western Gateway in the past 20 years. Since the addition of the John and Mary Pappajohn Sculpture Park in 2009, values increased at an even faster rate. (Read more)

– Business Publications Corp. staff
Facebook Notice for EU! You need to login to view and post FB Comments!