Soy for Life Foundation focuses on nutrition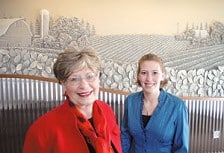 An organization dedicated to promoting the benefits of soybeans has launched an initiative to teach teenagers healthier eating habits.
The Soy for Life Foundation was established three years ago by The Soyfoods Council as a vehicle to fund research and to educate consumers, food industry professionals and the media about the benefits of soy products. The 501(c)(3) organization is also committed to developing programs to assist malnourished populations.
The Ankeny-based foundation has partnered with the Chrysalis Foundation in Des Moines to offer "Soy Sense," an after-school nutrition education program for middle-school girls. The one-hour sessions focus on topics such as the nutrition content of foods, portion control, keeping a food and fitness journal and how to make healthful snacks.
Linda Funk, Soy for Life's executive director, said that several research studies have concluded that girls who consume at least one serving of soy products per day may reduce their risk of developing breast cancer later in life by up to 50 percent. "So we really wanted to get the word out about how important it is for young girls to consume soy," she said.
The program, which began in January and continues through May, is offered through Chrysalis' existing after-school programs at 10 middle schools in Greater Des Moines. The foundation's goal is to expand the program statewide and then nationally.
Soy for Life is also working with Iowa State University's Nutrition and Wellness Research Center to study how package design and nutrition messages affect how teens choose snacks.
This week, Funk returned from a one-week trip to Uganda, where she traveled with several agricultural experts to learn how the foundation can assist farmers. Soy for Life is working with ISU's Center for Sustainable Rural Livelihoods on that project.
The foundation is seeking partners for additional projects to address health, nutrition and childhood obesity issues. "Partnerships are critical for us," Funk said.