Tenants flock to newly remodeled Park Fair Mall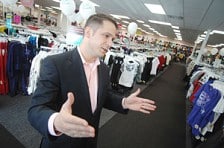 Denny Elwell's $3 million makeover of Park Fair Mall has helped the Ankeny-based developer turn it into a bustling North Des Moines shopping center.
In late 2006, the Iowa Motor Vehicle Division vacated its space at 100 E. Euclid Ave., closing out a relationship that drove traffic to the Highland Park property for nearly 15 years.
"Virtually the entire mall was emptied," said Chris Murray, president of Denny Elwell Co., referring to the relocation of an Iowa Department of Transportation driver's license station to Ankeny.
Activity in the 251,000-square-foot mall dwindled as its owner considered the options.
"We could proceed down the path of a non-viable shopping center or invest the necessary dollars into turning it back into a retail hub," Murray said.
Elwell, who founded the real estate company, opted for the latter course.
In 1956, Park Fair was the first interior mall to be constructed in Greater Des Moines. Operating as HPM Investment Inc., Elwell purchased the property in 1989. At that time, the space was 97 percent vacant, Murray said.
Today, the mall is more than 90 percent occupied.
The renovation, which was completed in late 2008, included the elimination of a first-floor interior corridor, the installation of a new roof and the addition of stone columns and tiles. In the parking lot, the developer replaced curbs, constructed parking islands, laid fresh asphalt and installed new lighting.
It also refurbished a number of storefronts that house national tenants, such as Blockbuster Inc., which has been at the mall for more than 10 years; Ace Hardware Corp., which opened in 2008; and Dollar Tree Inc., which leased a 12,000-square-foot space in 2009.
To complete the construction, however, sacrifices were necessary.
"We had to take the shopping center down to approximately 12 percent occupancy," Murray said, referring to the termination of several leases. That meant losing two national and several local tenants.
And though none of those occupants returned, the renovation opened up new opportunities to attract larger tenants that were more in line with Elwell's vision for the retail complex.
"Because what we were doing was creating an ambience for larger tenants, it didn't fit a lot of what they were able to do," Murray said.
But the remodel did fit Boone-based Fareway Stores Inc., one of Park Fair's longest-standing anchor tenants, which in 2008 extended its lease at the shopping center through 2025.
Last month, Citi Trends Inc., a Savannah, Ga.-based discount apparel retailer with about 450 stores in 26 states, took posession of an approximately 14,000-square-foot space.
Now, as HPM Investment's newest tenant readies to open its doors, Elwell is investing more money into Park Fair.
China Palace Buffet, which signed a 10-year lease on 6,742 square feet of the mall's main level, will pay for its own tenant improvements, Murray said. But Denny Elwell will spend nearly $70,000 to install a grease interceptor to accommodate the restaurant, which is expected to open in January.
On the mall's north side, a glass front with canopy overhangs will soon be installed, which Murray said will make the space more inviting to existing and potential tenants.
Elwell also worked with the city of Des Moines and the Des Moines Area Regional Transit Authority (DART) to construct a mini-transit hub on the site, also known as a bus barn.
Murray said that amenity helps to attract and to serve the approximately eight nonprofit organizations that operate in the mall, including Visiting Nurse Services of Iowa, Life Line Resources LLC and the Northside Senior Center.
"DART has been a driving factor to some of the nonprofit agencies that call Park Fair home," Murray said. "They need and require the public transportation system as part of their day-to-day business."
Most of the nonprofits are located on the mall's lower level.
Three stand-alone buildings, which house a Walgreen Co. drugstore, a Bankers Trust Co. branch and a day-care center, are included in the mall's makeup.
Murray noted that the Highland Park community and various neighborhood associations have been supportive of Elwell's efforts to revitalize the mall.
"It goes back to people in the community supporting neighborhood retail," Murray said.
Denny Elwell Co. is a commercial brokerage and property management firm that owns about 2.3 million square feet of real estate and manages more than 700,000 square feet of third-party space.
Murray said the company retained earnings from other projects in order to finance Park Fair's renovation, which was supported by a 10-year tax abatement by the city of Des Moines.
Elwell is the sole owner of HPM Investment, an S corporation.
"He has a soft spot in his heart for Highland Park and Northeast Des Moines," Murray said. "And it shows with what he did with this project."