Two men and an engineering firm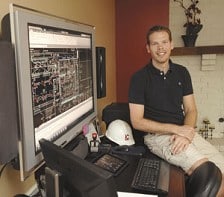 Kris Kunze kept trying to recruit him, kept trying to pull him away from the comfortable office and the reliable pay, and finally Mark LaCroix said yes. "I was looking at the hours I spent commuting and sitting in the lunchroom and in meetings," LaCroix said. "That was a lot of time that I could be doing something else."
So now KCL Engineering LLC has doubled in size to two people. There's still no corporate office, no support employees, no organization chart – just two guys working out of their homes and waiting for the rest of the business world to catch up.
Kunze, an electrical engineer, and LaCroix, a mechanical engineer, worked together at Durrant for several years. In January 2008, Kunze made his move toward independence. Family, career dreams, available technology and the economy all came together to push him out the door.
As the first signs of an economic slowdown emerged, some of his colleagues began changing jobs. "Rather than go to another company and be in line to be promoted or let go," Kunze said, "I decided to create my own future."
It was not a safe moment, if there is such a thing, because Kunze and his wife, Jenny, were expecting their first child. Fortunately, Jenny is "a huge supporter" of Kris' business decisions, he said. Besides, she had plenty of warning. "I told her my career goals years ago."
The year of 2008 proved to be not just slow, not just bad, but disastrously bad – for the world in general. Not so for brand-new KCL. "I had no overhead, corporations were trying to get streamlined, and projects were coming in left and right," Kunze said. "There are always projects valued at $1 million to $10 million, and those kept me more than busy the first year or two; then bigger ones came along."
One key, he knew, was the rapidly evolving technology that enabled him to work more efficiently than the engineers of a few years ago could have imagined. Rather than wait for a corporate structure to make decisions, Kunze quickly began using SugarSync to link his laptop to the "cloud" of unlimited computer storage, cloud-based RingCentral for phone communications and an iPhone to do much of his work anywhere with a "logmein" free app.
The payoffs were not technological at all; they were personal. Working at home, Kunze enjoys conversations and lunch with his family and has been able to "watch my son grow on a daily basis. I was there when he first rolled over, and when he said his first word," he said.
"That's worth any amount of compensation any company can provide."
LaCroix saw this, and it resonated. "I think family had a huge part in the decision for Kris, and that's one of the reasons I joined," he said. "The flexibility of family life requires much more than PTO (personal time off) and weekends." Since signing on in January, LaCroix said, "I've gone to have lunch with my daughter at school four or five times."
LaCroix, 40, graduated from Iowa State with a degree in chemical engineering and went to work at Archer-Daniels-Midland in Decatur, Ill. A Sioux City native, he came back to Iowa for family reasons and worked at Pulley and Associates, at KJWW Engineering Consultants P.C. for several years and then at Durrant (Pulley and Durrant had merged by then).
Working together but separately takes the right partnership. "You have to be confident in each other and trust each other," LaCroix said.
"If work is slow, I'm going to take my son to the park," Kunze said.
No problem, said his partner. If Kunze is relaxing in the middle of the day, "I could just as well have been doing that myself," LaCroix said.
The two said it's not a matter of shorter hours, but different hours. "I work a 'third shift' from 8 p.m. until midnight quite often," LaCroix said.
"I'm probably putting in more hours, but it doesn't feel as bad."
They have added a space at the West Des Moines Business Incubator, which they plan to use as a place to meet with clients. Their offices, however, remain in their homes.
That seems to be working out, in case any other entrepreneurs were wondering. "I think eventually the norm will be what we're doing," LaCroix said. "True flex time."