Valuation of building permits issued for new projects in Des Moines area in 2021 exceeded $1.7 billion, records show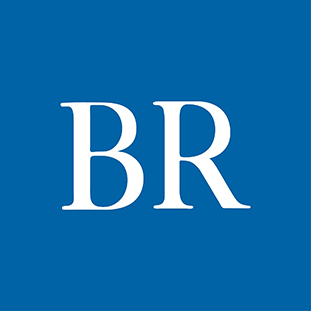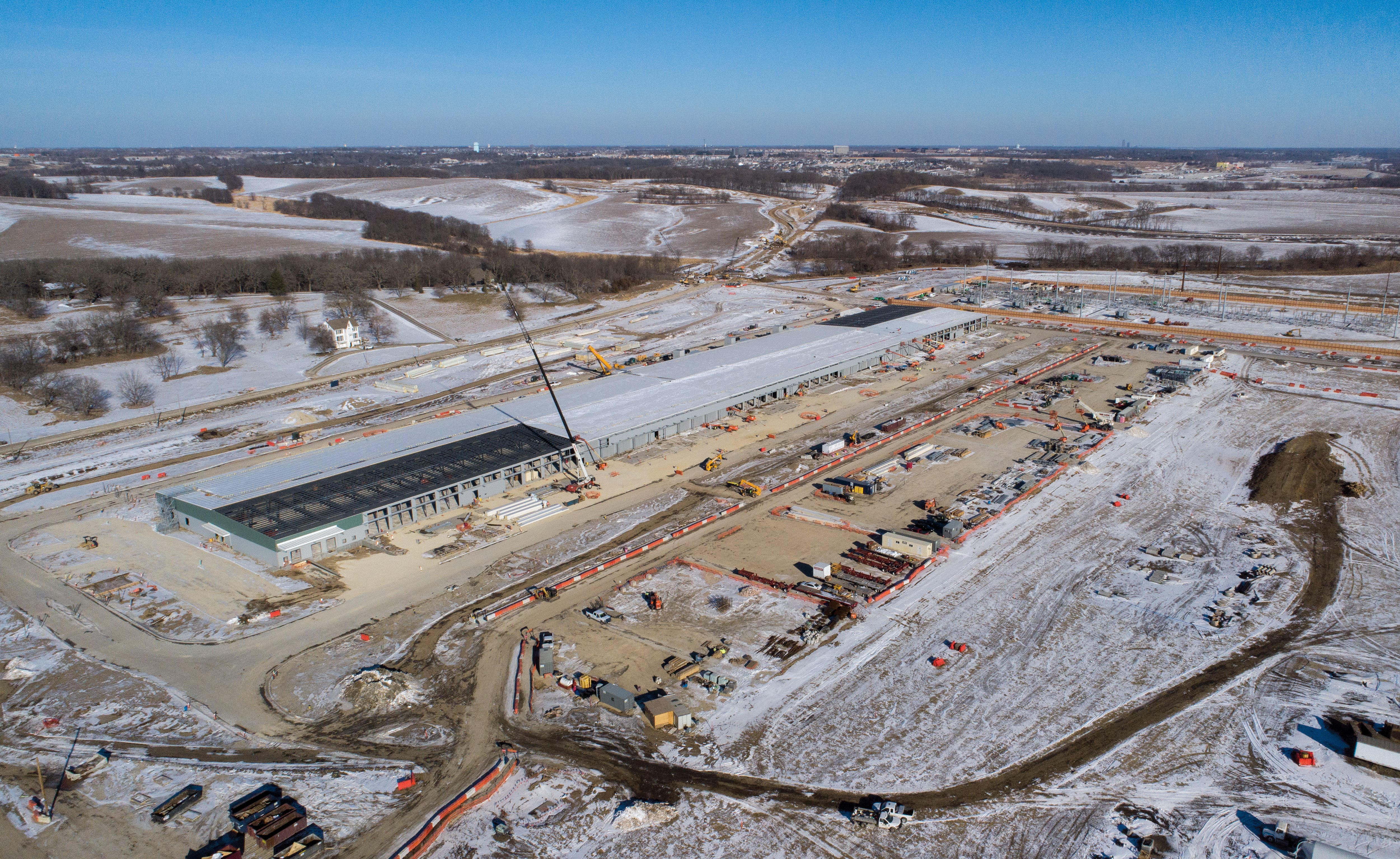 Construction of Microsoft Corp.'s newest data center, Ginger West, was among $1.77 billion in new commercial construction projects that got underway in the Greater Des Moines area in 2021. A building permit valued at over $264 million was issued in June for the data center, located at 11100 Booneville Road in West Des Moines. Photo by Duane Tinkey
The valuation of commercial building permits issued in 2021 for new projects in the Des Moines area soared over $1.7 billion, a total boosted by the construction of new data centers in West Des Moines and Altoona, a review of communities' building permit data shows.
Microsoft Corp. and Facebook both started construction on new data centers in 2021, accounting for 42%, or $754.56 million, of the building permits issued for new projects.

West Des Moines and Altoona both had record-setting years, both in terms of the valuation of permits issued and the number of permits. Among the other communities that set new building-permit-related records were Ankeny, Urbandale and Waukee.

In West Des Moines, 1,481 residential and commercial building permits valued at just over $1.1 billion were issued in 2021. In 2016, the community's second-best construction year, 938 permits valued at $1.06 billion were issued, city records show.

"The Microsoft projects are paying for a lot of the new infrastructure we are putting in," said Clyde Evans, the city's director of community and economic development. "The other thing a strong year like 2021 does is that it sends a very strong signal that development in West Des Moines is very strong and it's a good place to invest in."

In addition to Microsoft's two new data centers – Ginger East and Ginger West, which each will be about 1.8 million square feet and cost about $1 billion to develop – other large projects that started in West Des Moines in 2021 include construction of Des Moines University's new campus at 8025 Grand Ave. and a 130-unit retirement center at 850 S. 60th St.

Evans said he expects 2022 to be another record-setting year for West Des Moines. Microsoft plans to start construction of other data centers at Ginger East and Ginger West; construction of a development that will include the national steakhouse chain Ruth's Chris Steak House is expected to begin, as is construction of West Bank's new headquarters south of Valley West Mall; and several residential and apartment projects are in the pipeline.

"I think we're on a pace to make or exceed [2021's] record," he said.

Altoona issued commercial building permits valued at over $305.6 million, city officials said. Among the community's new projects is a new Facebook data center, which was issued a permit valued at over $86.2 million, and a new warehouse in Graham Group's development north of Interstate Highway 80. The permit for the warehouse was valued at over $25.1 million.
Derek Lord, Ankeny's economic development director, anticipates 2022 to be a strong construction year. In 2021, the community issued permits valued at $498.7 million, up from the previous record of $423 million set in 2020.

Costco, a members-only big box retail store that offers steep discounts on a range of items, is expected to start construction on its new Ankeny store north of Northeast 36th Street and east of Interstate Highway 35. The 198,250-square-foot store is planned in a new 125-acre development called Spectrum 36. Other commercial development such as banks, restaurants and other retail stores are among the developments that could be built near Costco, Lord said.

"I think there will be a lot of pieces to that overall development that are in the planning stages in 2022, and that there will be additional groundbreakings in 2023," Lord said.

Other retail and service-related developments will likely occur along Northeast 36th Street west of Interstate 35, he said.

"One thing that is changing in our community is our population density on the north side of Ankeny, which has definitely reached a critical mass that is beginning to attract more retail and service businesses" to the northern part of the community, Lord said.

Industrial/warehouse development will also continue to be strong in 2022, he said. The pandemic "accelerated people's appetite for online shopping across the board. Some of the companies that historically haven't done as much online shopping have gotten into it. I think it's going to continue, which means there will be a need for more warehouse space."

In the fall, Opus Group started construction of its second building in Swanwood Logistics Center in Ankeny. The 296,200-square-foot speculative building is located at 7400 S.E. Convenience Blvd. and is adjacent to a build-to-suit structure for Brown Warehouse Co.

Opus is also constructing Northridge 80|35, a speculative 60-acre development on the northwest corner of Northeast 14th Street and Broadway Avenue just south of Interstate Highway 80-35. Construction has started on the first phase of a development in northeast Des Moines that is expected to add over 1 million square feet of Class A industrial space to the area.

"Construction of this type of space definitely comes from the pandemic," said Michael Anthony, senior project manager for Opus, which is headquartered in Minneapolis and has seven other offices, including one in Clive. "Obviously, supply chain issues have been increasing throughout the pandemic. There's a need to get the product closer to the end user."

Anthony said that even after the pandemic ends, the need for warehouse space will likely continue.

The pandemic "identified the gaps we have on over-the-road trucking or rail or air or shipping overseas and getting those products, from a distribution standpoint, to their end users," he said. "Having a stockpile of those products at the point is going to be the new norm throughout the United States going forward."

The Northridge 80|35 project was among the more than $194 million new commercial projects issued building permits in Des Moines in 2021, records show. Others include a permit valued at $27 million for an apartment project at 300 S.W. 11th St. and one valued at nearly $21 million for a condominium project at 3750 Grand Ave.

"I think given the fact that we were still very much in a global pandemic, we had a strong construction year," said Carrie Kruse, an economic development administrator for the city of Des Moines.

Kruse said the city is experiencing "a lot of inquiries" about industrial warehouse developments in the northern parts of the city near the Northridge 80|35 project. In addition, she said she expects the construction of multifamily developments to continue into 2022.

"I think the biggest question marks out there right now is inflation and supply chain along with interest rates," she said. "I know there's several planned interest-rate hikes this year that could impact construction activity."
2021's new Des Moines area commercial projects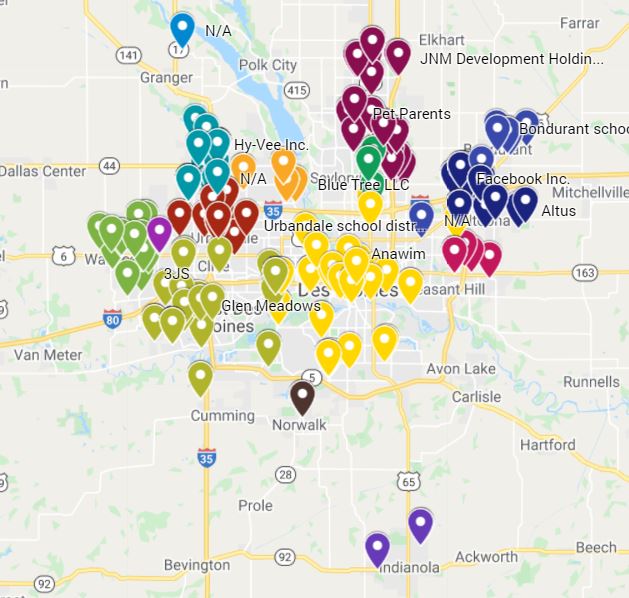 Commercial building permits valued at more than $1.7 billion were issued in 2021 for new projects in 13 Des Moines-area communities and Polk County, data from the permits shows.

Click here to find out detailed information about the more than 250 new projects issued a building permit in 2021. View a spreadsheet that includes the commercial building permit informatio
Facebook Notice for EU! You need to login to view and post FB Comments!