10-year-old sculpture park sparks economic development in Western Gateway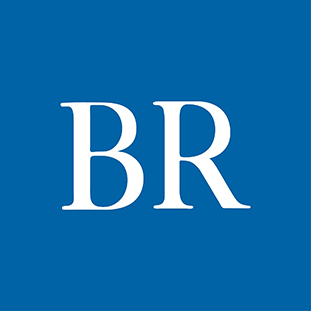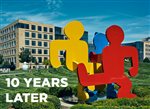 Editor's note: Property values have tripled in the Western Gateway in the past 20 years. Since the addition of the sculpture park 10 years ago, values have increased at an even faster rate.
An anniversary celebration for the John and Mary Pappajohn Sculpture Park is planned from 4 to 7 p.m. Saturday, Sept. 7 at 1330 Grand Ave.
Click on the pins above to see percent change in property values in the last 10 years.
For years, development in the western portion of downtown Des Moines lagged behind the resurgence occurring in other parts of the central business district.
And while the addition of a park brought activity to the Western Gateway, it was the creation of a sculpture park with a diverse selection of art pieces arranged among crescent-shaped berms that ignited a flurry of redevelopment.
Street-level restaurants have opened across from the park; businesses have filled renovated office spaces; apartments, townhouses and lofts have been built; and a new corporate headquarters was constructed.
Over a 20-year period, the values of properties located in an area bounded by Ninth and 18th streets and High Street and Martin Luther King Jr. Parkway have more than tripled, significantly outpacing valuation growth in the rest of downtown, an analysis by the Polk County Assessor's Office for the Des Moines Business Record shows. A majority of the growth occurred in the 10 years after the opening of the John and Mary Pappajohn Sculpture Park.
"Many, many studies have shown that there is a prominent relationship between rising property values and green space," said Ed McMahon, senior resident fellow at the Urban Land Institute based in Washington, D.C. "You're using parks as a tool to create places people wanted to be. That's why we're seeing 15% to 30% increases in the value of properties adjacent to parks and open spaces."
In Des Moines, over a 20-year period, the value of property in the Western Gateway grew at a rate that was more than three times as fast as the rest of downtown, data from the assessor's office shows. Specifically, the assessor's data shows:
In 1999, the value of the property located in Western Gateway totaled $201 million when adjusted for inflation. By 2019, the value had increased almost 230% to $662.7 million.
In 1999, the value of property in the rest of downtown totaled $1.6 billion when adjusted for inflation. By 2019, that value had increased just 81% to $2.9 billion.
"That change in assessed value is really significant," former Des Moines city councilwoman Christine Hensley said. When properties currently receiving tax abatement begin to pay their entire property tax bill, "it will allow the city to pay for services like fire and police and not have to increase property taxes."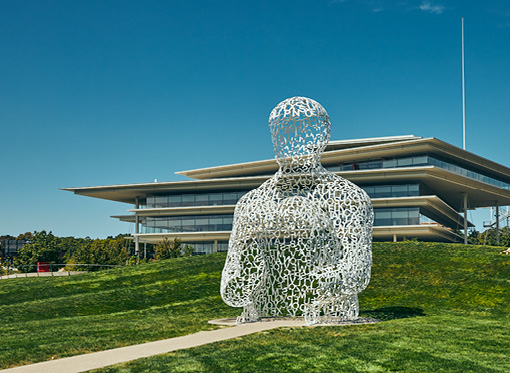 Drive into downtown 'not beautiful at all'
In the early 1900s, the area between 10th and 18th streets and Grand Avenue and Locust Street was home to dozens of auto-related businesses. Shiny new vehicles were displayed in showrooms with floor-to-ceiling windows. The area, known as "auto row," sprouted other support businesses like radiator and repair shops.
As auto sales businesses became bigger, they moved to larger spaces, abandoning the showrooms. Over time, the buildings became dilapidated and unsightly. In some instances, less than desirable businesses replaced the auto shops.
"It was not beautiful at all," recalled New York architect Mario Gandelsonas of the area's appearance during his first drives into downtown Des Moines.
It was Gandelsonas who shared with city and business leaders his visions of a pedestrian-friendly riverfront, thriving East Village and lively Court Avenue, all of which helped reshape downtown. He also envisioned creating an elongated park to draw people out of the skywalks and be a gathering place for outdoor events. He suggested developing it in the west entrance to downtown.
The park, he told community leaders at the time, would spark redevelopment in Western Gateway. "I knew it would happen, but that it would take time," he said.
In 2006, Western Gateway Park opened. The level area of grass, benches and walkways between Locust and Grand became a popular place for walks, Frisbee tossing, pickup soccer matches, outdoor movies and concerts.
The area "was in a state of transition," said Erin Olson-Douglas, Des Moines' economic development director. "Development was starting to occur."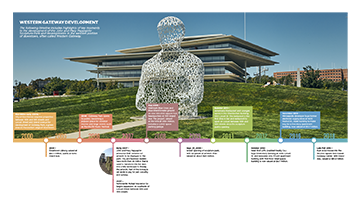 On the east, Western Gateway was anchored by a new Central Library, and on the west, by the expansion of Meredith Corp.'s headquarters that was surrounded by gardens and well-manicured lawns.
In 2002, Nationwide Mutual Insurance and Wells Fargo Financial made major commitments to the area with additions valued at $137 million and $90 million, respectively. Wells Fargo Financial added a second building valued at $56 million in 2006, and in 2009 Nationwide added a second building valued at $142 million. The two financial services companies also built three new parking garages in the area.
Also, Wellmark Blue Cross and Blue Shield announced plans for a $190 million headquarters and parking facility on the north side of Grand Avenue.
While that was occurring, venture capitalist, philanthropist and lover of art John Pappajohn in 2007 began contacting community leaders about donating sculptures he and wife Mary owned. The donation of 24 sculptures then-valued at about $40 million accelerated the pace of development around the park, community leaders and others say.
"Once the sculpture park went in, it was a game changer," said Hensley, who was among the first people Pappajohn called about his donation. "Everyone wanted to be affiliated with it."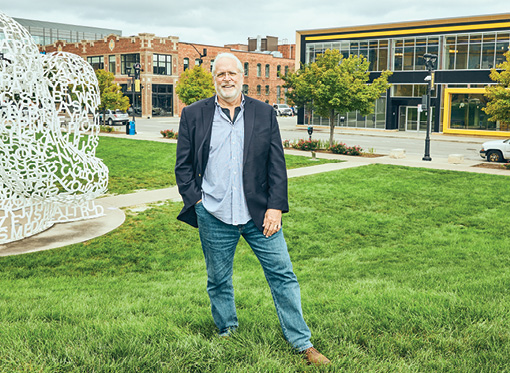 Opening across from park 'not a hard decision'
On Saturday, a celebration will be held at the sculpture park marking its 10-year anniversary. When it opened, Wellmark was completing construction of its headquarters and Nationwide had just completed an addition to its first downtown facility.
In mid-2007, as plans for the sculpture park were being developed, Jack Hatch (pictured right) and his partners bought the Chamberlain Building at 1312 Locust St. and the Kruidenier Cadillac Automobile Co. Building at 1408 Locust St. Both are directly south of the park.
City officials had urged that the buildings be torn down because of a desire to have corporate headquarters surround all sides of the park, Hatch said.
"We agreed that that would be disastrous – that you had to have a strip down here that brought people at nighttime … who would actually go and eat someplace and go to a coffee shop," said Hatch, a former state senator. "The restaurants and other shops really added to the vitality of the area."
However, renovating the buildings and signing tenants was not easy, said Hatch, who has sold his share of the buildings to former business partner Bruce Rastetter. The recession hit soon after the development group bought the buildings, Hatch said. He was able to sign four tenants including Flynn Wright advertising agency and Americana Restaurant and Lounge before hitting a nine-month dry spell.
Mike Utley, who operates Americana, said opening a restaurant across the street from the sculpture park "was not a hard decision. We knew it was going to be a destination for people and that after they visited the park they were going to want to go someplace to eat."
Americana was the first dine-in bar and restaurant to locate on the south side of Locust between 10th and 12th streets after the sculpture park opened.
Over time, businesses became more confident in locating in the Western Gateway, Utley said. "I think the sculpture park gave them confidence."
Today, more than a dozen restaurants and coffee shops surround the park.
Redevelopment of the Gateway has spread beyond the park's perimeters.
To the south, along Walnut Street, buildings are being remodeled, restaurants are opening and new living spaces are being created.
"There's certainly been a ripple effect," said Olson-Douglas, the city economic development director. "I think you expect that the success and good things have happened around the park will reach further into the area."
Sculpture park gives Des Moines 'competitive edge'
Kum & Go is the latest corporation to locate its headquarters adjacent to the sculpture park. The gas station and convenience store chain had been located in West Des Moines, but about five years ago company leaders decided to move downtown. Construction of the six-story, glass-encased building, valued at $91.4 million according to the assessor, took about three years to complete.
In November, the corporation moved into the Krause Gatway Center at 1459 Grand Ave.
When Kum & Go employees look out the center's southern windows, the sculpture park is in full view.
"Outside our front door is an incredible city park," said Tanner Krause, Kum & Go's president. "We are passionate about the arts, and to be able to secure the right amount of land to build a home for our associates for generations to come, next to the park, is incredible."
When Kum & Go is recruiting new employees, the sculpture park is a selling point, Krause said. Driving into downtown past the sculpture park with the Krause Gateway Center in the background "is a really positive welcome for someone coming to visit us for the first time."
Nationwide, downtowns are enjoying a resurgence, said McMahon of the Urban Land Institute.
"Young people want to live closer to where they work and in more walkable, bikeable settings."
Des Moines is among several Midwest cities with thriving downtowns, McMahon said. To continue the trend, the city should keep investing in quality-of-life amenities that are unique from other communities, he said.
"If Des Moines, Iowa, can't differentiate itself from other cities, it will not have any advantages," he said. "So building a world-class sculpture park is giving the city a competitive advantage."
Facebook Notice for EU! You need to login to view and post FB Comments!