$15.5 million hotel proposed for Gray's Landing development south of downtown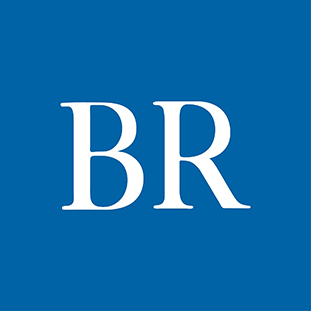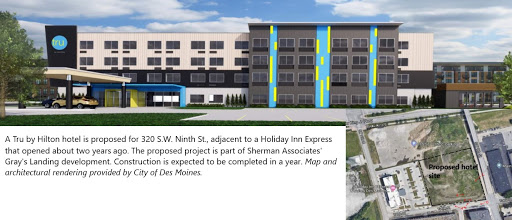 A $15.5 million, 98-room hotel is proposed for south of Martin Luther King Jr. Parkway in an area teeming with construction activity.

Sherman Associates of Minneapolis plans to build the hotel – a Tru by Hilton – at 320 S.W. Ninth St., just east of the four-story Holiday Inn Express that opened about two years ago, information provided the Urban Design Review Board shows. The board is scheduled to discuss the project at its meeting Tuesday.

The Tru hotel is part of Gray's Landing, a development proposed more than a decade ago on 50 acres roughly bounded by Martin Luther King Jr. Parkway, Southwest 16th and Southwest Ninth streets, and Tuttle Street. The development got off to a slow start because of the 2008 recession.

Sherman Associates has modified its plans for the area to now include the Slate, an independent senior living facility at Southwest 11th and Tuttle streets; a three-story office building at Southwest 11th and MLK Parkway, and three other housing projects: Nexus II, Slate II and a market-rate apartment project, according to city officials. The office building is to be completed in 2021 and the apartments within five to seven years.

Two other apartment buildings – the 142-unit Nexus and the 90-unit Edge – have been completed in the past three years in an area frequently described as an "urban neighborhood." Also completed was the Holiday Inn Express and a 12,711-square-foot child care center. In addition, Southwest 11th Street was installed between MLK Parkway and DART Way, and Tuttle was extended between Southwest Ninth and Southwest 11th streets.

To date, investment in Gray's Landing totals about $75 million, city documents show.

The Tru brand was introduced by Hilton two years ago. This year the company expects to open its 100th Tru, which Hilton officials have said will eventually become the company's biggest brand. The mid-tier hotel, designed to appeal to millennials, includes a 2,880-square-foot lobby with areas for guests to work, play table games, eat and lounge. The brand will be the first venture into Des Moines but not Iowa. A Tru is located in Cedar Rapids.

The hotel will also include an enclosed swimming pool and a 200-stall parking lot that will also serve a proposed office building.

Des Moines' Urban Design Review Board is expected to discuss the project at its meeting at 7:30 a.m. Tuesday at the Richard A. Clark Municipal Service Building, 1551 E. Martin Luther King Jr. Parkway.

Construction of the hotel is expected to be completed by 2022.

Gray's Landing, when completed, is expected to be valued at between $250 million and $275 million, according to city staff.

Hubbell Realty Co. is developing another urban neighborhood – Gray's Station – directly west of Gray's Landing. The Hubbell development includes a $41 million apartment project called Linc, located at Southwest 11th and MLK Parkway. Construction of Linc is underway and is expected to be completed by mid-2020.

Gray's Station, spread over about 75 acres, is transforming abandoned rail yards north of the Raccoon River into an urban neighborhood that will include more than 1,100 housing units, some of which are under construction. The development will be linked to Gray's Lake Park by pedestrian bridge that is being installed over the Raccoon River.

When completed, Gray's Station is expected to be valued at about $275 million, city staff said.
Facebook Notice for EU! You need to login to view and post FB Comments!