2011 Forty Under 40 Winner: Christina Moffatt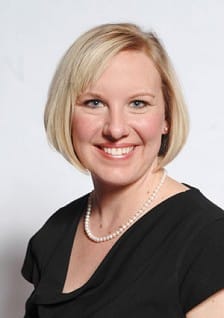 Age 32 | Owner, Crème Cupcake
Christina Moffatt turned a hobby and a knack for making people happy into a job that leaves a sweet smile on their faces.
In August 2010, she gave up her day job at RDG Planning & Design and opened Crème Cupcake. The business started with an order for one dozen cupcakes. Then came the Bravo Greater Des Moines fund-raiser and its order for 1,400 cupcakes.
"That was kind of the tipping factor," Moffatt said.
She was working at RDG and making cupcakes as a hobby, then as a second, full-time job. "My husband looked at me and said, 'You can always get another job,'" she said.
That's when she left RDG, where among various tasks she coordinated the team that worked on a $50 million health-care project. She has a certificate in lean health-care design from the Institute of Industrial Designers. The designation recognizes best practices in streamlining the design process.
Moffatt also is president of the Des Moines Downtown Chamber of Commerce, she chaired the 2010 Greater Des Moines Leadership Institute's Give Back Des Moines collection, where she helped raise $93,000 in donations, and received a "Challenging the Process and Leading the Way" award from the Greater Des Moines Leadership Institute.
She also is a runner, having completed the Des Moines Half Marathon and Cooper Creek Triathlon.
"That's what keeps the cupcake weight off," she said.
Moffatt said her No. 1 inspiration – and top taste-tester – is her husband, Ryan, who is a planner for the city of Des Moines.
"He is the one who has been pushing me and motivating me and telling me to keep going. He has been my cheerleader," she said.
Anthony Timm of Central Iowa Shelter & Services nominated Moffatt.
"It has been exciting to watch Christina take Crème Cupcake to a full-time company in just five short months. She has a passion for making people happy and now she has a way to help people celebrate occasions."