2011 Forty Under 40 Winner: Jan Myers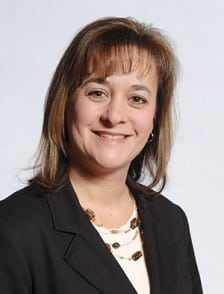 Age 39 | Director, Mercy Children's Center at Mercy Medical Center – Des Moines
Jan Myers must do things the right way. She was nominated for Forty Under 40 by her former and current employers.
Myers is one of the youngest people to head Mercy Children's Center at Mercy Medical Center – Des Moines. She also worked for nearly 10 years in the pediatric intensive care unit at Blank Children's Hospital, whose parent organization is Iowa Health – Des Moines.
"Jan consistently provided exemplary care to children and families. She continuously looked for methods to improve care and increase efficiency," Susan Allen, nurse manager at Blank Children's Hospital, wrote in a nominating letter.
Her new boss is equally impressed.
"As one of the youngest nurses ever to hold this position at Mercy, Jan fulfills her role with remarkable calm, dedication, compassion and good humor," wrote Mercy President and CEO David Vellinga.
At Mercy Children's Center, Myers has round-the-clock authority and accountability for the 22-bed pediatric intensive care unit. She also is responsible for a budget of more than $3 million.
In addition, she developed objectives for lectures and had the content approved for educational credits for nurses, doctors and emergency personnel who participated in a pediatric outreach program. She took the show on the road, visiting rural hospitals to share how Mercy can help them care for kids.
Since April 2010, her team has visited 40 rural hospitals within a 150-mile radius of Des Moines and participated in 25 lectures.
Myers also planned and implemented a $12 million renovation of the two departments she oversees at Mercy Children's Center.
All of her good works are not confined to her day job. Myers is president of the Colfax-Mingo Elementary School PTA, where she led a campaign to raise more than $10,000 for a computer laboratory, playground equipment and fine arts field trips.
She also is a member of the boards of the Colfax-Mingo Youth Sports Organization and the Iowa Sustaining Parent Involvement Network. She is a class member of the 2010-2011 West Des Moines Leadership Academy. Myers also works with Variety – The Children's Charity and the Iowa Organization of Nurse Leaders. She is a volunteer clinical teaching assistant and a member of the Iowa SafeKids Coalition.