2011 Women of Influence Winner: Connie Isaacson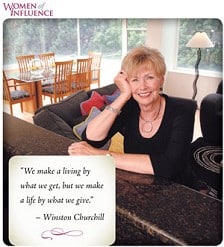 Owner, Isaacson Consulting LLC
Connie Isaacson built her career around connecting others to the resources they need to achieve financial goals. Strong ties to family and volunteerism were springboards to her success.
Starting out in the nursing field at a time when professional options for women were more limited, Isaacson said her initial vocation fit well with her overarching philosophy of loving and caring for others.
"At the time I was ready for college, women didn't have the choices that they have today," she said. "As a woman, you decided you were going to be a teacher or a nurse, pretty much. And I chose nursing because I really do like serving people, and I really do like helping people."
Isaacson's interest in helping humanity was reinforced while she reared five children as a stay-at-home wife and mother. It was during those years when she became actively engaged in supporting neighborhood-based groups and nonprofit boards as a community activist.
She returned to the work force in the early 1990s, as her youngest child went off to school.
As director of development at Blank Children's Hospital, Isaacson spearheaded a $15 million fund-raising campaign that led to the development of a children-focused health-care facility in Des Moines.
In a similar role with the Des Moines Art Center, she coordinated a campaign that resulted in a $17 million endowment. Working with Planned Parenthood of Greater Iowa, she oversaw an $11 million capital campaign and a $1.4 million annual fund campaign.
In 2008, Isaacson opened Isaacson Consulting LLC, an entrepreneurial venture that allows the 64-year-old to assist multiple organizations while prioritizing more time for her 12 grandchildren. Last year, she moved with her husband, Richard, to a condominium on Grand Avenue in Des Moines from the home they shared in Urbandale for 37 years.
"If you succeed at home first, then I think that provides a good foundation for succeeding in the work environment," said Isaacson, adding that she organizes her nonprofit involvement into three primary areas: health care, social services, and arts and culture.
"They said it was a positive, growing up in a home where their mom was doing community work, and they have now embraced that," she said. "I think that's so positive in our society."
"Connie has already achieved the greatest honor for which any woman could strive," Heather Starr of Winterset wrote in her nomination of Isaacson. "She balanced a career in nursing and later fund-raising while raising five independent, compassionate, educated children who into adulthood maintain a close relationship with each other and their parents. With all of Connie's past and future accomplishments and accolades, nothing will surpass her success at motherhood."