2012 Forty Under 40 Winner: Lynh Nguyen Patterson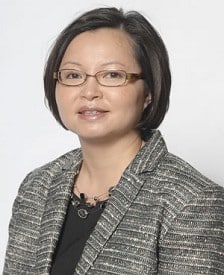 Age 39 | Government relations manager, Delta Dental of Iowa

Lynh Nguyen Patterson was just 2 years old when she emigrated with her parents from Vietnam to the United States.
"I don't remember much being different about my childhood," Patterson said. "It was only later that I realized how amazing it was."
Twenty-two years later, with a bachelor's degree in journalism and mass communication under her belt, Patterson became a press assistant for U.S. Rep. Leonard Boswell, and spent the next five years working in successive legislative assistant positions for three congressmen. Her experience led to an eight-year stint as legislative liaison for the Iowa Department of Public Health (IDPH).
"Lynh taught me the importance of 'getting it right' with legislative proposals," wrote IDPH Director Tom Newton, "rather than just 'getting something passed.'"
Last year Delta Dental of Iowa hired Patterson as its government relations manager. Despite a tight budget year, Patterson succeeded in securing $50,000 in new state funding for an education loan repayment program for dental students and protected a $32,000 appropriation for dental services for low-income residents from a potential 6 percent budget cut.
Because there is no professional association for lobbyists, Patterson recognizes the importance of personal integrity in her role. "Being at the Capitol, there are different ways that you can convey a message," she said. "What I've learned is that whatever message you're giving should be done with honesty, and there should be a positive result that comes from it."
Patterson is the longest-serving member of the Grimes Public Library board, which she joined in 2006. "Her consistent guidance has moved forward the library's largest goal of expanding the meet the needs of the rapidly growing Grimes community," wrote Karla Pfaff, the library's director.
Patterson and her husband, Craig, have two daughters, Molly, 8, and Elayna, 5.
Five reasons She's a 40:
• Helped to enact more than two dozen pieces of health legislation, among them the Smokefree Air Act.
• Managed a $226 million budget request for the Iowa Department of Public Health.
• Volunteers for Girl Scouts of Greater Iowa troops 19 and 964.
• Earned a Master of Public Administration degree from Drake University in 2010.
• Provides leadership as a member of the Grimes Public Library board.
Fun Fact:
"If I won the lottery and could do anything I wanted to do, I would probably go back and take art classes. I've always wanted to be a Disney animator."