2012 Forty Under 40 Winner: Matthew Marckmann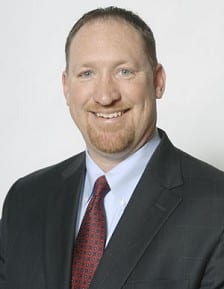 Age 39 | Vice president/financial adviser, Morgan Stanley Smith Barney
Matt Marckmann was always an entrepreneurial sort of guy, and he knew that he liked numbers. It was his first job out of college with Data Transmission Network that led him to a career as a financial adviser.
"Being fairly tech-savvy, I got nominated to put together some websites, which included some work with commodities but also with their stock portfolios," he said. "That really interested me a lot in the 1990s, when the stock market was going straight up and was a lot more fun for all of us."
In 1999, Marckmann was hired by Morgan Stanley Smith Barney, where in less than five years, he earned the Certified Financial Planner (CFP) designation, a rigorous five-module program of study capped by a two-day, 12-hour test. "When I started at Morgan Stanley, Jim Miller took me under his wing," he recalled. "He had the belief that getting the CFP as soon as possible was something I really needed to have to bring more value to clients. … On top of trying to start a business, it's a lot of long nights, to say the least." Putting clients' needs and goals first has been a key to helping them get through tumultuous economic times, Marckmann said. "Getting to know the clients and trying to do our best to limit the risk has been a huge benefit," he said.
In the community, Marckmann currently serves as chairman of the board of the Greater Des Moines Habitat for Humanity ReStore. In 2010 the organization presented him with the Golden Hammer, Habitat's top volunteer award. He also serves on the Polk County Conservation Advisory Board and is active in its nonprofit arm, the Great Outdoors Fund,
"Matt is a natural leader and his level of professionalism is off the charts," wrote Kami Rankin, community outreach supervisor for the Polk County Conservation Board. Marckmann and his wife, Wendy, reside in West Des Moines with their daughter, Zoe.
Five reasons he's a 40:
• Provided key leadership in Habitat's initiative to move to a new expanded facility.
• Member of the 2009-10 Greater Des Moines Leadership Institute class.
• Serves as president of the Mid Iowa Estate and Financial Planners; active in the Financial Planners Association and Leadership Iowa.
• Member of the Give Back Des Moines steering committee and the Salvation Army Advisory Board.
• Speaks at career seminars and mentors students at Des Moines Area Community College.
Fun Fact:
He enjoys pheasant hunting on the family farm in Fontanelle, where he goes regularly on the weekends to work. "More than anything, I enjoy going out there and walking around with my dog on a farm that's been in my blood since I was born."