2012 Forty Under 40 Winner: Nikki Miras Mordini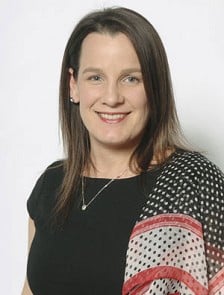 Age 38 | Shareholder and attorney, Davis Brown Law Firm

As she was growing up, Nikki Miras Mordini's destiny was clear – to her father, anyway.
"My father told me repeatedly that I was destined to be a lawyer," she said. "Because at a very young age I argued incessantly."
Combine that starting point with a compassionate urge to help immigrants to the United States – her father, who opened Yanni's restaurant, had arrived here from Greece – and you can trace the path that led Mordini to her current status. As 2012 began, she was named a shareholder at the Davis Brown Law Firm, where she specializes in immigration, along with family law and criminal defense.
Mordini, a Des Moines native, graduated from Grinnell College in 1996 with a bachelor's degree in sociology. Rather than head straight for a legal career, she worked for Children and Families of Iowa in Des Moines for five years before entering Drake University Law School.
That job gave her an education in the issue of domestic violence, as she served as an advocate for battered women in the judicial system. "I worked with several women in organizations that focused on battered immigrant women, and many of the issues began to overlap," Mordini said. "You're helping people who are frequently disenfranchised and don't have all of the resources necessary for legal needs."
After graduating from law school, Mordini began her legal career at the Benzoni Law Firm in 2004, then joined Davis Brown in 2008.
After the 2008 immigration raid at a meatpacking plant in Postville, she traveled to that town and to Waterloo to give advice to the families of the workers who had been arrested. When her church, St. George Greek Orthodox Church in Des Moines, welcomed a large group of Eritrean refugees between 2009 and 2011, Mordini helped about 20 members of the group become permanent U.S. residents.
"I'm a firm believer," she said, "that the busier you are, the more successful you are."
Five reasons she's a 40:
• Recently named a shareholder at the Davis Brown Law Firm.
• Has helped refugees and asylum-seekers from all over the world become U.S. residents.
• Member of the National Board of Governors of the American Immigration Lawyers Association.
• Speaks annually to the Iowa Association of Criminal Defense Lawyers on immigration topics.
• Received the Edwin Earle Ferguson Award for Public Service as a student at Drake University Law School.

Fun Fact:
Mordini was a state champion baton twirler as a young girl, and also was named Miss Iowa Preteen in 1987.