2012 Forty Under 40 Winner: Tim Hayes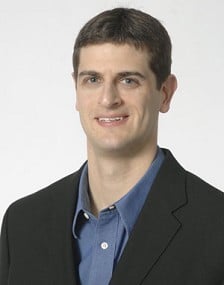 Age 36 | Chief operating officer, McLellan Marketing Group
Tim Hayes has been called a natural leader.
Hayes has worked at McLellan Marketing Group (MMG) for 14 years, where he has worked his way from being what CEO Drew McLellan called "fresh out of college, eager to learn and so green that he glowed," to running day-to-day operations and using a mode of leadership that "inspires teammates, clients and the community."
Hayes said that what has kept him at the company so long is, in large part, "just the culture and the environment that Drew has tried to create; the atmosphere."
Hayes helped start the MMG Adopt a Charity Program. Under the program, the firm picks one charity to adopt for an entire year, and gives that charity more than $100,000 worth of marketing services and tools.
The goal, Hayes said, is to help the nonprofit put together a marketing plan and learn how to best market itself in the future.
"You know the work you're doing is touching lives," Hayes said. "The more impactful and engaging their story is, the more lives they can touch. Obviously, it impacts all of Des Moines."
Hayes is a Des Moines Community Playhouse board member and is a part of the Young Women's Resource Center Marketing Committee. He also has volunteered with Big Brothers Big Sisters of Central Iowa and The Salvation Army.
He said he has always been passionate about causes affecting young people and helping children see the world in a different way.
"If you can set them up for success, who knows what they'll be able to do?" Hayes said.
He's also passionate about spending time with his wife and two boys, ages 6 and 3, especially finding ways to explore a lot of the state parks in Iowa.
Five reasons he's a 40:
• Worked his way to one of the top positions in his company.
• Served on the Greater Des Moines Leadership Institute's Class Curriculum Committee from 2007 to 2011.
• Recognized by the American Advertising Federation with many local and regional ADDY awards.
• McLellan Marketing Group CEO Drew McLellan said his leadership style is one of both inclusion and support.
• Helped create a program that has resulted in several nonprofit groups receiving more than $100,000 in marketing services.
Fun Fact:
Hayes enjoys taking his family to state parks around Iowa. "You visit and you feel like you've left Iowa, but you really haven't left anything," he said. His favorite, he said, is Ledges State Park in Boone.