2012 Women Business Owner of the Year: Teresa Van Vleet-Danos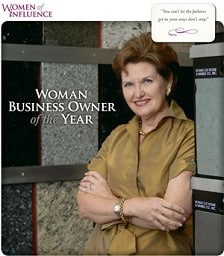 CEO & owner, Rowat Cut Stone and Marble Co.
Let's just say that Teresa Van Vleet-Danos is rock-solid.
The Business Record's Woman Business Owner of the Year has been a steady presence at Rowat Cut Stone and Marble Co., the past 27 years as its owner.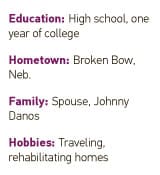 Van Vleet-Danos arrived in Greater Des Moines in 1984, intent on buying Rowat, a company that was founded in 1882 by Scottish stonemason John Rowat. Construction of the Iowa Capitol brought him to town.
She went to work selling limestone, granite and marble and parlayed commissions into a down payment on the company in 1985.
Van Vleet-Danos was no stranger to the stone business. Prior to arriving in Greater Des Moines, she had spent 12 years working for Sunderland Bros. Co. in Omaha, another stone supplier. She started as a secretary and eventually managed the stone yard.
"That's where I got my college education in stone," she said. At first, the only marble she was familiar with was found in gravestones and in the name of the children's playthings, which are made of glass and other materials, but not marble.
Van Vleet-Danos has nurtured that education in an industry dominated by men. It is estimated that fewer than a dozen women operate stone companies. She is an expert in the use and manufacture of natural stone.Her office is adorned with a large slab of rare blue Brazilian granite, also called blue bahia that covers the spectrum of blue from pale morning sky to blueberry – the more blueberry, the more precious the stone. Van Vleet-Danos' stone is ripe with blueberry.
Asked whether she gives much thought to being a woman in a male-dominated industry – she also has operated restoration and design businesses – Van Vleet-Danos said she never thinks about it.
That could be because of the fact that she grew up on ranches and farms in the Nebraska Sandhills region, where everyone pitched in. She can remember her grandmother plowing fields behind a team of horses.
"I grew up with both of my parents working together. It was everybody's job to get the job done," Van Vleet-Danos said. "I didn't realize that this was supposed to be a man's job."
She often works 12-hour days, seven days a week, then devotes her spare hours to community activities. Along with her husband, former Community Foundation of Greater Des Moines CEO Johnny Danos, she hosts fund-raising dinners. They also are members of United Way of Central Iowa's Alexis de Tocqueville Society, and she is active with Variety – The Children's Charity and 100+ Women Who Care, among many others.
Her key to persevering in the business world is to do just that: Persevere.
"You're going to find you can't let failures get in your way; don't stop," she said.
She encountered a major roadblock early on, when an acquaintance turned down Rowat's request for a $40,000 loan to complete the purchase of Rowat.
"I thought surely he must believe in me, but it just made me that much more determined," Van Vleet-Danos said.