2012 Women of Influence Winner: Laura Hollingsworth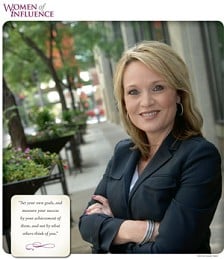 President & publisher, The Des Moines Register
When Laura Hollingsworth was 23, she wrote her goal on a scrap of paper: become a publisher by the age of 40.
"I carried around that tattered piece of paper with me for a good decade, focused on that goal," Hollingsworth said. "I always knew I wanted to run a media company. I always knew."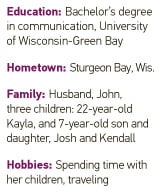 That mission was accomplished when she became publisher and president of The Des Moines Register in 2007. If that wasn't enough, she became Midwest group president for Gannett Co Inc.'s U.S. Community Publishing Division in 2008, which oversees 22 media markets in seven states.
The job isn't quite what she imagined it to be in her head for all those years. A rapidly changing industry coupled with the Great Recession presented a much different media climate than a 23-year-old with a dream could have predicted.
But Hollingsworth doesn't have any regrets, she says. Quite the opposite.
"I love the complexity of this job. I love the complexity of this industry," she said. "If it weren't so tough, I probably wouldn't be doing it anymore."
Hollingsworth seems to have the perfect attitude to deal with a daily news industry in flux. She believes that right now is the most challenging period in history for media companies, and she has taken the mindset that embracing constant change is a must for the Register.
Through it all, Hollingsworth said she's never felt uncertain about the world of journalism.
Her love for the industry stems from a love of the news, of which she has been an avid reader since she was a "little little kid." Her mother worked at a newspaper, and by the age of 14, Hollingsworth was selling classified advertising.
Keeping her end goal in mind, Hollingsworth worked her way up through the ranks at Gannett, which owns the Register. She started at the company in 1989 and worked in Wisconsin, Washington, Illinois and Michigan before joining the Register as vice president of advertising in 2002.
She has developed a passion for Greater Des Moines. She serves on the Greater Des Moines Partnership board and on the steering committee for the Capital Crossroads initiative.
She's also passionate about helping children, and is on the board for Big Brothers Big Sisters of Central Iowa.
Hollingsworth said that she and her husband, John, are 50-50 partners when it comes to taking care of their 7-year-old twins, and they are proud of their oldest daughter, Kayla, who served for a year in Afghanistan as an intelligence analyst for the Iowa National Guard and is currently attending the University of Northern Iowa.
Hollingsworth has spent much of her career conscious of the next step. She says that now, for the first time, she is living in the moment.
"I've really taken this moment to say I'm going to take this experience of a lifetime, which is a decade of learning in 10 minutes … and really enjoy this incredible position, and these incredible people I work with, and this incredible brand we have, and this incredible thing I do, and stop worrying about the next thing for a while," Hollingsworth said.