2012 Women of Influence Winner: Nichola Schissel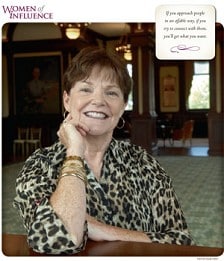 Former vice president (retired), Federal Home Loan Bank of Des Moines
Nichola "Nicky" Schissel has accomplished far more than simply furthering her organizations' goals during her varied career. She has been – and continues to be – instrumental in advancing the status of professional women in Iowa.
Schissel retired in 2010 from the Federal Home Loan Bank of Des Moines, where she served as vice president of marketing, communications and administration. Prior to joining the bank in 1995, she served as assistant commissioner of the Iowa Lottery for 10 years. And as a senior member of Gov. Robert Ray's staff for six years, she helped to draw a broad array of qualified women into roles in state government through recommendations for appointments to boards and commissions.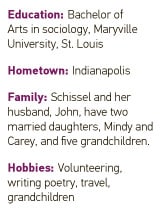 In the community, Schissel has held important volunteer positions with United Way of Central Iowa, the Greater Des Moines Partnership and other organizations. She has been active in the Nexus Executive Women's Alliance since 1988 and recently completed a term as president of the Young Women's Resource Center, where she continues to serve on the board.
"In her own calm and unassuming way, Nicky helped to 'blaze a trail' for all professional women." wrote Heather Soener, executive director of the Young Women's Resource Center, in nominating Schissel.
These days, Schissel spends much of her time at the World Food Prize Hall of Laureates, where she leads a growing corps of more than 40 volunteer docents in a program she organized to provide tours of the historic building.
Schissel, who began her career as a social worker at the county welfare office in St. Louis, transferred to a similar position for Polk County when she and her husband moved to Greater Des Moines in the mid-1970s. She became involved in a number of volunteer activities, which led to her being named Iowa's director of volunteer services.
Helping women to secure leadership positions has been very important to her throughout her career, Schissel said.
"I think being a mentor and a manager for 30-some years really was the most challenging of all the different things that I did," she said. "Relating to people and getting the best out of them was clearly the most important thing I did in any of my positions."
Schissel's leadership helped ensure the success of one of Iowa's greatest humanitarian relief efforts. Serving as co-director of Iowa SHARES (Sends Help to Aid Refugees and End Starvation), Schissel helped quickly raise more than $500,000 for the first delivery of emergency aid to starving Southeast Asian refugees on Christmas Day, 1979.
Schissel said she feels that promoting rural development while at the Federal Home Loan Bank was one of her greatest professional achievements. Not to mention getting President George W. Bush to come as a keynote speaker for a conference on revitalizing rural America.
"It was just a tremendously successful event," she said. "I was really quite proud of it."