2012 Women of Influence Winner: Rosemary Parson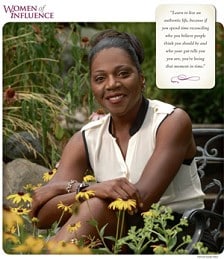 Vice president of operations, EquiTrust Insurance Services
When Rosemary Parson was recruited to Greater Des Moines to help launch EquiTrust Life Insurance Co. a decade ago, she had little more to work with than a "white-paper" concept for a new subsidiary of FBL Financial Group Inc.
"I had a desk, chair, telephone and a computer, and I just sat there and designed the business requirements for EquiTrust – all of the elements I thought the operation needed to contain," she said.
After having helped build EquiTrust from the ground up, the task over the past six months of coordinating the transition to its new owner, Guggenheim Partners LLC, seemed relatively easy. "Let's just say I didn't lose sleep over being in charge of this transition," she said.
With that same quiet confidence, Parson also became a charitable force in Greater Des Moines, assuming leadership roles with the Chrysalis Foundation, the Des Moines chapter of The Links Inc., Children and Families of Iowa and the Civic Center of Greater Des Moines, among other organizations. She also served as a commissioner on the Iowa Commission on the Status of African-Americans. In 2011 she was appointed to the board of the Iowa Targeted Small Business Program, and this year she joined the Iowa Economic Development Authority board.
"I find immense pleasure in moving organizations forward, moving the community forward, moving my life forward," Parson said. "By nature I'm a problem solver, and I recognize that. I love creative problem-solving and innovation; that's just something that I do very naturally."
Prior to coming to Greater Des Moines, Parson worked for 11 years for Conseco Inc., where she worked her way up to vice president of operations, handling mergers and acquisitions, divestitures, offshoring and other major roles.
An early mistake that resulted in crashing the company's administrative computer system taught her the importance of never assuming a particular outcome in business. So it's little surprise that one question she asks her team at EquiTrust all of the time is, "How do you know …?"
"If you can answer that question, it causes you to be inquisitive and a driver in understanding results so you can challenge others and yourself," she said.
One of Parson's greatest strengths is "her ability to develop winners on her team," wrote John Paule, a former FBL executive who hired Parson in 2003 to help launch EquiTrust.
Parson also understands the importance of giving back to the community, said Suku Radia, president and CEO of Bankers Trust Co.
"Her engagement with a number of civic and not-for-profit organizations really suggests that this is an individual who gets it," he wrote.
One of her proudest accomplishments was participating in the first Women's Build event for Greater Des Moines Habitat for Humanity, because it exemplified how businesses can play a leadership role to spur giving and involvement. "When you work with a program in which you're changing people's lives, it reinforces why you do what you do," she said.