2015 Women of Influence Honoree: Pat Boddy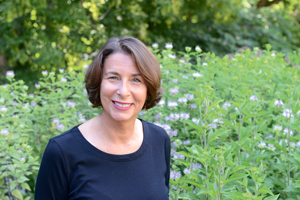 Pat Boddy's world is as big as the great outdoors and as small as a Scrabble board, but her challenge at the moment is plucking a harp around a campfire.
It could be argued that Boddy's professional career was fashioned from the fairy houses she constructed as a child, when "we were always in the trees." Being in the trees is a metaphor for spending time outside rather than watching television.
But that was just a beginning. In 1972, Boddy graduated from high school and went off to college. She was on two missions.
"At that time, journalism was appealing. I wanted to break some new ground in environmental journalism. My interest had been conservation and the environment," Boddy said. "I went into that thinking that I would come back out and somehow I would put these two things together. But it wasn't immediate. It was more of an evolution over time that that happened."
And there was this thing about playing the harp.
"Honestly, I had always wanted to play. I don't remember not wanting to play the harp," she said. "I always asked my parents, and the answer always was 'You can play when you go to college.' "
In 1972, there were no harps at the University of Missouri at Columbia. Not a one. There could be a bit of a fairy tale element to this, but fate just happened to place an actual harpist on Boddy's dormitory floor. They set off in search of harps together and found out that they could take lessons at nearby Stephens College.
"The University of Columbia at Missouri went from zero harp players to two overnight," Boddy said. "What were the chances of that? I may not be the world's best harpist, but I was meant to play."
Boddy plays harp for the musical group Door#3. If she can find the right harp, she would like to displace the guitar as the instrument of choice around a campfire. Her 75-pound wooden harp won't make that trip, but she has a line on a carbon fiber instrument that is very packable on camping trips at a mere 5 pounds.
"Heck with those guitars," she said. "They always get to play the music at the campfire. Well, one of these days I'll get to play the music at the campfire. I'm really looking forward to that."
The challenge could be no greater than pulling together what might seem to be opposing interests in her efforts to make certain that future generations can always be in the trees.
Her interest in conservation and the human impact on natural places led her to want to understand the science of environmentalism. That ultimately led to a degree in agricultural engineering.
She focuses on striking a balance among what are often conflicting and opposing interests. She is forever optimistic that those interests can strike balance.
About one project, she said, "We started with folks who had barely met each other; now they are advocating for each other's work. It's exciting to see. Somebody in the conservation movement has to be a big Pollyanna."
Three areas of influence

Works with all levels of government and businesses to find common ground on projects that provide social, environmental and economic benefits.
Former executive director of the Polk County Conservation Board.
Former interim and deputy director of the Iowa Department of Natural Resources.