2020 was a record year for home sales in the Des Moines area
Biggest challenge for 2021 is finding houses to sell, one real estate agent says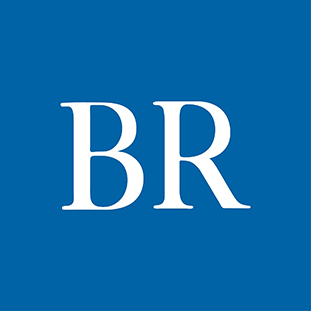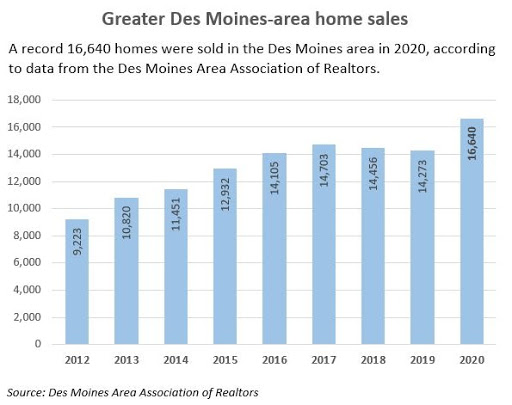 The pandemic, which for 10 months has kept many people at their homes working, learning and recreating, may have also helped fuel a record-setting year for home sales in the Greater Des Moines area.

In 2020, 16,640 houses were sold in the Greater Des Moines area, Des Moines Area Association of Realtors officials said. That number is 16.5% more than the 14,273 sold the previous year.

The Greater Des Moines market includes Polk, Dallas, Warren, Jasper, Marion, Madison and Guthrie counties.

"I think [the pandemic] actually spurred a lot of sales because people were at home and either had time to shop for the type of house they were wanting or get their home ready to sell," said Jen Stanbrough, a broker with Re/Max Precision in Clive. "I also think people were using their homes in different ways than they had in the past and that prompted them to want to move to houses that had spaces for home offices or distance learning."

In December, the National Association of Realtors named the Des Moines-West Des Moines residential real estate market one of its top 10 markets in the U.S. The national group predicted the Des Moines area would continue to perform well because of in-migration of new residents and faster recovery of jobs after the pandemic sparked record high unemployment.

Record low interest rates for home mortgages also sparked an increase in home sales, real estate agents said. While the average rate for a 30-year fixed mortgage rose last week to 2.79% from its previous record low of 2.65%, experts believe the rates will remain low.

Sam Khater, Freddie Mac's chief economist, said in a prepared statement that while he expects mortgage interest rates to rise slightly in 2021, the rate "will remain inarguably low, supporting homebuyer demand and leading to continued refinance activity."

Homebuyers in the Des Moines area who are looking for new residences, however, are finding a limited supply of houses for sale. Last week, just 2,238 houses were listed for sale in the Des Moines area, about 1,300 fewer than a year ago. In 2020, houses were on the market an average of 49 days, the lowest average in at least eight years, association data shows. In 2019, houses sold, on average, within 76 days.

"We have depleted our supply of houses because of the increase in demand," said Lance Hanson, immediate past president of the association and broker with ReMax Concepts. "Our biggest challenge right now is finding a house to sell our buyers."

Potential home sellers have been hesitant to put their houses up for sale until they have a place to which to move, Hanson said.

Stanbrough said she anticipates more houses to be put on the market when the weather warms. In addition, she said, more new houses will also likely be for sale.

"I think we have some people on the sidelines waiting for that new [home] inventory to come on the market," she said. For part of 2020, some homebuilders had difficulty getting materials such as cabinets and trim for newly constructed houses. Also, there were some labor shortages.

"I think come spring, things will open up a bit more," Stanbrough said.

Ted Weaver, the association's president and a broker with Re/Max Concepts, said he expects 2021 to continue to be a seller's market.

"It's going to be challenging for buyers," Weaver said. The buyer "is going to have be ready to pull the trigger when that house they are looking for hits the market. Assuming it's priced appropriately, it won't be on the market very long."

Also in 2020, the Des Moines Realtors' data showed:

– The median sale price of a house was $226,000, 5% higher than 2019's median sale price of $215,000.

– 60% of houses for sales sold in 30 or fewer days. In 2019, 57% of houses sold in less than 30 days.

– 88% of the properties sold were priced between $50,000 and $399,999.

– 41 residential properties sold for $1 million or more. In 2019, 32 houses were priced above $1 million.