2023 Iowa State University Ivy College of Business Commercial Real Estate Professional of the Year: Kris Saddoris
She had a major role in creating 80+ multifamily developments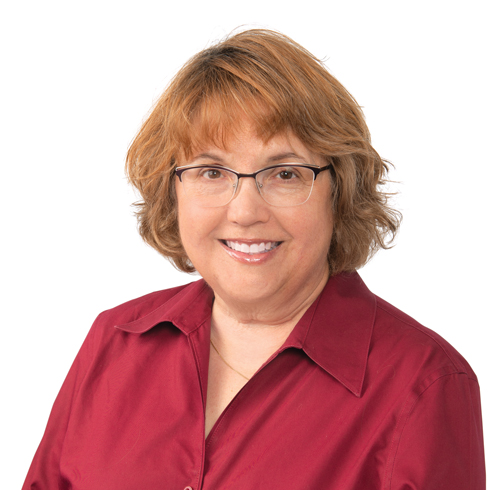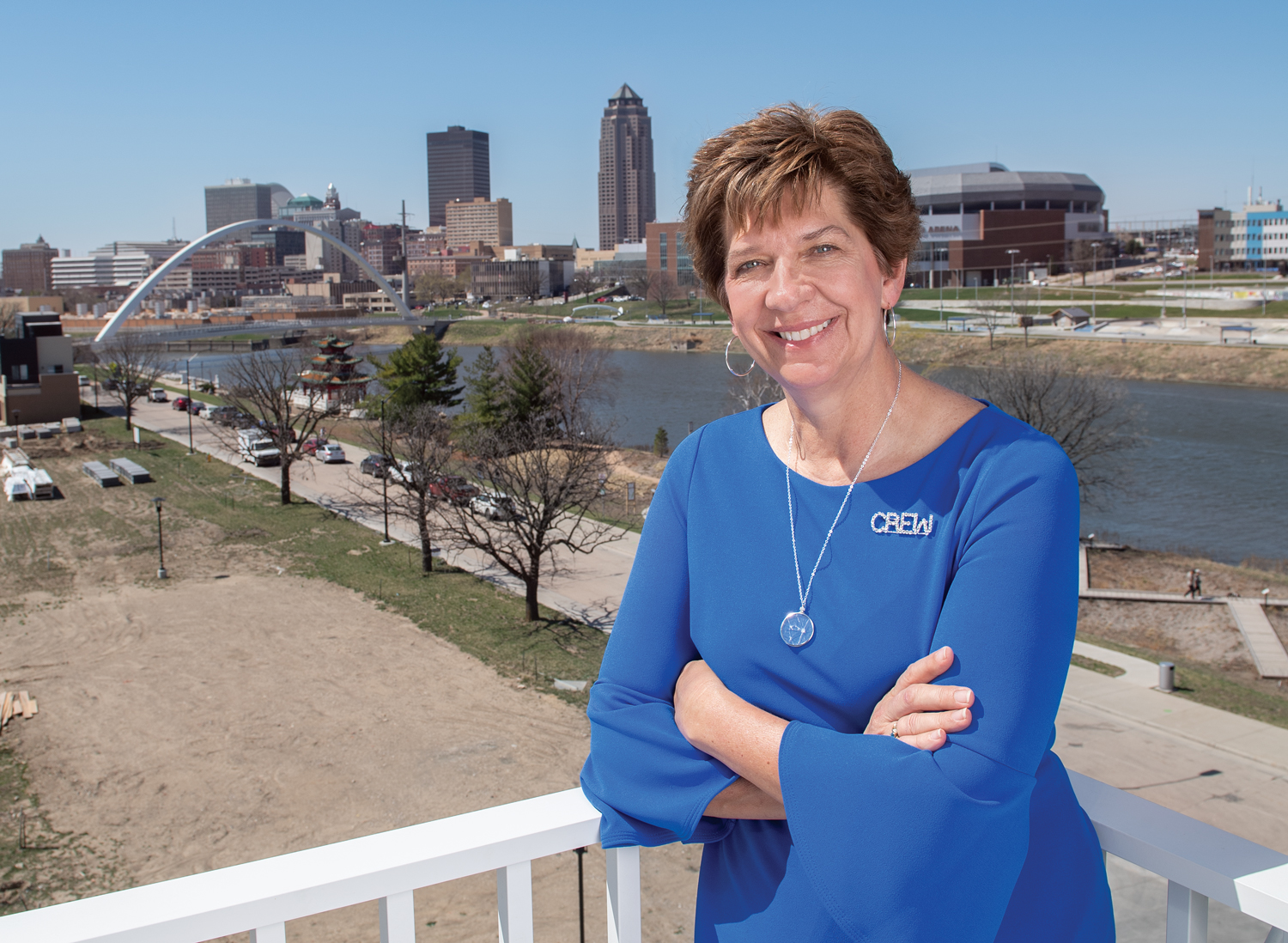 Kris Saddoris didn't need nudged to describe the pushback she's experienced over the years about proposals to build affordable housing in Central Iowa neighborhoods.
Saddoris, who was on a recent Polk County Housing Trust Fund affordable housing panel, described how elected officials frequently prefer asking questions about proposed housing projects away from the spotlight.
"They aren't going to ask questions with a TV camera rolling," said Saddoris, who was named the 2023 Iowa State University Ivy College of Business Real Estate Professional of the Year by the Business Record.
The questions she gets asked away from the spotlight? Who are "those" people that will be living in the residential projects with affordable rents, she said.
"I tell them that 'those' are the people who you left your child with this morning," Saddoris said. "The reason that you're ticked off that the Starbucks drive-thru is so long is because the person who was supposed to be there isn't, because her car broke down and she didn't make it. … We were all 'those' people at one point in our lives."
Saddoris, 60, has nearly 40 years of real estate development experience in the Greater Des Moines area. She has had major roles in the creation of over 80 multifamily communities in Iowa, 60 of which were low-income housing developments.
"I have seen firsthand Kris' work ethic, integrity and determination in finding a path forward for completion of housing and development projects," former Des Moines city councilwoman Christine Hensley wrote in a nomination letter. "Many of the housing projects were not always popular with neighborhoods and or surrounding property owners. But because Kris had the ability to listen, address concerns head on and make changes, she was successful in getting the project over the finish line."
Saddoris joined Conlin Properties Inc. in 1985. It was at the development and property management company that Saddoris said she learned about property management and multifamily housing development including affordable housing.
In 2011, she joined Hubbell Realty where she oversaw the development of a variety of projects including multifamily, single-family rental, 55+ active living, senior housing, urban downtown neighborhoods and industrial.
Saddoris' leadership "has been invaluable thanks to her decades of local, regional and national market insights, dedication to real estate development in Central Iowa as well as a commitment to improving her community," Rick Tollakson, president and CEO of Hubbell Realty, wrote in a nomination letter.
In the past decade, Saddoris has visibly stepped up her mentorship of women in the commercial real estate industry. She has been on the board of CREW (Commercial Real Estate Women) Iowa since the inception of the Iowa chapter in 2012.
"Kris lives by CREW's motto 'Lift as you rise,'" Siobhan Harmon, a CREW Iowa member, wrote in a nomination letter. Saddoris' "message to students and young professionals is that there is a role for you to play in the commercial real estate industry here in Iowa and that we need to create spaces for college graduates to stay in [Iowa] and move into the state."
In recent years, Saddoris has participated in Drake University's
DiveNOW program in which 30 or so business and public administration students are split into groups and given a real estate problem to solve, Harmon wrote. Saddoris regularly mentors members of CREW Iowa and served on an Iowa State University committee that investigated the need for a new master's in real estate development program.
Saddoris retired – a word she doesn't like – from Hubbell Realty in April.
"I'm calling it 'next best season,'" she said. "I'm ready for another step. … I think COVID has made that more sharp for us. You have to do it when you can. I love what I do but it's time for a change."
Saddoris and her husband, Jerry, have sold their home in Ankeny and are building a new one in the Florida panhandle. She said she will likely spend several months becoming familiar with her new surroundings before deciding whether to find a part-time job.
"We're both very active and we wanted to make this move while we both can still get on our bikes and play pickleball and do all of those other active things," she said.
We recently sat down with Saddoris. The following are excerpts of the conversation.
Let's start at the beginning. What got you interested in real estate?
My husband and I are high school sweethearts. I went to Iowa State University, he went to Simpson College. … We were getting ready to graduate and were looking for jobs. One of them that pops up is a job for a property manager that you get to do together. We're like, "Oh, my gosh. We've lived apart for four years, wouldn't that be great to work together."
The job was with Conlin Properties. We interviewed and got the job. … That lasted a year. We're both very type A, and it was like, get divorced or keep the job. I stayed [with Conlin]. He fortunately got a position with an accounting firm and now owns his own accounting firm. … I had a business degree but no real estate experience.
It was such a gift. I got to work with two super unique people [Jim and Roxanne Conlin] and I got to do so many things that as a female I never would have anywhere else. … I got to do new projects. I got to do marketing. I got to do commercial … all within this company because I happened to land there. … It's literally where it all started and where my passion for affordable housing is out of.
What did you learn from that job that you've carried forward?
Every year, [Jim and Roxanne Conlin] took all of the kids that lived in their affordable housing projects to Adventureland because that's something those kids didn't get to do. … The biggest thing I learned [from the Conlins] is that it's not about the box. It's not about the sticks and bricks. It's always about what happens outside of there. … We were helping children have stability in their lives. We were helping them be better at school. …
Also, I learned about the importance of investing in the people that worked with me and for me. I knew zero about real estate when I walked in the door. I spent 26 years there. The number of opportunities I had there and their willingness to let me learn was huge.
As developers we get told "no" every single day. We've got to try again tomorrow. I learned that we will get it done by figuring out a different way to do it. Developing affordable housing is a great way to start as a developer because it's literally a very, very difficult job a lot of the time.
Talk about your passion for affordable housing.
It's probably the one thing that's permeated throughout my whole career. My very first job with my husband was as a property manager. We did brand-new bond projects, which had a piece of affordability. I met every single person that came in and I understood the stories, I understood the day-to-day realities of what that affordable housing meant. It's made me a very big advocate but also a storyteller.
I think we all come in with this vision of what the person [living in affordable housing] looks like. I'm sure [lots of people] have heard me say, "Tell me about your journey today. You've met those people all the way through your day." And it's those people who need to live somewhere safe, sanitary.
Understanding the actual stories and faces of "those" people has helped make me a better developer.
People are moving away from using the word "affordable." Why?
Right or wrong, it has had this stigma attached to it. The word "attainable" is probably the one that I like best. … We've all lived in some type of attainable housing at some point in our life. None of us made $1 million two minutes out of college. I also remind folks that we all are subsidized because we all write off the interest [on our taxes] we pay on our home. The need for society to allow housing that's attainable for everybody is OK. It's OK that the day care lady can live in a place that she can afford.
What's left to be done in the Des Moines area in terms of affordable housing?
We're not even close to being done. … One joy that I've had is seeing a city – Waukee – make providing affordable housing a priority. They used city money to buy land in a brand-new neighborhood for affordable housing. They have acknowledged that that's a necessity for their community. That gives me hope.
Talk about being female in a male-dominated industry.
It's probably made me tougher. You've always had to be more prepared, smarter, more tenacious. I was fortunate that I grew up in a company that afforded me that and I just assumed everybody else was like that. … I'll always remember a pre-application meeting I had with a city where everyone at the table was female. The city planner, the architect, the engineer and myself. It was my third year at Hubbell. And that was the one and only time it's ever happened.
The fact that one of the nominations [for the Commercial Real Estate Professional of the Year Award] was from CREW Iowa makes the award really special. One of my favorite things that I get to do there is talk to college people about everything you can do in real estate. I'd love to talk about development, but I can talk about all these different ways that you can touch real estate.
What advice do you have for women considering a career in real estate and development?
I think understanding that it's definitely an option. [Women having careers in all aspects of commercial real estate] is more accepted today than it ever was. There are more mentors than there ever was. Everything's an option. … I think it's easier today because of the people that came ahead of me who opened doors, and part of my job is to continue to open doors behind me.
You spent 26 years at Conlin Properties. What brought you to Hubbell Realty Co.?
I loved what I did at Conlin but they were solely focused on affordable housing. At Hubbell, I got the opportunity to expand into market-rate housing and every type of housing – apartments, condos, townhomes, single-family. … I got a chance to touch so many other avenues.
What have you liked the most about working at Hubbell?
I tell folks that development is actually economic development. We just happen to do the real estate part of it. Our goal is to bring folks into Greater Des Moines. One of the things I love most about a project we did in Waukee [Centennial Crossing, a 129-unit rental townhome project] is that 50% of the buyers came from outside of Central Iowa and 25% were from outside of the state. I adore that. … So the question, post-COVID when people can live anywhere, is how do we create something that people are drawn to?
What have you learned about creating neighborhoods?
I think the fun part of our job is that we get to go on the road and see other places. And then we can take those pieces we like and bring them back to Iowa. [An instructor at the Congress for the New Urbanism] said you can't design a neighborhood from the [air]plane view. He said that we all look at it from the top – from the site plan. Nobody experiences that unless you fly over it. We experience it at the street level and the neighborhood level. And that's probably my favorite thing that I've learned: How do I create a space that people love, where they can meet their neighbors. … We intentionally put homes so that they interact with each other. There's a space to have live music – which is one of the things our neighbors asked for the most – where there's an acoustic musician and residents can sit and have wine and … just sit and meet each other and make connections.
What part don't you like?
I don't like the bureaucracy. When we have a vision that we've really deeply invested in and spent a lot of time on and then I have to have a discussion over the tone of the brick color … that gets frustrating. For our industry, time kills deals and so the amount of time that we get caught up on [bureaucratic] issues costs us money.
What do the next five years look like for you?
It's time for that next change. … My husband and I are building a house in Florida. I'm going to take six months to a year and just let it sit, which will be hard because I'm a super, super-duper planner. … I don't want to stop [working], I just want to be able to do it part time and find a position that lets me do that.
---
AT A GLANCE
AGE: 60
LIVES: Ankeny
EDUCATION: Bachelor's and master's degrees in business administration from Iowa State University. 
WORK EXPERIENCE: Conlin Properties Inc. for nearly 26 years beginning in 1985; joined Hubbell Realty Co. in 2011 and recently retired from her position as vice president of development.
OTHER ACTIVITIES: Board president of Home Inc.; board member of CREW Iowa; executive committee member of the Downtown Community Alliance; and board member of Midwest Housing Development Fund Inc.
FAMILY: Husband Jerry and two adult children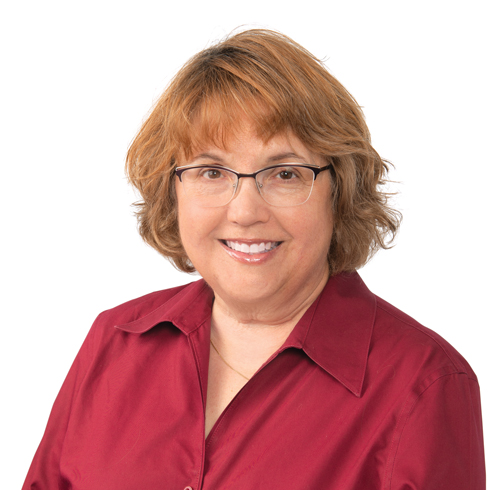 Kathy A. Bolten is a senior staff writer at Business Record. She covers real estate & development, law & government and retail.
Email the writer
Facebook Notice for EU! You need to login to view and post FB Comments!