$35 million, 174-unit apartment project underway in Waukee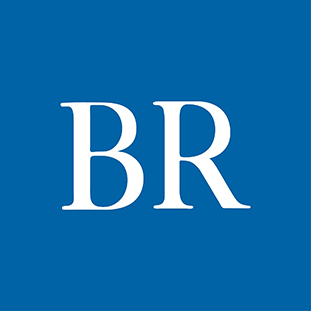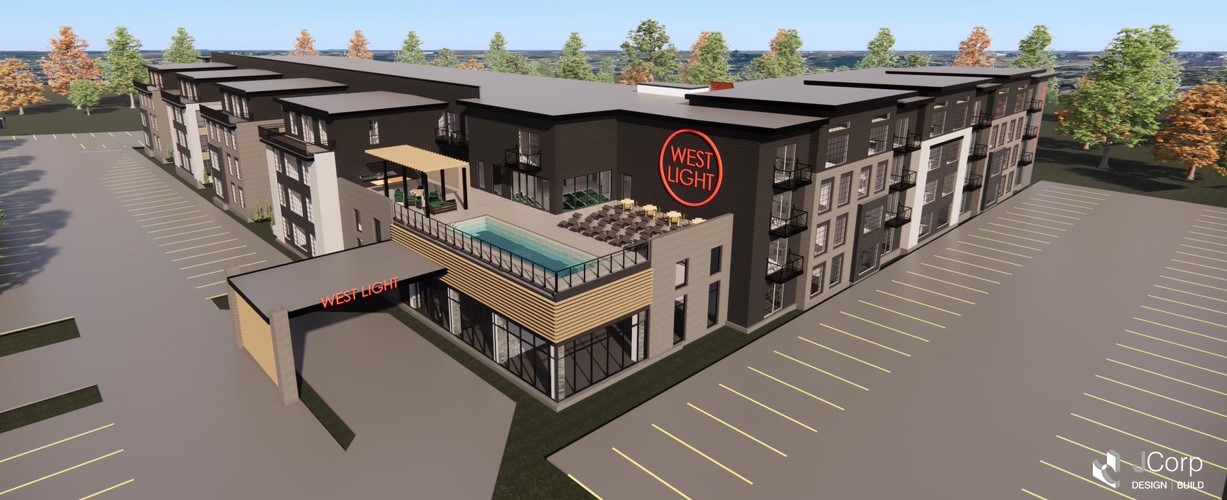 Site work is underway in Waukee on West Light, a 174-unit apartment project on a nearly 8-acre parcel located north of Hickman Road and east of Northeast Alice's Road. Caliber Iowa LLC is the project's developer. Architectural rendering by JCorp. PHOTO BELOW: The aerial photo below of the site work is looking north from Hickman Road. Photo special to the Business Record
Site work is underway in Waukee on a four-story, 174-unit apartment project that will include a rooftop pool and climate-controlled underground parking.

"This is a big impact project for Waukee," said Nick Jensen, owner of Caliber Iowa, a Central Iowa residential development, construction and property management firm. "There's no other building like it there now."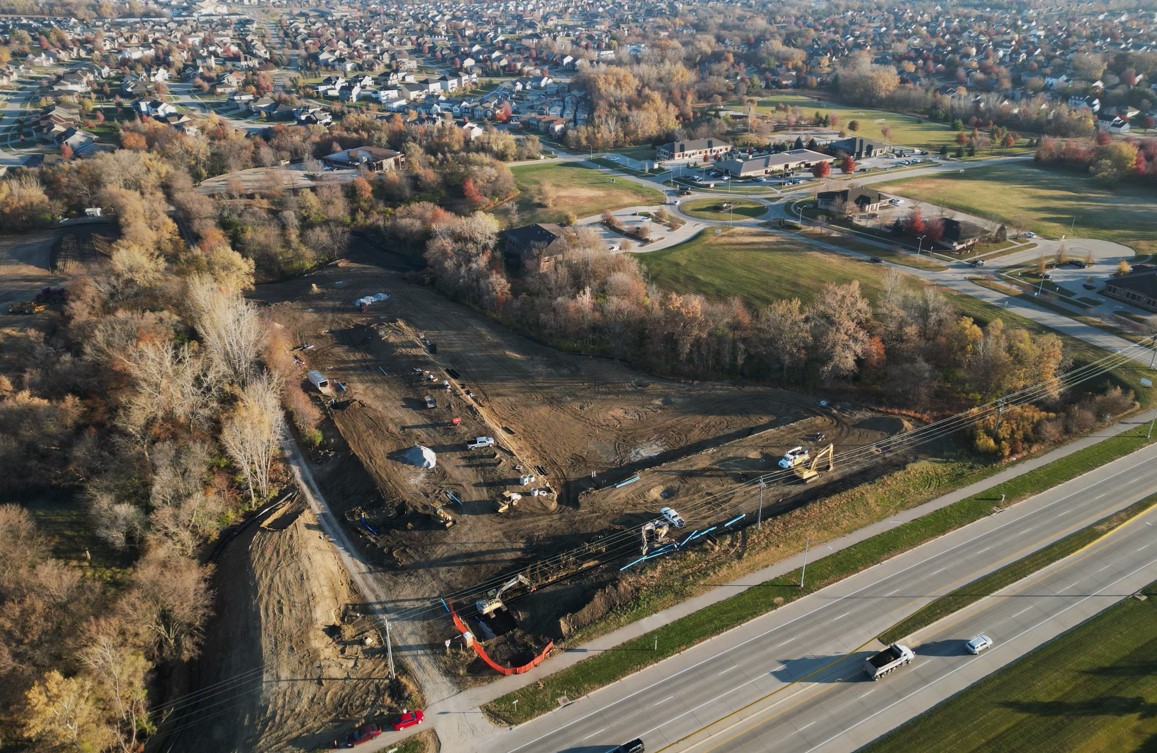 The estimated $35 million project, called West Light, is similar to

the Standard

, a 184-unit apartment project Caliber Iowa recently completed in Ankeny. The mostly brick and glass building at 3611 N.E. Otterview Circle includes penthouses with floor-to-ceiling windows.

Caliber Iowa, JCorp. and MJ Properties have offices in the Standard. Caliber Iowa will also have offices at West Light, Jensen said.

Caliber Iowa also has plans for a third similar project, called the Loop, that will be built in Urbandale, Jensen said. Land for the project, located along Plum Drive next to Home Depot, has been rezoned and construction is expected to begin in the spring, he said.

The apartment projects are providing choices to renters, Jensen said. Renters "don't always want to be in an apartment complex that is spread out among a lot of different buildings. These buildings almost have the feel of a condo building because of its high-end finishes and expansive window features."

The 42,598-square-foot West Light building will include seven studio apartments, 133 one-bedroom units and 34 two-bedroom units, according to information provided to the Waukee City Council and the city Planning and Zoning Commission.

Monthly rental rates will range from $1,100 for an efficiency to around $2,000 for a two-bedroom unit, Jensen said.

Jensen said he expects West Light to attract a variety of renters, from young professionals to people who have retired.

Amenities in addition to the underground parking and the swimming pool and patio include pickleball courts.

The preliminary and final plats and site plan for the project were approved by the Waukee City Council and Planning and Zoning Commission this past summer.

Caliber Iowa owns and operates over 2,000 apartment/housing units in its portfolio, most of which are located in Ankeny, Des Moines, West Des Moines and Waukee. The group also owns ground in those communities that would support the development of an additional 1,000 units, Jensen said.

Higher interest rates and rising costs for materials and labor will slow the pace of development in the coming months, Jensen said. But, he added, "I think the best locations will be successful, and we're committed to buying land and doing projects in the best locations."

Jensen said the subcontractors with whom Caliber Iowa works have done a good job of making sure workers were available to complete each part of a project.

"When we were working on the Standard, costs were going up and employee availability was hard, but we got it done," Jensen said. "It was a team effort."
Where did name 'West Light' come from?

The West Light project is located on Waukee's boundary with Clive. "The property is a gateway into Waukee, going west," said Nick Jensen, Caliber Iowa LLC's owner. At night, Caliber's Standard on 36th project in Ankeny is is lit up and can be seen from a mile or more away. "The lighting component is something I'm very proud of with that building, and [West Light] will also have lighting that is pronounced." The Caliber Iowa team put together the two concepts to come up with West Light, Jensen said.
Facebook Notice for EU! You need to login to view and post FB Comments!