80/35 festival strikes a chord
The downtown event is helping Des Moines achieve its mission of attracting and retaining young professionals.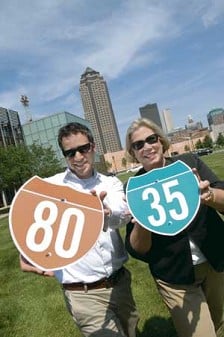 Jill Haverkamp was skeptical when her mother first suggested that she move back home to Des Moines.
Haverkamp, who graduated from Valley High School, went off to Columbia College Chicago to pursue a degree in public relations and marketing. She didn't think Des Moines had much to offer her, but as her mom shared the changes and developments that occurred within the city while she was away, she started to change her tune.
The Greater Des Moines Music Coalition (DMMC) played a big role in that. Founded in 2005, the nonprofit group is slowly but surely building a stronger music economy in Central Iowa. It believes that by offering live music and shows, it can help persuade more young professionals like Haverkamp to stick around.
Justin Schoen, DMMC board president, said companies need young professionals to continue to grow, but the area needs to be vibrant to attract young professionals in the first place.
The group's flagship event, the 80/35 music festival, is the largest and loudest way it accomplishes that goal. The two-day summer event held downtown in Western Gateway Park is now entering its fifth year, but it took a lot of work and convincing to get it up and running.
"We saw people perform all over; they were driving right by but not stopping here," said 80/35 project manager Amedeo Rossi. "We wanted to show Des Moines that we can book and support big acts that may have never thought to come here before."
Since its inaugural year, 80/35 has attracted more than 30,000 attendees on average. It has also brought in well-known acts such as the Flaming Lips, Girl Talk and Modest Mouse to perform. This year, the Avett Brothers and Death Cab for Cutie will headline the festival.
But artists and bands weren't the only people who needed some convincing to turn the festival into a reality. The DMMC needed capital to get the event off the ground, so it turned to Des Moines' business community for help.
After appealing to the Community Foundation of Greater Des Moines and the city of Des Moines, it was able to secure $150,000 to put on the event that first year.
"As a community in general, we realize it's important to attract young professionals through a vibrant community and a diverse arts and culture experience," said Kristi Knous, president of the Community Foundation. "Things like 80/35 do exactly that; it brings people together and it keeps them here."
Knous said the organization's board approved the initial grant for $100,000 unanimously. It also provided a second grant for $50,000 in 2009. It did this, Knous said, because these types of events help attract and retain young professionals.
"We appreciated that it played off downtown's vibrant location, but the real kicker was that is focused on young professionals," she said. "They were able to reach out to a community that we wanted to reach."
Allison Fleming, chairman of the Community Foundation's board of directors, agreed adding it's important to support events aimed toward all sectors of the population.
"Everyone is aware of the aging workforce and the brain drain," she said. "If we're going to attract talented young people we need the amenities they expect."
In the years that followed, the DMMC and 80/35 were able to drum up financial support and guidance from other organizations like Bravo Greater Des Moines and the Greater Des Moines Partnership as well.
"The access you have in Des Moines to implement ideas is second to none – the advisory, financial, intellectual resources," Schoen said, adding that business leaders' availability and help were vital to 80/35's success.
But because of its popularity, the festival was eventually able to wean itself off grant money and attract big-name sponsors, such as U.S. Cellular Corp., to help finance the event. Rossi said sponsors are important because they allow ticket prices to remain affordable.
"It took us some time to prove ourselves and gain (sponsors') trust," Rossi said.
Each year the event showcases between 40 and 50 acts, giving local as well as nationally known artists stage time. Targeted toward 16- to 35-year-olds, 80/35 brings together people from around the state and across the country. Rossi estimates that between 15 and 20 percent of attendees come from out of state, traveling from as far as Florida and Hawaii.
All of those visitors leave behind their dollars at downtown businesses and restaurants. In 2011, 80/35 had an economic impact of $1.4 million, according to the Greater Des Moines Convention and Visitors Bureau.
The festival also gives Des Moines more name recognition on the national music scene, Haverkamp said.
"The purpose of it is to bring in acts that have never stopped here before so they can see what Des Moines is about. We want to get high-quality regional and national acts to stop," she said.
Rossi agreed, adding that because of the festival, promoters and agents are more willing to take a chance and book performances in Greater Des Moines during the remaining 363 days of the year. For instance, last year's headliner Girl Talk will perform at the Val Air Ballroom on June 25.
As 80/35 continues to grow, Rossi said the DMMC might have to consider relocating to a larger venue in the future, such as Water Works Park, or simply expanding the area it already uses downtown.
But the group isn't worrying about that just yet. Its main focus is creating a special atmosphere downtown that will continue to keep students and young professionals in Iowa.
"Business community leaders understood and took a chance on us, and I think that investment has paid its dividends," Rossi said. "An 18-year-old has a different perspective about what's possible for Des Moines because of 80/35."