A Closer Look: Alessandra Meschini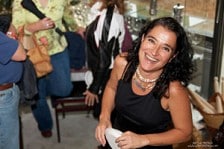 How long have you lived in Des Moines?
Five years. I was married in Italy, and my husband and I traveled a lot in Italy and Mexico; we lived in Paris and Nigeria.
Are you happy that you landed in Des Moines?
In the beginning, it was a bit strange. But I like Des Moines.
What was strange about Des Moines?
The cold and the snow – driving in the snow. The first impression I had was that there were few people in the street, walking. But Des Moines adopted me. I started cooking classes at the Italian-American Cultural Center. Now people know me for who I am. The cooking class for me was a type of therapy. I love to talk about recipes and stories about recipes, and then that became my work.
How long has cooking been your business?
Two years. Before that, it was more informal. I opened Cooking With Alessandra in the East Village the 18th of September. I do it by myself. Hopefully, I will need more help if the business grows.
What is the skill level of people who attend?
Anybody can come. Cooking doesn't have to be difficult. They don't have to have any particular skill; the recipes are easy to cook. Everybody makes their own lasagne, their own ravioli; everybody learns how to make their own dough. Everybody cooks together. It creates a very nice atmosphere.
You say that you were born with a passion for cooking. Can you explain that?
I say that I am an infusion between rosemary and garlic. Really these aromas are what we breathe. My mom is an amazing cook. Cooking teaches us how to smell and look at the colors. My grandfather helped me a lot. I know a lot of herbs because of him. He knew the Latin names for the herbs. I grew up in an environment like that.
Did cooking help you learn about the cultures where you lived and traveled?
What I had to do was learn all the other languages. I would read the cookbooks, that was my passion, so my language grew; it became bigger and bigger and bigger because cooking was my passion. In France, I would go to the cheese place and I would learn a lot about that and a lot about wine. (In Italy, my father made his own wine, and I would just drink his wine.) This is one of the best qualities you can have when you cook, the curiosity to try all the spices and try everything. In Africa, I would eat everything. Food is one way to attract new friends; food is always the way to communicate. That was a wonderful experience.
In how many languages are you fluent?
I am fluent in Italian and French. You will have to decide if I am fluent in English.
Do you favor food from any particular country or region?
I love all food. Mexico is fantastic; they have a wonderful cooking tradition. France is beautiful; Nigeria, too. What I learned in Nigeria was how I would choose tropical fruits. I didn't know what a pineapple was before I lived in Nigeria. I have the same approach for the cooking classes. Maybe people don't know about the garlic or how to peel the garlic. They learn the different ingredients and how to use them, maybe how to choose a mango.
What misconceptions do people have about Italian cooking?
That we eat bread with pasta. We don't eat bread with pasta. (Meschini counts breads among her favorite foods.)
What is your favorite Iowa food?
I love the ribs. Iowa has excellent, excellent pork, and all of the dishes are wonderful.
How do you like living in the same location that you have your business?
The East Village is a wonderful place. It is a mix and match of cultures and styles. My shop is open for cooking classes – and all my friends. So, whenever you want to come and have a glass of wine with me, that is fine.