A Closer Look: Ben Vallier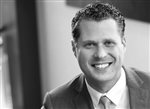 Ben Vallier was selected as the CEO of the Iowa Clinic from a field of more than 100 initial candidates, and he says the clinic's reputation and Des Moines' friendliness were big factors in accepting the job. He succeeds Ed Brown, who retired in September 2019 after leading the organization since it was founded in 1994. Vallier, a native of Kansas, was previously CEO of Jefferson City Medical Group, which like the Iowa Clinic is a physician-owned, independent medical practice. Based in West Des Moines, the Iowa Clinic is the largest independent, physician-owned multi-specialty group in Greater Des Moines, with more than 250 physicians and health care providers practicing in 42 specialties. Vallier's first day on the job was Aug. 17. He and his wife, Laura, have three daughters and a miniature golden doodle; they recently moved from Jefferson City to Clive.
Was it a very difficult decision to think about leaving your previous position for a much larger organization?
Yes and no. On the one hand, I had been there for five years; it was home for my family and I had a lot of personal ownership in Jefferson City Medical Group, so there was a lot of thought there. But the Iowa Clinic has such a tremendous reputation, and I had been aware of the Iowa Clinic's leaders and the Iowa Clinic generally for several years and I've always been impressed with the organization. So it was sort of tough to say goodbye, I suppose, but I really couldn't say no to an opportunity to be part of this group. … Every time I came here for a visit or an interview, I was so incredibly impressed with the people in this organization and the community.
Had you met Ed Brown prior to taking on this role?
I was actually on two boards previously with Ed Brown, and I knew their former COO and their current COO. I was also previously on a board with the Iowa Clinic's CFO and I had some exposure to their medical directors and some of their other medical leadership. So I had a lot of different industry interactions over the years.
What's your thought on following in the footsteps of such a long-tenured CEO?
He had such a storied career; Ed was such a talent and he was extraordinarily well-known not just in Iowa but honestly, throughout the Midwest in the medical practice space. He just did a lot and was such a well-known individual, so I feel I've got big shoes to fill. It's also a great opportunity because it has so much going on and is offering so much to the community.
What have been some of the biggest challenges you had facing COVID-19 in Jefferson City, and how do you see the challenge ahead in Iowa?
So obviously [a challenge has been] the fast transition to more electronic interactions with patients. Then the financial pressures in terms of patients not coming in for needed care, and the resulting clinical issues from patients that have a neurological issue or heart condition, or whatever other health situation they're facing and they're scared to come in because of COVID. So overcoming the patients' fears to make sure that they're comfortable and that they're truly safe receiving care in the environment. So there are some environmental changes and there are some patient education challenges. Obviously there are myriad cost challenges associated with changing operational logistics. There's the whole telehealth platform situation. Fortunately the Iowa clinic was out in front of that — the clinic was one of the first in the region to really be pushing telehealth as an available platform. So I think that that nicely positioned the Iowa Clinic to be out in front of that a little bit to make that part a little bit easier.
Do you see telehealth taking a more prominent role now for organizations like the Iowa Clinic now that there has been this experience?
I certainly hope so. I think [telehealth] has a valuable role to play in patient care. It cannot replace a physical exam, it cannot replace a lot of the things that we just simply have to be in-person to do. I think it has a valuable role to play — it can fill a lot of needed gaps. But a lot of that's going to come down to how the insurance companies respond in terms of what they will allow as a covered benefit for patients. Initially, a lot of the companies said, 'OK, we're going to cover this right now,' but they didn't provide definitive guidance for the future. That may be a little bit different in Iowa. Having lived here a week, I'm probably not up to speed on all those. But if it's anything like Missouri, I think that'll be an important issue for health care providers to be talking with the payer groups about.
You're coming from a physician-owned clinic group to another physician-owned group. What's the value of that model?
Absolutely. This is actually my third physician-owned organization, and I've absolutely become a convert that this is, at least for me and for many, the best model to be part of, and that's for a variety of reasons. First of all, I think this model diminishes the "corporatization" of health care. It helps to remove large companies and guys in suits getting between doctors and patients. We tend to really disdain bureaucracy in this type of organization, because being led by doctors, they are very focused on taking care of patients. Also, a sort of well-kept secret in the health care industry is that [physician-owned] is the highest-value environment from a financial perspective. So the value that we deliver to employer-sponsored health plans is significantly above just about anyone else in the industry. That's especially true at the Iowa Clinic, which was one of the reasons I was very much attracted to coming here.
What sort of financial impact has COVID had at your previous clinic, and what you've heard peer clinics are experiencing?
It was pretty ubiquitous in our industry to see a 50% reduction in patient-care visits almost immediately in that last week to week and a half in March. In many ways it's tied to what's going on in the national media. If there's a lot of fear, that has a direct impact on patients. Now, we've seen a significant resurgence in visits, but we're not where we used to be either in Missouri or probably anywhere else.
Do you anticipate you're going to have some tough decisions to make in your initial 12 months as CEO to reduce costs? Are clinics nationally considering layoffs?
Well, I certainly hope that's not a conversation that we're faced with, but I think everybody across the industry is dealing with questions of cost right now. And I've seen a number of articles talking about primary care physicians — other than critical care physicians and pulmonologists — their businesses have basically been decimated because patients are scared to come in, and many of them have been in danger of actually closing their doors. Fortunately that's not the situation we're in here. But I think across the country that's a major concern.
What do you feel the clinic's top priorities should be for the next year?
I don't think that COVID changes that we're going to be focused on patient experience, health care outcomes and affordability — we call that the triple aim. We have to continue to be focused on those three things, regardless of COVID or anything else that comes up. We may have to spend more time on one of those issues for a period of time than another. We've spent a lot of time on safety with screening, scheduling, check-in and waiting room procedures, and we're spending more time on cost, obviously. Then [it's considering] how we do all those things and still provide a seamless, positive experience for every patient, every time.
How has it been for you and your family getting settled in Iowa?
We moved in [mid-August]; we bought a house in Clive, and we're happy to be here. The community has been incredibly welcoming — from the neighbors and everybody you run into — even the cashier at Home Depot. … It doesn't feel like a bigger city — it feels like it's just a village, like we felt Jeff City was.
What are your favorite hobbies?
I love cooking, actually. I wouldn't say I'm good at it, but I certainly enjoy it, and I enjoy learning about it. And I have a couple of motorcycles. So this last year I did a cross-country motorcycle trip, and that's something that I hope to be able to do here as well.
Facebook Notice for EU! You need to login to view and post FB Comments!