A Closer Look: Jerry Patterson
Senior vice president of retirement investor services, Principal Financial Group Inc.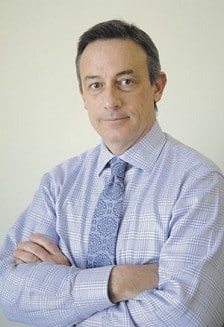 Jerry Patterson first moved to Greater Des Moines 11 years ago when he was recruited to Principal Financial Group Inc. In January, he and his family returned to Iowa after living for three years in the New York City area, where he worked as an exchange executive with Japan-based Nippon Life Insurance Co. Previously, Patterson was Principal's chief marketing officer in its life and health insurance segments. He is an avid photographer and artist and played the drums for several years with a local band, Flying Silos.
You got your law degree at Drake University. Are you from Des Moines?
I grew up in Chicago, but not long enough to form my sports allegiances. My father moved us up to Milwaukee, and I became a die-hard, intense Packers fan. My wife and I went to high school and college together. When we graduated, we both moved to Des Moines. After I left Drake, we moved to Kansas City, where I practiced law for a few years.
What led you to shift to the insurance industry?
It was a real, by-chance small-world trigger. My wife worked for a New York Life brokerage in Kansas City. The leader there was Bob Slepicka, and he became a client of mine when I was in Kansas City. Bob gave my name to a headhunter, who called about a job. The pitch was, how would you like to continue to do tax and estate planning, travel all over the country, move to Princeton (N.J.) and spend your life educating advisers about estate and tax planning? And you'll make a lot more money. We later moved to Boston, and I grew into the much bigger role of chief marketing officer at ManuLife. Not too soon after that, I was over at Prudential, where I had responsibility for the annuity business. And 11 years ago, Bob called me again, and asked me if I wanted to come back to Des Moines and join Principal.
Tell me about your new role at Principal.
I have two very distinct but related responsibilities. One, I'm the leader of Principal's annuities businesses, both our institutional businesses and our individual retail annuities businesses. The other piece of my responsibilities is I'm the leader for what we call the Individual Investor Division of Principal, which is really all the tools and support that we provide to retirement plan participants – the call centers, the educational processes and systems that we provide participants to help them on the path to retirement.
What are the latest trends in annuities, and what is Principal's strategy in that market?
For many years, the focus was on the percentage (of pay) you were deferring. What we've found is that people are not focusing enough on how much income they need at retirement. We have a very big initiative at Principal called the Retirement Readiness Initiative, with a goal of taking the focus off the percentage they're saving to what's needed for retirement. We think it's critical that people start to focus on that.
Art and photography are hobbies of yours?
I definitely have both a very active left side and right side of my brain. I've played several musical instruments over my lifetime: a little bit of guitar, a little bit of piano, a little bit of trumpet and a lot of drums. I was in a local band, Flying Silos, for several years before going off to New York. I've been a painter and a drawer for many years and a photographer at some level. When I got to New York, I became an almost obsessive photographer. I like raw photography. I don't like to take pictures; I like to capture moments.
Have you won any awards?
One of the first things I set out to do (coming to Des Moines initially) was to compete in the Iowa State Fair. I actually won a blue ribbon in photography. My second goal in Iowa was to play in a band at the Iowa State Fair, on the Stockman's Stage, which is my favorite stage. It's the only stage where "Margaritaville" can be playing and all of a sudden the crowd gets parted so they can let the bulls back in from the show barn. My band did end up playing there several years for several nights of the fair.
Other community involvement?
Before I went to New York, I sat on the board of Metro Arts Alliance for years. Right before I left, I also sat on the Iowa Public Art Foundation board. Coming back to Des Moines, I've stepped onto the board of the Des Moines Social Club. I like that they're focused on creating excellence around the arts that's appealing to young people.