A Closer Look: Kent Newman
Executive director, Center on Sustainable Communities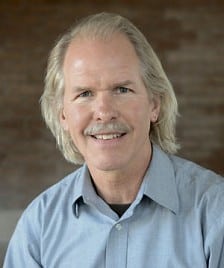 Kent Newman has held a variety of leadership positions with Central Iowa nonprofit organizations since the late 1980s, from a 12-year stint as executive director of the Wallace House Foundation to president of the Iowa Motion Picture Association. In March, he was named executive director of Center on Sustainable Communities (COSC), which was founded in 2005. He has worked as an independent film producer for the past 25 years and is currently working on two documentaries that will air in Iowa within the next year. Newman is a former executive director of the Arts and Recreation Council of Greater Des Moines, now Metro Arts Alliance. He is a founding board member of the Des Moines Bicycle Collective and Iowa Rivers Revival.
What was your first job out of college?
Right out of college, I started with Youth and Shelter Services in Ames. I was working with teenagers in an after-school program using the arts, specifically media arts, as a constructive alternative to drugs and alcohol and delinquency. I became the director of that program after a few years. Eventually the funding got cut, and that's when I started Full Spectrum Productions in Ames in 1986.
Did you have any direct connection with COSC prior to this position coming open?
No, I didn't. I was aware of it. (COSC co-founder) Chaden Halfhill and I had been friends for years and kind of watched it forming and I've really appreciated the programs that I've seen them do.
How do you see your role with COSC?
Center on Sustainable Communities is really addressing issues that I became passionate about in the late 1990s – climate change, the end of oil, lots of indicators that we needed to do a better job of resource management. … I just think my role with COSC is leading the organization, raising the money, managing staff and making the connections in the state so we can provide the programs and services that are helping communities move things in the right direction.
What's new with the organization?
Actually, one of our programs right now, which is paid for by a grant so it's free to communities, is called Energy Efficient Rehab Training. We're just delivering that as a pilot project for the state of Iowa in Fairfield, which has set a very ambitious goal of saving over 5 million kilowatt-hours a year by 2013. Along with that, there's a sustainability planning process that we've been approached to partner with. We'd like to find a model like that which we could offer to communities. That also raises awareness and creates a market for the green building training that we do.
Do you see COSC expanding into other areas?
We're probably best-known for our green building training, and obviously that's going to continue to be a need in Iowa with our aging housing stock. But our mission has always been holistic sustainability, in terms of multiple benefits to the economy, environment and society. We're also increasing our marketing efforts to specific sectors in the state. For cities, we've developed a sliding fee scale based on the population of the community, similar to what other membership organizations do. We're also marketing to school districts, businesses, colleges, hospitals and churches.
What are your current film projects?
One is for the National Czech and Slovak Museum and Library in Cedar Rapids. That documentary really tells the whole story about the museum; why it developed in Cedar Rapids, the impact of the 2008 flood and the fund-raising campaign and new museum. The other one I'm working on is about the Center Street neighborhood, which was the heart of the African-American community here in Des Moines that was totally destroyed due to urban renewal in the late 1950s and early 1960s.
Do you think the Iowa film industry will make a comeback?
I certainly hope so. There is very little production happening anywhere in the world without some (monetary) incentives. I think Iowa, just to be competitive, needs to have an incentive in the range of 20 percent because that's what most of our neighbors have right now. We really built up our work force, and a lot of the young people that came into the market have left to go where production is still happening. I am hopeful, because we have unique locations in the state and we have a great work force here, a great work ethic.