A Closer Look: Matt Hinch
Senior vice president of government relations and public policy Greater Des Moines Partnership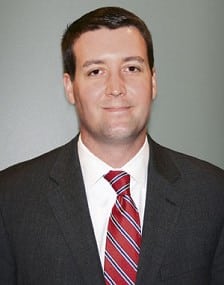 Matt Hinch started at the Greater Des Moines Partnership this May after working in politics for nearly a decade. He is filling the position previously held by Jay Byers, who became the Partnership's CEO in January. Over the years, he served in many different roles in Congressman Tom Latham's Washington, D.C., office and on two of his re-election campaigns. He also worked for the Iowa House of Representatives' Republican caucus and most recently as the executive officer to Kraig Paulsen, the speaker of the Iowa House.
So why did you decide to leave the world of politics?
In my role with Congressman Latham, one of my jobs was to help the Partnership with specific legislative projects that they had proposed. When they came out for their D.C. trip, I'd sit down with them and do whatever I could to be helpful. I also viewed the Partnership as a very respected organization in Des Moines, and when the position opened up, I was very interested in it. Because ultimately, my goal is – after growing up in Des Moines, going to high school here and then spending time away and making the decision to move back – I want to help and do everything I can to make the city that I love a better place for everyone. I viewed this opening as an opportunity to do that.
What is your role at the Partnership?
My goal is to receive input from our members on what they want to see accomplished legislatively on both the state and federal levels. I'll also work with policymakers at the Iowa Capitol and U.S. Capitol and executive agencies to implement strategies and policies to achieve the goals of our members and the overarching goals of the Partnership. I think that my experience that I have in public policy will help in this position because I have been behind the scenes for almost a decade. I know how the U.S. House operates and how the Iowa House and Iowa Senate operate. I think that gives me a unique perspective as far as the process is concerned. I know when to plug in and how to present things. It's important for anyone in an advocacy position to know personalities – to know the people that are in charge. Over the last several years, I've established contacts on both sides of the aisle.
What are some legislative issues you'll be working on?
Property taxes will be one of them. Currently, Iowa has the second-highest property tax rate in the country, and that is an impediment to job growth. So I think that reforming that and making it equitable is important. As far as working on the economic development side of things – the High Quality Jobs program and the Innovation (Acceleration) Fund and some of those other initiatives that are important to our members that we're affiliated with. Education policy is another thing. I think the Legislature took a good first step with what they were able to accomplish, and that will continue to be a spotlight in Central Iowa and the state. I think many of our members would like to see Iowa's education system improve.
When did you first get interested in politics?
In 2000, Ali and I attended the Ames Straw Poll, and that was the first experience I had with presidential politics. It was just fascinating going table-to-table and tent-to-tent to meet the candidates, find out what they're about and listen to their speeches. In college, I also volunteered on Congressman (Jim) Leach's campaign, which was a great learning experience. Around that time is really when I started to increase my awareness and get more involved.
What frustrated you most when you worked with politicians?
It's what you hear about the most: The partisanship that has escalated over the last six to eight years. It's unfortunate for Americans and Iowans. Working in that is sometimes frustrating because you don't always get to accomplish the best policies for the people because of politics.
Do you have any hobbies?
I love to golf, so whenever I can, I try to play as much as I can. I love to read. David McCullough is probably my favorite author – "1776," "Truman" and "John Adams" are some of his most famous books. I'm about to start "The Greater Journey: Americans in Paris." I love to run, and I'm a really big baseball fan. Each year for the last several, my father and I have made a trip to New York City and spent two or three days watching baseball in the Bronx.