A Closer Look: Trudy Wastweet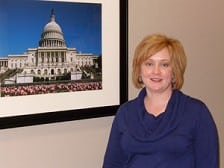 What drew you to this position?
I had been with my previous employer, the Minnesota Pork Producers Association, for a little more than eight years. I've had many opportunities to grow in that role. A classic circumstance with a trade organization or a farm organization, as you're a small staff and people are pretty loyal, and tend to stay in an organization for quite a long time. Opportunities to keep moving in that structure were limited, so my experiences really compelled me to keep my eyes open elsewhere. I had some prior experience here in Des Moines.
What was that experience?
Life sometimes works in circles. I took an internship right after my college undergrad with the National Pork Board, and spent one summer here working in their producer services department doing seminars and educational resources for farmers and their employees. There's a lot going on in Des Moines. It feels a little bit like home to be here.
Why farming-related work?
I am a South Dakota native, and grew up in a rural community, grew up on a farm with diversified livestock and grains. My parents both had full-time off-farm jobs, so I had the benefit of growing up around agriculture even though it wasn't a full-time family occupation, but an important fabric of my personality and upbringing on the farm. I'm really motivated by service to farmers. Being a farmer myself may not ever be a practical outlet for me, but I am happy to work on their behalf, and be a voice for their issues.
What does the job entail?
In essence, I'm the channel between our Iowa Farm Bureau members and our Iowa congressional delegation in Washington. My daily contacts are with the staffers in those offices in Washington, communicating our priority issues or our positions on a bill that's pending a vote. On the reverse of that, I help our members here in Iowa get involved and active when there's town hall meetings when those senators and representatives return back to Iowa and are meeting with their constituents.
What are some key issues right now that need to be addressed?
We had a trip recently where we took 70 Iowa farmers to Washington on a lobbying trip. They spent a lot of their energy talking about energy. Renewable fuels and energy independence is something that is a priority issue for our Farm Bureau members. We also spend a great deal of time talking about trade. There are a lot of headlines in politics about some outstanding free trade agreements. Korea is a very big one, and also Colombia and Panama. Those are trade agreements that have huge impact potential for agriculture.
What are your goals for your first year?
My position is very much about relationship-building. Cultivating good working relationships with those congressional offices is probably the No. 1 priority that I have. They struggle with some turnover as well, and after every election there is an opportunity for staff to get promoted. So there's always an adjustment after the election. Creating relationships so I can be their resource is my main priority. My philosophy is that anything I can do to make their lives easier is the right approach.
What do you do outside of work?
I am a foodie. I'm thrilled to be in Des Moines. That means there are options for dining, and many options for buying groceries in this town without traveling to the big metropolis to buy some exotic spice. I enjoy cooking immensely. I'm looking forward to finding a cooking club or something like that. I also enjoy traveling a lot and really do look forward to being here in Iowa. I think there's a lot of communities across Iowa that are interesting.