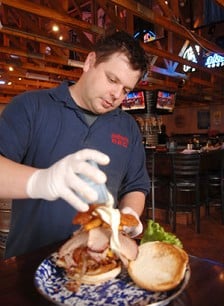 It's safe to say that being on television was good business for a group of Greater Des Moines restaurants.
For Jethro's BBQ, business has gone up 20 to 25 percent since the Oct. 6 airing of the Travel Channel's "Man v. Food" show, where host Adam Richman took on the Adam Emmenecker Challenge: finish a five-pound platter of the loaded Emmenecker sandwich, with waffle fries, in 15 minutes. He failed, like most others, but in the process, Jethro's succeeded.
"We've been selling 50 to 60 of those Emmeneckers per day per store," said Bruce Gerleman, owner of Jethro's, which has one location at 3100 Forest Ave. and another at 2601 Adventureland Drive, Altoona. "It's just mind-boggling how many people are eating them now. Typically before, we would sell two or three for a day."
Jethro's was one of three Central Iowa restaurants featured on the show, the others being the High Life Lounge, 200 S.W. Second St., and Black Market Pizza, 2610 Northridge Parkway in Ames. Another show, Food Network's "Outrageous Food," came to Cactus Bob's BBQ Corral in Johnston for its episode on Oct. 31.
All three restaurants on "Man v. Food" have experienced large positive impacts on their bottom lines following the show. Cactus Bob's co-owner Craig DeDecker was unavailable for comment.
Large uptick in business
Black Market Pizza was on the verge of closing about a month before the "Man v. Food" episode aired on Oct. 6.
Co-owner Greg Harvey found himself homeless in Phoenix four years ago, which led him and his family to move to Gilbert to live with Harvey's brother. He got a job at U.S. Filter Co., but when he and a co-worker, Rick Van Voorhis, got laid off, they took a chance.
Harvey had always wanted to start a pizza restaurant, so the partners opened Black Market in Ames and then Ankeny, touting their unique homemade crusts and sauces. In September, about 19 months after the Ames location opened, Harvey announced that Black Market would likely close before the "Man v. Food" episode ran.
"I actually spoke to Adam Richman prior to that," Harvey said. "He told me, 'Just hang tight. My show is going to double your business.' We hung tight."
Business didn't quite double, but Black Market has seen about a 70 percent increase, Harvey said. They closed the Ankeny restaurant anyway, but Harvey is optimistic about the Ames location.
"It is safe to say 'Man v. Food' saved our restaurant," he said.
After the world watched Richman dine on Black Market's Reuben and bacon cheeseburger pizzas, the restaurant became a destination. One couple drove from Mankato, Minn., just to try the pizza they had seen on television.
"I thanked them for coming four hours for a pizza. I thought that was pretty cool," Harvey said. "Then they came down the next day with 10 more people."
High Life Lounge owner Jeff Bruning said his 1960s-style restaurant has seen about a 75 percent increase in business in October thanks to the show.
Richman ate the restaurant and bar's signature bacon-wrapped Tater Tots and broasted chicken.
Since the episode aired, Bruning said, High Life has gone from using five or six cookie sheets of bacon tots for a one- or two-day period to using 30 sheets. Before, the restaurant would go through three cases of chicken a day, and it now goes through from six to eight cases.
Business has been up all year, Bruning said, attributing the trend to good weather early in the baseball season (the restaurant is a block north of Principal Park) and more advertising. But nothing has helped as much as the "Man v. Food" appearance, which has allowed High Life to hire more people during a traditionally slower time of the year.
"It's pretty wild," Bruning said.
A nearly impossible challenge
Jethro's was the most prominently featured of the four eateries, taking up about half of the "Man v. Food" airtime.
The restaurant's challenge is to eat the Emmenecker – a beast of a sandwich consisting of pork tenderloin, Angus steak burger, slabs of Texas brisket, bacon, fried cheese and Buffalo chicken tenders, and topped with melted cheddar cheese and a white cheddar sauce – along with a pound of waffle fries. The sandwich was named after the former Drake University men's basketball player, who was named Missouri Valley Conference player of the year for the 2007-08 season. Emmenecker was invited into the restaurant before it opened in 2008 to help create his namesake sandwich, and he was also present at the taping.
That was part of the appeal for the Travel Channel's Richman. In addition to receiving notes from people in Des Moines suggesting that the show take a trip to Jethro's, having a local celebrity involved helped sell the idea.
"One of the things Adam Richman said to us was (that) some of the appeal in coming to feature the Adam Emmenecker at Jethro's was the tie we had with the local sport hero, and just that whole college basketball success story that they could tie in with Drake University," Gerleman said.
Once there, Richman spent not only the 14 hours necessary to tape the 10-minute segment, but actually came back to eat a regular meal two more times, Gerleman said.
"It's not just serving lots of food – you have to have good food," he said.
For Gerleman and Jethro's, "Man v. Food" was the second big piece of free publicity that the restaurant has received since opening in 2008. In late 2008, CBS sent a notice to Jethro's asking it to stop using depictions of characters from the 1960s TV show "The Beverly Hillbillies" to promote the restaurant, citing copyright infringement.
Far from being worried or even annoyed, "for me it was fun," Gerleman said. To settle the issue, he changed the cartoon Jethro's shirt from plaid to dark red, and changed Jethro's rope belt to suspenders.
"That's the kind of brutal dialogue that we were going back and forth over," Gerleman said.
Now, the restaurant's customers have helped it reach the national spotlight in a more positive way.
Customer support
All three owners said they didn't do anything different to try to stand out in a crowd and be picked for the show.
"It's really just luck," High Life owner Bruning said. "We came up with a good idea, and stuck with that good idea and didn't vary from it."
What did make the restaurants stand out was customer support.
Harvey from Black Market runs a blog on the restaurant's website, and said the show started paying attention to the blog after a customer told Travel Channel about the restaurant.
Gerleman said one of the reasons he was given for Jethro's being chosen was the many letters and e-mails the Travel Channel received from customers.
Travel Channel Executive Producer of Content Daniel Schwartz said the show emphasizes local "mom and pop" eateries.
"For our visit to Des Moines, we chose places that offered comfort foods that were reflective of the area's favorite dining dishes," Schwartz said by e-mail.
The experience was a good one for all three, beyond making money. The owners all said they found Richman to be friendly and personable and the "Man v. Food" crew to be very professional.
"It was a lot like making a movie, I suppose," Gerleman said.
The crew spent a full day at each location, shooting multiple takes. All told, the crew taped 35 to 40 hours of footage at the three restaurants to fill about 21 minutes of airtime.
And that airtime was invaluable to the businesses.
"That was the best advertising dollar I never spent," Harvey said.