A land of opportunity in the middle of the Pacific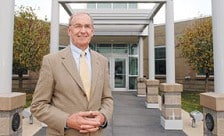 From what Glenn DeStigter understands, some of the most exciting vacation spots on the planet are within a four-hour puddle jump from Guam. He wouldn't know about that. He does know it is an island of opportunity.
DeStigter is the chairman of The Weitz Co., the Greater Des Moines construction giant that was hit hard enough by the recession that earlier this year it announced management changes to deal with the challenges.
The company is no stranger to grabbing government work, but it has ventured in a big way into military contracting as a result of its purchase in 2006 of Watts Constructors in Honolulu.
Watts was a small company looking to expand by exercising its expertise in obtaining federal contracts. Weitz provided the capital for that expansion, not to mention expertise in many of the types of construction the U.S. government was interested in, such as hospitals.
Triggering the partnership was the knowledge that the U.S. military planned to close its base in Okinawa, Japan, and move those operations to Guam.
DeStigter said Weitz spent at least 18 months finding a suitable partner for a large-scale foray into obtaining government contracts. The search was triggered by a desire to expand into such work, although the focus wasn't necessarily on jobs for the Department of Defense.
"Every three years, we create a new five-year business plan," he said. In previous years, such planning has led Weitz into new markets across the country.
"We try to find a good geographical fit," DeStigter said. The company has done work in the Pacific Northwest, for example.
"We probably don't belong on Long Island," he said.
Weitz did decide that it belonged on Guam, even though the island is remote – 3,500 miles from Hawaii and 2,500 miles from the Philippines.
Any work done there would tax the ability of the company's project managers and engineers. They have proved to be up to the task, DeStigter said.
"We have people who it's just fun to walk around with because of the things they can do and the problems they can solve," he said.
Under relatively new guidelines, the military vetted companies that would earn the right to bid on various phases of the $4 billion project. Those companies fall under what is called a Multiple Award Construction Contract (MACC).
Watts, acting as a wholly owned subsidiary of Weitz, formed a joint venture called Guam MACC Builders. Joining the team were Webcor Builders, the largest contractor by volume in California, Healy Tibbits Builders Inc. of Hawaii and Obayashi Corp. of Osaka, Japan. Watts is the managing partner.
The companies were selected based on cost and time estimates, familiarity with various types of construction products, quality of their work and their safety record. The selection process took about a year.
"Safety was huge," DeStigter said.
In all, six other consortiums of builders were selected to participate in the construction of the military base. In addition to the $4 billion price tag, another $500 million in construction is reserved for small businesses.
Once the MACC selection process was completed, no other builders were allowed to bid on any part of the project.
"It's really, really important to be one of those qualifiers," DeStigter said.
Weitz has put its skills that are practical in Greater Des Moines to good use in Guam.
It has built a facility to produce precast concrete, for example, leaning on its experience operating a similar plant at one time in West Des Moines.
"We had enough experience with it to understand the business model," DeStigter said.
The Guam plant serves double duty, supplying piers and piles needed in Guam, but also producing products that have been shipped from Guam to Pearl Harbor, Hawaii.
DeStigter noted that goods that are to be stuffed into shipping containers sometimes have to be made to fit. He noted that large plates weighing several tons had to be shipped to Hawaii. They were too large to fit in a container, so they were cut into sections and basically folded to fit the container. They would be reassembled on the job site.
"In shipping, it's not weight that matters; it's volume," he said.
Though DeStigter hasn't ventured to the exotic locales that are within four hours of Guam, he does appreciate life on the island.
He noted that Guam has an economy that is "just short of the Third World," yet it also has a strip of exclusive shops and upscale restaurants that are designed to attract tourists.
"They are very good with the tourist trade, but they are not very good with things like street signs," he said.
He said that an attraction to working on the island is that it operates under U.S. laws.
"It has the highest percentage of the population that has served in the military of any U.S. territory," he said. "They are very nice people."
He also noted that it is easy to deplete the island's work force, meaning that workers come from all over the globe to work on the military base, including a large contingent from the Philippines.
For the time being, Weitz is sending project managers and engineers to the island.
The Guam experience will pay dividends for the company.
"We made the commitment by saying we would invest whatever it takes. It will pay for itself," he said.