ABI panel discussion focuses on innovation and technology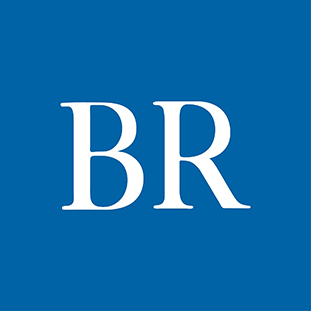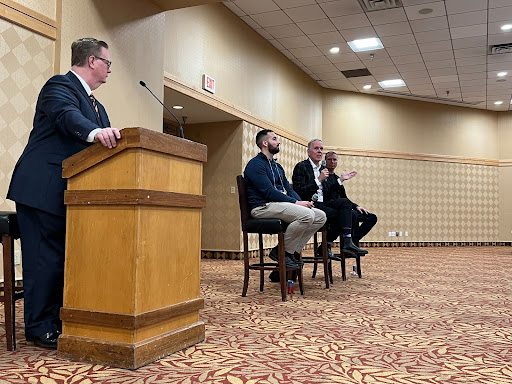 Iowa Association of Business and Industry President Mike Ralston moderates a panel discussion Thursday at the Gateway Hotel Conference Center in Ames. Panelists, seated left to right, were Mitchell Messmore, director of computer vision and AI at Inseer Inc., Craig Ibsen, managing partner at Next Level Ventures, and Gabe Glynn, CEO at MakuSafe Corp. Photo by Kendall Antle, ABI Foundation
Pick a great team over a great idea.

That was the advice of Craig Ibsen, managing principal at Next Level Ventures, a strategic investment firm, during a discussion Thursday at an Iowa Association of Business and Industry event with Leadership Iowa in Ames.

Ibsen participated in a panel discussion at the Gateway Hotel Conference Center as part of the Connecting Statewide Leaders discussion series, presented by ABI.

He was joined on the panel by Mitchell Messmore, director of computer vision and AI at Inseer Inc., an ergonomics safety assessment company, and Gabe Glynn, the CEO of MakuSafe Corp., a safety, data and analytics company that makes products to reduce workplace hazards and risks. The discussion was moderated by Mike Ralston, president of ABI.

During the discussion, which focused on technology and innovation, Ralston asked the panelists a series of questions ranging from the current state of innovation and technology in Iowa and what challenges the state is facing, to how investment decisions are made and what innovations they'll be closely watching in the future.

Here are highlights of the conversation. Responses have been edited for brevity and clarity.

Give us your view of innovation and technology in Iowa.
Messmore: The University of Iowa has a great math program and a great data science program, and Iowa State has a really good software engineering program. So if you're trying to build a company, those are great places to find people to build your product. Additionally, it seems like everything's going cloud-based, and that infrastructure is being built out in Iowa. And we're getting more access to different cloud-based computing throughout the U.S. So all that is coming together to help us build local companies, software companies with resources that are right here.

Ibsen: We get involved in a lot of conversations — is there enough money in the state of Iowa, are people having trouble that have great ideas getting access to capital? I'm going to have the bias that there is [enough capital] because I'm on the capital side of the equation. I think the state of Iowa, with leadership like [Iowa Economic Development Authority Director] Debi Durham and a lot of other players, does have a robust series of programs that are designed to allow young businesses to have access to capital. There are funds like myself that are waking up every day looking to make investments. Then there's an active angel [investors] ecosystem that is looking to make investments.

How do investors decide where they want to invest?
Ibsen: It always starts with a good idea and a big addressable market. We're in the risk business. When you make a bet, when you get into business with people, that's a relationship that's going to last up to 10 years, sometimes beyond. So you're going to be in business together with people for a long time. I've learned there are many bumps along the road. There are macro economic events, most of them not as bad as the pandemic, but recessions happen. There are factors outside of your control that you're going to have to weather. What I've learned is that an idea is going to pivot over a number of years. The original idea you invested in is not at all, almost always, going to be the business that gets sold. So if we get a chance to invest in a great team with an idea that seems a little fuzzy but we can get behind it, or what we think is an amazing idea and a team that we have some questions, every time we're going to pick a great team because we've learned that great individuals, great leaders will get through and figure it out. So we're very much investing in a people business. The most important thing that we look for is a team of people. We're kind of looking for people who want to change the world and we think that potential is within them.

What are some things Iowa does right?
Glynn: There are a few things Iowa does incredibly well, and that was part of the reason why, when we had the opportunity to get funding and move to Silicon Valley, why I decided to stay here. The access to people to get test data and determine if what I'm doing is actually viable. Or in the discovery phase, I could sit down with the owner of a manufacturing company and sit down with leaders like that and they'll open their doors and spend time with me and I can ask them honest and candid and vulnerable questions about what I'm trying to create, and how that fits in their business and what does the model need to look like? I don't think you get that in a lot of places. There are all kinds of political challenges anytime you talk about funding and money, and I tend to be a pretty fiscally conservative person, but I can tell you I wouldn't be here today if it wasn't for some of the financial programs that were in place.

Messmore: We have two big research institutions, and they helped us a lot. We're located in Iowa City in one of the University of Iowa's research centers. They're more or less an incubator for local startups, and we got a reduced rent and a lot of resources right out of the gate. And at Iowa State we worked with CIRAS [the Center for Industrial Research and Service] so we can go to clients and say, "Hey, are we accurate?" and get that data to students. Another thing about Iowa is it's small. You can open a textbook and see that one of the authors is from Iowa State and call them up and he says he'd love to work with you as a consultant or something. And there is that willingness of local companies to help you build products. I don't think a lot of people have as much exposure to Iowa, so as people come here and tech flourishes and there is more of an atmosphere for it I think it will really grow.

What is the next big innovation you're keeping your eye on?
Messmore: It's a sort of custom thing for machine learning. The analogy is the self-driving car. Right now your car can parallel park for you, it can do lane assist, but full automated driving is not here yet, and a lot of that has to do with if that car crashes, who is at fault? I would be curious to see how companies like Tesla, if they can transition to full driving cars and a machine learning algorithm that is now responsible for that output, how that changes everything.

Glynn: I think the biggest thing from our perspective right now is cybersecurity. There's so many challenges. We're fortunate that we work with a lot of Fortune 500 companies. We work with a lot of local companies here in Iowa, too. It takes us about a year or year and a half to get through the cybersecurity protocol with a Fortune 500 company. We're a team of 26 people with limited resources here in Iowa. It's just an extreme challenge, so we continue to keep our eye on the market for cybersecurity technology and some of the advancements that are happening there.

Ibsen: I'm not involved in any business today; it seems that they are not having an AI component to them. I've got a board meeting with an innovative business that does lung diagnostics with imaging technology. For decades you had clinicians to look at X-rays, but machine learning, AI can do that more effectively and see things earlier. So that business is really taking off and doing wonderful things in that space. You talk about AI and driving, and we see that in agriculture as well, with tractors and planting. And there's some innovative Iowa businesses that are emerging and looking at how AI is affecting agriculture. I'm super excited to see businesses emerge there.
Facebook Notice for EU! You need to login to view and post FB Comments!