AEA Learning Online seeks to bring more online career modules to Iowa students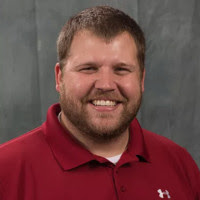 I was seated at a media table during the recent Future Ready Iowa conference, which led to meeting Craig Mohr, whose job is all about helping schools to connect with Iowa businesses — and helping students to learn about their potential future employers.

Mohr, instructional designer for AEA Learning Online, exchanged cards with me as we headed off for breakout sessions. We've since met for coffee, where I learned about the growing collection of career education modules that Iowa's Area Education Agencies are developing.

AEA Learning Online, a self-funded subsidiary of the state's nine-AEA system, is primarily devoted to developing online educational materials for teachers. In 2016, the organization began producing career education modules for students as well. It now has a library of 25 company-sponsored online education modules, each of which highlights career opportunities within that business and the broader industry.

Mohr said AEA Learning Online expects to produce about 10 additional modules over the next year, which will add companies such as Cedar Rapids-based insurance brokerage TrueNorth Cos. and Heartland Co-Op in Des Moines.

Posted on the AEA's Personalized Student Learning System, each module is about 60 to 90 minutes in length, taking what Mohr described as "a little deeper dive" into career options for students, along with links to community college programs and their costs.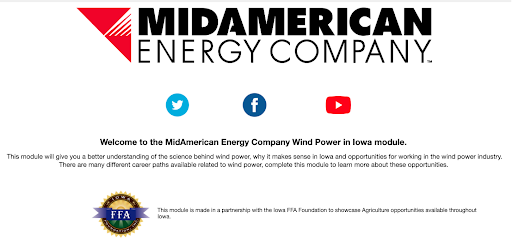 Among the module sponsors is MidAmerican Energy Co., which has three modules covering its wind-, solar- and natural gas-related careers. (MidAmerican's wind energy module landing page is shown at right). The Des Moines Police Department also has a module about careers in law enforcement. Each module features interactive checkpoints that students can use to see how well they've understood the topics. There are also live links to job boards to apply for open positions in these fields.
"The goal is to give Iowa students options in Iowa, to help them stay in Iowa," Mohr said. "I often say, if I had these options when I was a student, maybe I would have taken an entirely different career path."
Mohr said AEA Learning Online currently has about a one-year backlog. The goal initially is to have at least one module in each of the 16 career clusters that they feature.
In addition to sponsored modules, AEA is also producing virtual tours for businesses, a relatively new product that's available. For instance, the Iowa Bar Association plans to have AEA produce some Iowa courtroom tours. The virtual tours provide students with access and insights on companies they may never otherwise visit, without having to travel. Some of the virtual tours also have a virtual reality experience built in.
AEA Learning Online is also working with the Iowa Department of Education on programming for the
Iowa Clearinghouse for Work Based Learning
, an initiative of Future Ready Iowa that features a searchable database of work-based learning opportunities. The clearinghouse has about 1,600 business partners statewide, and about 475 students currently involved in work-based learning projects with companies. The site's project board currently has 120 work-based learning opportunities for students posted on it.
Mohr is the contact for organizations that may want to consider featuring their industry in a module or virtual tour.
"We constantly meet with businesses," he said. "We want to find businesses that are looking for a better pipeline and that are seeking to reach students at an earlier point in their decision-making. Having more entry points for businesses, I think, is essential."
Craig Mohr can be reached by email at
cmohr@aealearningonline.org
or by calling him at 800-255-0405, ext. 14201.
Related:
JA Finance Park rolls out financial literacy programs for Central Iowa students
Facebook Notice for EU! You need to login to view and post FB Comments!