Alchemy Community Transformations has new name to reflect its work in rural America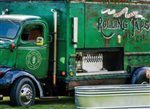 It's easy for an outsider to understand what the water and transportation teams at Clive-based McClure Engineering Co. do. They deal with civil engineering and other work related to, you guessed it, water and transportation. But the work of the placemaking team, which is primarily focused on economic development in rural communities across the country, was harder to grasp. Until recently.
The almost 3-year-old division rebranded with the help of Strategic America. Now, the six-person team has its own name to describe the vast work they've done and hope to do in rural towns wanting to attract and retain more people: Alchemy Community Transformations.
National population trends from the past decade show declining or stagnant rural populations. In Iowa, for example, those who live in urban settings outnumber those living in rural settings by more than 600,000, according to the U.S. Department of Agriculture. However, some demographers predict rural towns will be the next place to boom in population as people move from large and midsize metropolitan cities. Alchemy works with these rural communities looking to revitalize their buildings, housing systems, workforce, marketing strategies, public art displays and more to attract more people. Before any positive change can happen, though, leaders have to believe in the viability of rural America.
Zack Mannheimer, the team's principal community placemaker, used an example of this mindset in Algona, Iowa, one of the communities they've done work with. In the research phase of their work in 2017, a woman there said that they get things 10 years after Des Moines gets them.
"I said, 'That's funny because the joke in my mind is Des Moines get things seven years after New York.' I said, 'Wait a second, you get things 17 years after New York?' And she looked me dead in the eye and she said, 'Well, yeah, we just got hummus.' She was serious."
He later went back and looked to see approximately when New York supermarkets started selling hummus – and bizarrely it was around the year 2000. "To me that's the biggest problem we're fighting. That's a perception problem."
Libby Crimmings, vice principal community placemaker and the other Clive-based member of the team, knows about perception problems. Growing up in Des Moines, she couldn't wait to get out. But when she came back to live here again due to other life circumstances, she was pleasantly surprised to see all the progress that had been made: There were downtown lofts, art, a much more vibrant cultural scene, etc. And now she loves it. The transformation here has inspired her in the communities she works with.
Much like Des Moines, the work to revitalize is always multifaceted – population affects health care, Main Street businesses, corporate workforce decisions and more – but is driven by people. Residents need things to experience that make them want to be in a community. "You can and should have a mural," Mannheimer said. "But you also have to fix the housing crisis."
Both Crimmings and Mannheimer stress that the transformation has to have buy-in from the vast majority of residents in order to work and they have to keep in mind that it's multiple years' worth of work.
"The ideas have to come from the community," Mannheimer said. "Our job is a little bit like leading the witness, to pull those concepts out of them. Every community, no matter how remote it is and how small it is. … They know they want XYZ; they just don't know how to get there. And it's our job to help them get there."
Rebranding process
The rebranding process with Strategic America was not dissimilar to the work the Alchemy team does in the communities it works in. They poked and prodded to find out what truly defined them.
"It was a good opportunity for us as a team to sit down and really clearly hash through who we are," Crimmings said. It was the first time they really spent doing that.
They found the word alchemy, which means "a seemingly magical process of creation," to be suitable. And "community transformations" to be the perfect descriptor of the type of creation they work on.
The team is part of McClure's vision to do more than stop into a community and do civil engineering work, then leave. The company hopes to make a meaningful impact in all the locations it works with.
"When it all comes down to it, all roads should lead to making lives better. Yes, sometimes actual roads," Crimmings said, laughing.
Facebook Notice for EU! You need to login to view and post FB Comments!